The Henson Timeline: The 2000's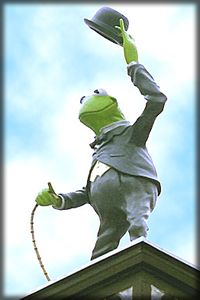 2000 Charlie Chaplin Studios is purchased by Jim Henson's family and leased to JHC with a 10-year agreement
2000 On February 21, EM.TV & Merchandising AG based in Germany purchases The Jim Henson Company for $680 million
2000 The soundtrack to "The Adventures of Elmo In Grouchland" wins a Grammy for best "Musical Album for Children"
2000 EM.TV plans to tape 26 new Muppet Show episodes in hopes of bringing back the most popular Muppet series of all-time
2000 Jim Henson's early work with Raymond Scott from the 1960's is released on "Manhattan Research Inc."
2000 Muppet Bad Andy becomes the new spokesman of Domino's Pizza
2000 Children's Television Workshop changes its name to Sesame Workshop
2000 "Bear In The Big Blue House" is renewed for a fourth season
2000 EM.TV sells Henson's stakes in Odyssey and The Kermit Channel for an 8.2% stake in Crown Media Holdings
2000 Long-term Muppet head writer Jerry Juhl officially retires from the company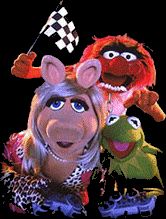 2000 "Muppet RaceMania" and "Muppet Monster Adventure" games released for the Sony Playstation
2000 "The Fearing Mind" debuts on Fox Family
2000 Time-Life Video releases unedited episodes of The Muppet Show for the first time ever
2000 EM.TV faces an uncertain future as the stock drops 95% since the Henson buyout in February
2000 EM.TV sells the rights to the Sesame Street characters for $180 million to the Sesame Workshop marking the first time a Muppet has been owned by a company outside of JHC
2001 New UK series The Hoobs premieres with plans of a 250 episode run
2001 Muppet Vision 3-D in Anaheim, California opens at Disney's California Adventure park

2001 The long-awaited book "Jim Henson's Designs and Doodles" debuts
2001 EM.TV hires investment bank Allen & Co. to help sell The Jim Henson Company to potential suitors Charles Rivkin, Disney, Viacom, AOL Time Warner and HIT Entertainment
2001 The Kermit Channel goes off the air in Asia and Latin America
2001 The Muppet Movie and The Muppets Take Manhattan are released on DVD in June with The Great Muppet Caper DVD released in July
2001 Jim Henson's Telling Stories with Tomie dePoala debuts on the Hallmark Channel
2001 Brian Henson makes his TV miniseries directing debut with Jack and the Beanstalk: The Real Story' for CBS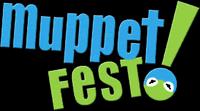 2001 The first-ever Muppet fan convention, MuppetFest is held in Santa Monica, California on December 8-9 to celebrate the 25th Anniversary of "The Muppet Show". At the convention for the first time ever, The Muppet Show is performed live to the thrill of fans.
2002 Bear in the Big Blue House tapes episode 100 for its fourth season
2002 Jim Henson Television, Team Todd, and Fox Broadcasting Co. announce plans to develop new prime-time Muppet series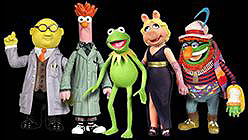 2002 The first Sesame Street spin-off series, Play with Me Sesame premieres April 1st on Noggin
2002 Palisades releases a comprehensive 25th anniversary line of Muppet Show collectible figures and playsets
2002 Muppet Battle Pinball premieres for the Game Boy Advance
2002 Brian Henson steps down as chairmain of the Jim Henson Company
2002 In a recreation of the Muppet Show theater, the Muppets team with rock group Weezer for their video "Keep Fishin"
2002 The direct-to-video film Kermit's Swamp Years debuts on DVD and VHS
2002 Sci Fi backs out of renewing Farscape's contract for the hugely popular series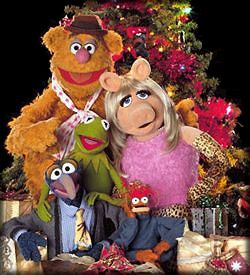 2002 Sesame Workshop announces plans for Kami, the first HIV+ Muppet, to educate children in South Africa
2002 Sideshow-Weta Collectibles release the first of a series of 20 collectible polystone Muppet Show character busts
2002 Kermit returns to the Macy's Thanksgiving Day Parade with a new balloon after his 12-year hiatus
2002 New made-for-tv movie "It's a Very Merry Muppet Christmas Movie" airs on NBC
2002 EM.TV agrees in principal to sell 49.9% of the Jim Henson Company to an investment group led by Dean Valentine
2003 New Henson series "Animal Jam" debuts on TLC and Discovery Kids
2003 EM.TV and Dean Valentine agree to end negotiations for a 49.9% Henson buyout
2003 "Sesame Street" begins season 34 and "Play With Me Sesame" begins season 2
2003 The Henson family (Cheryl, Brian, Lisa, John and Heather) buy The Jim Henson Company from EM.TV for $84 million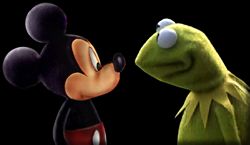 2003 Muppets Party Cruise debuts for the PlayStation2 and Spy Muppets arrives for the Game Boy Advance
2004 On February 17 the Walt Disney Company and Jim Henson Company sign an agreement for Disney to buy the Muppet and Bear characters and programming library
2004 The Jim Henson Company and Europe's HIT Entertainment form a five-year distribution agreement under which HIT will own all TV distribution and merchandise rights for Fraggle Rock, Hoobs, Mopatop's Shop, Construction Site and Emmet Otter's Jug-band Christmas

If you would like to make an addition to our timeline, e-mail Muppet Central. Please include your full name, the year, the information you would like to add, and a source documenting your submission.