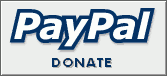 Muppet Central Staff
Phillip Chapman
Webmaster and Forum Administrator
Phillip started his young tadpole life as an instant Muppet fan. From his first Sesame Street record in the early 70's to his first Fisher-Price Kermit puppet, Phillip's interest only continued to grow. Little did anyone know that Phillip's passion would lead to this Muppet fan site. In 1998 Muppet Central was born on Geocities and in 2000 it matured into a dot com. Today Muppet Central continues to evolve as more and more fans from around the world get to know one another and contribute to this site. Phillip currently resides in Texas with his wife Cindy and sons Preston and Connor. He has earned two Masters' degrees, works in television and marriage ministry, and is proficient at Web design.

D. W. McKim
Guides

Born and raised in Ohio, D. W. currently resides in Arizona. His life-long interests include acting, singing, and puppetry. In his spare time, he is most often found reading Farscape novels and quoting Muppet lines to whoever happens to be around ("Sal, there are no canolis here.") His earliest Muppet memory is gathering his puppets in front of the TV and "dancing" to Muppet records to the point of dizziness. D. W. is a walking encyclopedia of Muppet facts, and contributes to our Muppet Show episode guides among other areas of the site. And if you happen to wonder what D. W. stands for, he doesn't worry, drinks water, is darn witty, and a dedicated wembler.

D. W. joined our staff in August 1999.

Kevin L. Williams
Articles and Forum Moderator

Charles Schulz and Jim Henson inspired Kevin to create Muley the Mule and Friends Comix. Kevin and Muley reside in Memphis where Kevin presides over the Mid-South Cartoonist Association and is a member of Puppeteers of America. Muley is the official spokesmule for the Memphis Ronald McDonald House and co-hosts many of their fundraising events. When he's not busy with Muley or watching Muppet productions, Kevin enjoys performing in local theater productions and listening to blues and soul music. Kevin is a moderator in our discussion forum and contributes to our articles section.

Kevin joined our staff in March 2005. Check our Kevin and Muley at their Web site.

Eduardo Castro-Chandri
Forum Moderator

Eduardo Castro-Chandri, better known around these parts as The Count, hails from San Juan, Pueto Rico. Thanks to an early fondness for Sesame Street, family lore holds it was the only thing that made him happy as an infant, Ed learned to read at the age of two. Beyond his love for all things Muppets, Ed enjoys master and mythic monsters and animated TV shows. Ed is currently working on a degree in law. Ed serves as a forum moderator working specifically with new member accounts. He has also compiled an extensive list of nearly every Muppet ever created.

Ed joined our staff in May 2007.

Cindy Chapman
Collectibles and Forum Moderator
This Missouri girl and her cat, made the big move to Texas when she got married (to none other than our webmaster who she met via the site). Cindy is a hearing instrument specialist, which is a fancy way of saying she works with the hearing impaired. Cindy is a lifelong Miss Piggy fan, who is a lot like the famous lady herself. She has been collecting Miss Piggy merchandise all her life. She enjoys playing the piano, reading, gardening, and spoiling her niece and nephews (with Muppet toys, no doubt). Cindy works on our collectibles section, responds to feedback and is a moderator in our discussion form.

Cindy joined our staff in January 2000.
Featured Contributors
James V. Carroll
Multimedia Design

This Houston, Texas native now resides in beautiful San Francisco. Jamie is a working artist with a degree in Multimedia and Graphic Design. When he can spare time from other clients and artwork, Jamie creates and crops Muppet images. A wiz at graphic arts and Flash, he played an integral part in revamping Muppet Central's site design in 2001. His interests include the Dark Crystal, animation, film, and Cyndi Lauper (we try not to hold it against him). Like Gonzo, he's unique in his creativity and his passion shines through in everything he does.

Visit Jamie's site JVCarroll.com to see more of his work and his latest projects.

Chris Smigliano
Fan Artist
Chris, affectionately know as "Smig," was born and raised in Massachusetts. As a freelance cartoonist, he uses his unique humor, sarcasm, and sense of characterization to create exceptional works of art. His "For Art's Sake" strip has appeared in the Comic Buyer's Guide for over 10 years. Smig also draws local-issue based editorial cartoons for the Salem News. His favorite Muppet is Beaker because he knows how it feels to be helpless and stuck in a lousy job. While you will find Smig's illustrations throughout the site, his artwork is showcased in our cards section.

You can view more of Chris' fan art at Tough Pigs and ChrisSmigliano.com.

Ken Plume
Interviews
It's not easy getting to know Ken. This self-proclaimed "Entertainment Journalist" and mystery man likes to keep a low profile. Ken is a wonderful wordsmith who has spent countless hours tracking Muppeteers for interviews. Ken is the man to ask when you want the latest scoop (chocolate, vanilla... you name it). Poignant and lyrical, Ken works hard to get answers to Muppet fans' questions. Successful and talented, Ken says he would like to travel and live off the land with a dog named Boo. (We told you he wasn't easy to figure out!) Ken has been a dear friend of Muppet Central since the early days of the site.

You can find more of Ken's work at IGN Film Force and Tibby's Bowl Entertainment Magazine.

Dear friends,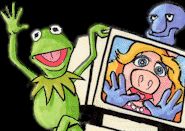 Since Muppet Central began on January 28, 1998, it has been such a privilege to have so many wonderful people contributing to this site. This is particularly satisfying because our original goal was that many fans (who otherwise would likely never meet) could find a place to interact and discuss the latest Muppet happenings. We sent out an official press release and the rest is history!
Our mission is to unite fans from around the world. We strive to honor the Muppets with respect and reverence. We want to thank the Jim Henson Company for allowing fans the freedom of expression to gather and produce a fan site such as Muppet Central.
If you are reading this, then it is likely that you are a frequent visitor here as well. We want to thank you for your support. Many of you tell your friends about Muppet Central and have added banners or buttons to your Web pages helping to spread the word on-line. We couldn't do it without you. Thank you all for making a difference.
Since 1998, we have been committed to produce a site to bring people together. Please continue to help us spread the word as we strive to keep Jim Henson's vision for the silly and the sacred alive for future generations.
- Phillip Chapman, Muppet Central Webmaster