AOL Time Warner may buy Henson for $400 million
By Phillip Chapman
Courtesy of the New York Post
March 12, 2001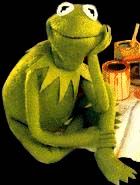 According to the New York Post, we now have verified a fourth and very serious bidder to purchase the Jim Henson Company, AOL Time Warner.
Is Bugs Bunny going to rescue the Muppets from Europe and bring them back home to Hollywood?

Bugs' parent, AOL Time Warner, is the latest big studio to look at buying Muppets producer, Jim Henson Productions, from its embattled German owner, EM.TV.

A sale price could exceed $400 million, industry sources estimate.

Walt Disney and Viacom also have been waiting in the wings to pounce, but only lately did AOL Time Warner enter the picture, sources said.

Henson studio CEO Charles Rivkin in California is also said to have lined up financing for a management-led buyout of the Muppets group.

None of the companies had any comment.

EM.TV's stock has collapsed, it's facing an insider trading probe in Europe and litigious shareholders are screaming for the head of EM.TV's 49-year-old chairman and controlling stockholder, Thomas Haffa.

Haffa also faces new pressure to sell assets in the coming weeks from other deals that have backfired, sources say.

Until Haffa's financial problems mounted, Haffa had no interest in selling the Muppets group, which he bought more than a year ago for $680 million in stock and cash.

But that's likely to change, since Haffa was bailed out four months ago with a $550 million cash infusion from German media billionaire Leo Kirch, who got 25 percent of the group and veto power over deals, along with control of EM.TV's Formula One racing empire.

Kirch has installed two of his top aides into EM.TV's management and board, and is said to favor selling the Muppets.

"Kirch is telling people he doesn't want to wind up as another body on the road that was killed [in Europe] by an American entertainment icon," said one European colleague."
A Henson employee confirmed the legitimacy of the offer this afternoon to Muppet Central.
Several weeks ago, Disney's offer of 300 million was rejected by EM.TV. Both Disney and Viacom have been interested in the company for months. Over the weekend, the Hollywood Reporter also released the info that "Charles Rivkin, Henson's longtime chief financial officer, is hoping to mount a management buyout of the company from EM.TV."
The 400 million offer of AOL Time Warner, however, is the most significant by far at this point and could unite the Muppets with a massive library of characters from Looney Tunes to Hanna-Barbera's Flintstones and Scooby Doo.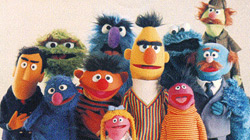 EM.TV paid $680 million for the Jim Henson Company in February of 2000. However, they overpaid in order to win the bid. Last December, EM.TV sold the rights to the Sesame Street characters for an estimated $180 million. If this sale comes to be, EM.TV will regain a large percentage of their financial investment.
While all the suitors have some attractive attributes, AOL Time Warner is an expert at taking classic characters and revitalizing them in the public eye which is something the Muppets desperately need. Scooby Doo is a prime example of this expertise as they've properly strategized and brought the characters and the thirty year-old cartoon back into the forefront. A live-action movie is planned as a result of this revitalization.
Concerning merchandise, the Warner Brother stores produce a wide variety of well-made clothes, dolls, figures, exquisite collectibles and more. The publishing division of Time-Life recently released uncut Muppet Show episodes on video for the first time in more than 20 years.
AOL-Time Warner owns the following significant mediums:
TV Networks - WB Television Network, Home Box Office, and Turner Broadcasting (TBS Superstation, Cartoon Network, Turner Classic Movies, Boomerang, the CNN family of stations, and more)
Publishing - Time Inc. and Time Warner Trade Publishing
Films - Warner Bros. and New Line Cinema
Music - Warner Music Group
Cable Systems - Time Warner Cable
Interactive Services - America Online