Elmo In Grouchland wins a Grammy
By Phillip Chapman
Courtesy of The Recording Academy
February 24, 2000
The 42nd Annual Grammy awards were held Wednesday night and The Jim Henson Company came up with a big winner as they received their ninth Grammy award in the history of the company.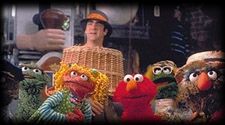 The soundtrack to last fall's film "The Adventures of Elmo In Grouchland" won a Grammy for best "Musical Album for Children". Andy Hill produced the soundtrack.
The album not only features all the great Sesame Street Muppets, but also Tatyana Ali singing "Precious Wings" and Vanessa Williams as the Queen of Trash with "I See a Kingdom".
You can read reviews of the soundtrack and film on Muppet Central.

The recording industry's most prestigious award, the Grammy is presented annually by the Recording Academy. A Grammy is awarded by the Recording Academy's voting membership to honor excellence in the recording arts and sciences. It is truly a peer honor, awarded by and to artists and technical professionals for artistic or technical achievement, not sales or chart positions. The annual Grammy Awards presentation brings together thousands of creative and technical professionals in the recording industry from all over the world.