Kermit Channel goes off the air
Courtesy of Business Line
June 4, 2001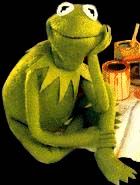 Running kids channels is clearly no child's play.
While Turner International's Cartoon Network has recently turned into a 24-hour channel in place of its erstwhile eight-hour block, Kermit - a joint venture between The Jim Henson Company and Hallmark Entertainment Network (HEN) - is off the air.
Confirming this to Business Line, Ms Laxmi Hariharan, Associate Director, Marketing, HEN Asia Pacific Inc, said the 24-hour kids entertainment channel has been converted into a three-hour block on the flagship channel, Hallmark.
The Kermit block now airs for one hour in the mornings, and two hours in the evenings on the Hallmark channel.
Ms Hariharan attributed the withdrawal of the kid's channel to recommendations based on research findings by New York-headquartered market research agency, Lubin Lawrence.
"According to the findings, viewers wanted Kermit as a kids block on Hallmark and not as a full-fledged channel," she said.
However, Ms Hariharan added the Kermit brand would continue to be retained by the parent company, Crown Media International. Kermit was launched as a separate channel in a few countries in the Asian region. The experiment did not seem to have worked wonders for the company.
Last year, Kermit had embarked on a comprehensive 'image' campaign titled K2K involving a series of programmes. The K2K image campaign was accompanied by a differentiated logo in conjunction with the channel's new personality.
Senior media planners agreed that launching and sustaining children's channels has not been very easy. Even Cartoon Network's plan of becoming a 24-hour channel has been met with great scepticism. "It was a good sharing arrangement between Turner Classic Movies (TCM) and Cartoon Network. However, it is doubtful whether Cartoon Network would attract viewership even during the nights," they added.