Is Bob the Builder eyeing Miss Piggy?
Courtesy of Yahoo News
February 1, 2001
HIT Entertainment, owner of Bob the Builder the children's animated character, is poised to make a major US acquisition, according to industry sources.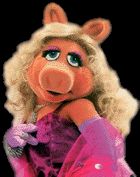 The company's shares were suspended at 440p today as it reaches the final stages of clinching the deal. The acquisition will amount to a reverse takeover by HIT of its target whose name has not yet been revealed.
Industry sources say that the target has significantly higher turnover than HIT, which is expected to make profits of £7m before tax in the current year. The group achieved annual turnover of £20m for the year ended July 2000.
Today's announcement has sparked market speculation that HIT may be considering making a bid for The Jim Henson Company (JHC), owner of the Muppets. JHC, best known for Miss Piggy and Kermit the Frog, is believed to have been put up for sale by Germany's EM.TV, which paid $2bn for the company at the height of the media industry euphoria.
The sale is expected to generate stiff competition. US giants Disney and Viacom are thought to be among those interested in the company. But HIT has one thing in its favour. HIT chief executive Peter Orton worked for the company in the 1980s and has a rapport with JHC's management which may tip the balance in HIT's favour. A spokesman for the company declined to comment.
Last year HIT held protacted merger talks with Gullane Entertainment, formerly Britt Allcroft, owner of Thomas the Tank engine, but the two sides could not agree a price.
HIT has now decided to look to the US for a merger partner as it would be strategically advantageous for the group to build its position in the world's biggest market for children's characters.
Bob the Builder, based on an animated character who runs a builder's yard, has been a hit on UK children's television. The series is now being shown on network television in the US.
With a current market value of about £415m, HIT's expected acquisition could attract serious interest from institutional investors in the UK and US once full details of the deal are announced in the next two weeks.