South Africa's Sesame Street Gets HIV+ Muppet
Courtesy of Associated Press
September 17, 2002
Kami, a mustard-colored furry Muppet, likes nature, telling stories and collecting stuff. She also happens to be HIV-positive.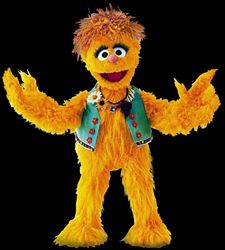 To plaudits from education officials and AIDS activists, the producers of South Africa's version of Sesame Street on Tuesday unveiled the first Muppet infected with the virus that causes AIDS.
"We are living in a society that is very stigmatizing and discriminatory," said Musa Njoko, an AIDS activist. The introduction of Kami "is going to create a culture of acceptance."
That is exactly what the show's creators hope.
Some 4.7 million South Africans — one in nine — are HIV-positive, more people than in any other country in the world.
"There is a critical need here," said Karen Gruenberg, executive vice president of Sesame Workshop, the show's New York-based production company.
South Africa's "Takalani Sesame" is one of several locally produced versions of the children's program. Egypt, Russia, Germany, Mexico and Spain, among other countries, all have shows modeled after the American "Sesame Street" that premiered in 1969.
The HIV-infected character was created at the urging of the South African government, which helps sponsor the show, to reduce stigma about the disease.
"Education is vital to ensure that people understand what HIV/AIDS is," Education Minister Kader Asmal said.
At the unveiling, Kami, who has a mop of brown hair and wears a vest, wanders onto Sesame Street and wonders nervously if residents will want to play with her.
She needn't have worried. The other Muppets enthusiastically welcome Kami.
According to the show's creators, Kami is a healthy, affectionate 5-year-old orphan who is a little shy but quickly joins in when approached in a friendly way. She also knows a lot about HIV.
Kami, whose name means acceptance in the Tswana language, will teach viewers about coping with illness and loss. The character will be introduced to South African audiences when the second season of "Takalani Sesame" begins Sept. 30.