Jim Henson's Designs and Doodles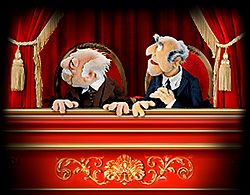 Chad Garner (3-16-01) - Jim Henson's Designs and Doodles is very well designed and explores how Jim Henson's creative process worked even more in-depth than The Works.
Not having much chance to view many of the Muppet's early television experiences, it was interesting to know how many themes and routines developed. One of the most interesting things I enjoyed was seeing in Jim Henson's early art work characters start to emerge that would latter become the likes of Bunsen and Beaker. Jim Henson has always had fabulously simple ideas that were just a step ahead and beyond the workings of the minds of others in the entertainment and puppet field. The hardest part of Henson's work to attempt to emulate is simply, keeping it simple. As the author explained what Jim Henson did with character design and family entertainment, you realize that many things Jim did was a process of trial and error, but he also had amazing natural instincts that foam and fabric provided the perfect medium.

Chris Smigliano (3-22-01) - First off, let me tell you what I didn't like about this book:
It should have been longer.

It should have had more stuff.

In short the usual complaints.
When you hear the name "Jim Henson" most of us think of the performer of classic characters as Kermit, Ernie, and Rowlf, i.e; Jim the puppeteeer, Jim the creator of the Muppets. This wonderful book gives us an insight into another side of Jim barely mentioned. Jim the artist. This book is a chronological history of Jim's artwork from his high school days to the development of the Muppet Show. All the artwork in this book is identified and dated, and with one exception, is no more recent than 1976.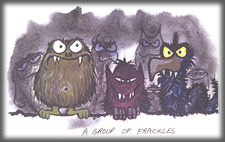 Well-written commentary guides you throughout the book. You'll see samples of silkscreened posters and prints which are visually stunning, models for mobiles with face-like pieces so the expressions could change as the pieces turned, some of Jim's cartoons, hilarious storyboards for the Wilkins coffee commercials, album covers, fully painted pieces for a proposed Muppets Broadway presentation, a full presentation for a proposed special starring Johnny Carson!
And of course, tons of sketches, ranging from deceptively simple scribbles to whimsical colored pieces. A deluge of aliens, monsters, Frackles, and who knows what else are peppered throughout the book. There are also many drawings of concepts which never made it, such as mechanized Muppets that look like car engines with eyes, maybe possible ancestors of Sam the Machine.
And there's also some extra insight (and previously unpublished drawings) of major characters Big Bird, Oscar, Bert and Ernie, and Rowlf. The one thing I find puzzling is that they only went up to 1976. Did Jim leave most of the drawing to his other artists and designers by then because he simply got too busy? I would think he'd have drawn concepts for his later projects (like Fraggle Rock and the Dark Crystal). I can only hope that will be rectified in a future book.
This book makes a perfect supplement to Of Muppets and Men and Jim Henson: The Works. The spirit of Jim is all over the book and is a wonderful tribute. Here's hoping the Henson Archivists will put out more.
Oh, and that one piece that was after 1976? None other than Jim's 1977 sketch for Beaker, which is shown in all it's full-size glory, taking up all of page 19.

David Stephens (4-2-01) - Someone finally wrote the book that I have been waiting to read. Alison Inches and Karen Falk are to be applauded for "Jim Henson's Designs and Doodles." In all the books that have been published on Jim's amazing career, this book is the only one to date that even begins to reveal his creative process. While much of that process is still a mystery, the sketches in this book allow us a brief glimpse.
This book focuses on Jim's early career, a period of time that is generally presented as a rushed through exposition to Jim's later commercial success. This is arguably a period where Jim was at his best because he was the soul creator of his work: from designing, construction, and performance, Jim did most all of it. This is one of the only texts that show Jim as a solo artist. Of course, we know Jim did not stay solo for long. But prior to 1976, on which the timeline which this book is focused, the company was still small enough for Jim to be its main nucleus.
However, "Designs and Doodles" does not do much to clarify Muppet myth. On page 30, Inches describes the origin of the term "Muppet." The Hensons have refuted her description of it as a combination of puppet and marionette. A recent example would be Harry Smith's interview with Cheryl Henson on Biography's special on "Sesame Street." Here it was stated that the word "Muppet" came from Jim's imagination. Also on this special, Cheryl Henson said that her father got his first job at WTOP by responding to an ad on a bulletin board calling for puppeteers. On page 14 of "Designs and Doodles," Inches states that two production assistants from WTOP came to Jim's high school puppetry club looking to find a puppeteer and Jim responded. So, how did it really happen? And is it really important? No. I just find it interesting how Jim's story has evolved and gone through the "folk process" of oral tradition, something with which I'm sure he was familiar given his Southern background.
The book does give us more wonderful anecdotes about zany Muppet builder, Don Sahlin, who stated in Marjorie Batchelder's supplement to Paul McPharlin's volume, "The Puppet Theatre in America," that he wanted to revolutionize the kite industry (p. 621). Perhaps a book about Don is long overdue as well. His contributions to the Muppets, including the "Magic Triangle" were just as significant as Jim's. I am sure the number of wacky Don stories that have been published to date are only the tip of the iceberg.
One thing I have not quite resolved in my mind about the book is whether or not I would rather have seen finished puppet characters in addition to their sketches. Granted, if I wanted to do so, I could flip through Chistopher Finch's "The Works" and find a majority of the characters. But try to look at "Designs and Doodles" through the general public's eye, whose knowledge of the body of Muppet characters may not extend past Kermit, Grover, or Miss Piggy. Perhaps, to them, seeing the origins of a puppet next to its realization as such would do much to raise the respectability of not only Jim's work, but also the art of puppetry itself. Some might look at this book and see only what the title states: designs and doodles. I think those of us who know that these sketches were realized in foam, fur, and fabric have a greater appreciation for them.
After I finished this book, I started thinking that if my childhood dream of becoming a Muppeteer could not come true, my second dream job would be to become a Muppet archivist. How many more gems are in the archives that never made it into "Designs and Doodles?" What could be more amazing than having access to pieces of Muppet history that most people will never see? I imagine the current archivists love their job and rightfully so. As an archivist, the first thing I would do would be to read "Watermellon's I Don't Know" and then find a publisher.
"Jim Henson's Designs and Doodles" is well worth the read and has been long overdue.

Ryan Dillon (4-15-01) - The wonderful new long awaited book, Jim Henson's Desings and Doodles is almost a museum on paper. It shows Jim's best artwork, from storyboards, to puppet desingns, even a very early Kermit sketch. The book also features a never before seen look at the never produced special, "Johnny Carson and The Muppet Machine" which was to be a physcedelic trip into the 1960's. The artwork is very detailed, and even has a stone carving of Ed Macmahon! The book also shows some of his early work, including silkscreen images of meloncholy (which was inspired by the death of his brother Paul) and concert posters and crazy characters who were soon to be Frackles!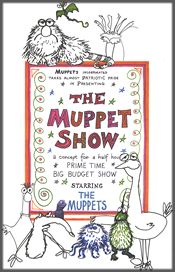 One of the best parts of the book is Henson 's early commercial storyboards, which feature the two popular commercial Muppets, Wilkins and Wontkins, Hansel and Gretel Muppets, and Kermit, The Snerfs and Rowlf (the Ideal doll ad where Kermit sings the unfamilliar jingle "Oh buy us, oh buy us, oh buy us we beg! If you do not buy us, we'll bite you in the leg). Early drawings of the La Choy Dragon, and Nutty Bird (Royal Crown soda ads, precursor to Big Bird) are also featured.
The book brings us for the first time many illustrations of show ideas that never made it to the small screen. The Zoocus (The Zoo Circus), The Entertainers, and Martian Landing are all examples shown by illustrations from Jim's fertile imagination. The Zoocus was to be a show full of new Muppets such as Mr. Ripple and Carbourator Jones and had a guest star on each show (Sound like the Muppet Show to you?). The show would be a variety but would mostly ,as shown in Henson's drawings, be a talk show with the guest, where the Muppets would lounge behind large alters and other sets. The Entertainer was to be a show about a travelling vaudevillian show where Muppet men (and a can-can girl) would sing popular songs at the time. This was also to be a Variety type show. Martian Landing would feature Muppet Koosebaine like creatures that would swap jokes and do skits on another planet. It was to be a Live variety show. It ashame these didn't get aired.
This book has so much I haven't mentioned yet, (I don't want to spoil it!) and it is definetly worth every penny. By far, one of my favorites among a long line of Muppet Books. You can order the book here, in the Muppet Central Store. Enjoy!

Bruce Aguiar (4-28-01) - Jim Henson was one of the most imaginative people of this past century and this book beautifully captures some of his brilliance in the form of sketches, doodles and small art pieces. If you've ever marveled at his artistry, or wondered at his talent, then this is the book for you.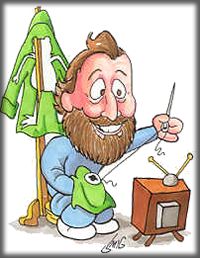 What I most enjoyed about this collection are the sketches and stories from Jim Henson's earliest years and most obscure projects. Alison Inches has included Jim's cartoons from college, High School program designs, album covers, advertisment ideas and story boards, as well as characters like Taminella Grinderfall, Thog, Chicken Liver and Baskerville.
Have no fear though, plenty of more widely known projects and characters are featured as well. We're taken through the steps from Sam and Friends, to the Muppet's succesful commercials, to Rowlf the Dog's appearances on The Jimmy Dean Show, through The Muppet Show and Sesame Street. Along the way we're also treated to many unrealized puppets and projects. It's a facinating journey and one that you're sure to revisit many times over.
Any designer, puppeteer, artist or Muppet fan will be fasinated by this book. But don't think you'll be geting a comprehensive career retrospective. I'd recomend "Jim Henson: The Works" for that. The focus here is squarely on the creation and design, which is right where it should be and it makes Designs and Doodles the perfect companion piece to Jim Henson: The Works.
One giving you a look at his projects and the other a glimpse into his mind. And oh, what a marvelous glimpse it is!