EM.TV calls off sale of Muppets to Dean Valentine
Courtesy of Reuters
March 7, 2003
Germany's EM.TV & Merchandising AG said on Friday it had called off the planned sale of a 49.9 percent stake in Jim Henson Co., creator of the renowned Muppets such as Miss Piggy and Kermit the Frog, to a group of U.S. investors.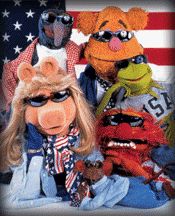 It said a nonbinding deal reached last December with a group lead by Dean Valentine, the former chief executive of Viacom Inc.'s United Paramount Network, had been cancelled by mutual agreement.
The German children's programming company, based in Munich, said talks with Valentine and Europlay Capital Advisors would continue with modified conditions.
The failure to complete the Muppets deal puts a question mark over EM.TV's plans to use the proceeds from the sale to pay off all its remaining bank debts of 25 million euros ($27.6 million) by the end of April.
EM.TV paid $680 million in February 2000 for Henson and has sold off chunks of the business since then.