Holiday Muppet movie sealed with a kiss at NBC
Courtesy of the Hollywood Reporter
February 15, 2002
The Muppets are getting into business with the peacock.
NBC Studios and the Jim Henson Co. have inked a deal to develop an original Muppet movie targeted to premiere this year during the holiday season. "It's a Wonderful Muppet Christmas Movie" will incorporate parodies of classic Christmas films and feature guest shots and cameo appearances for NBC stars.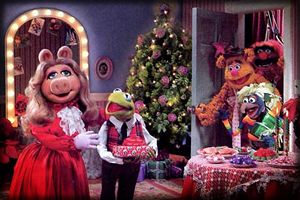 "It's perfect for the new approach that we're taking with our movies in looking for things with presold, pop-culture appeal," said Jeff Gaspin, NBC executive vp alternative series, longform, specials and program strategy. "What's always great about the Muppets is that there's enough sophisticated humor to appeal to adults while the puppets appeal to children."
Gaspin noted that NBC director of movies and miniseries Jennifer O'Connell has been a "huge proponent" of working with the Henson Co. on a holiday-themed movie and will shepherd the production for the network. Veteran Muppet scribe Jim Lewis has been tapped to write the screenplay.
Jim Henson Television Group president Juliet Blake said the NBC deal will mark the first time the Muppets have been featured in a made-for-TV movie, though the troupe has done its share of TV specials over the years.
"We're excited about putting a Muppet spin on the genre of the Christmas movie," Blake said. "This is the first time there's been a really high-budget Muppet movie made for TV."
Moreover, "Muppet Christmas Movie" will mark the first significant smooch between Kermit and his longtime love, Miss Piggy, Blake said.
"Their kisses have always been instigated by Piggy before, but this time Kermit comes to his senses, and it will be a very romantic kiss," she said.