Farscape Canceled
Fans Launch Immediate Effort to Save Show
By D. W. McKim
September 9, 2002
In a surprising and baffling move, the cast and crew of Farscape were given notice by the Scifi Channel that it was not picking up Farscape for a fifth season - even though the network had previously announced Farscape's renewal for two seasons last year. The Farscape production team found out that SciFi was taking advantage of the contract's out clause on Thursday September 5th as they were days away from shooting the final scenes on the last episode of Season Four.
Today Henson released the following statement:
Farscape is a flagship show for The Jim Henson Company. We are proud of its achievements over the past four years, which have included international critical recognition, three Saturn Awards, and a recent Emmy nomination. As always, your show of support is a true inspiration for our company and has been integral to our success.

Although SCI FI Channel has chosen not to pick up a fifth season, The Jim Henson Company is in active development on a new Farscape film, an anime project and is currently discussing syndication of this highly acclaimed series. We are eager to move forward with the Farscape creative team in developing new projects that will resonate with our overwhelmingly loyal fan base.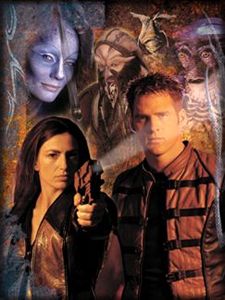 As of this writing, no official announcement has been made to the press by SciFi, the news broke to the public via a special online chat held by Executive Producer/Head Writer David Kemper, Producer/Writer Richard Mannine, and Series Star/Writer Ben Browder on Friday September 6. According to Kemper, "As you know Sci Fi has picked us up for 4th and 5th seasons. However as with everything done at a corporate level, there was an out clause built into SCI Fi's pickup schedule. As of yesterday, we were informed -- after massive efforts by everyone at Henson and many on the show -- most importantly Brian Henson and the 3 gentlemen here that SCI Fi was not going to exercise its option to pick up the 5th season of Farscape."
The initial Friday chat did not mention any reasons for the cancellation which took crew and fan alike by surprise considering Farscape's successes in ratings, acclaim, and recognition. While the addition of Stargate (in Farscape's previous timeslot), previously seen on Showtime, has taken over Farscape's three-year reign of being the network's #1 show, Farscape still remains the network's highest rated original program, usually earning the station between a 1.5 to 1.8 rating which is enviable for a cable network. (Some shows on major networks WB and Fox aren't even as widely watched.) The show has twice won the Saturn Award for Best Science Fiction Program and enjoys a huge merchandise franchise including fan conventions and an official magazine.
The first person associated with the show to offer any insight as to why the cancellation occurred was actor Anthony "D'Argo" Simcoe who mentioned in a chat on Saturday that "as far as I know SCI Fi wants it. It's EM [meaning EM.TV, Jim Henson's parent company] that sunk it." This information however turned out to be incorrect. Series creator Rockne S. O'Bannon later issued a statement to fans stating "I want to make it crystal clear to everyone that despite what Anthony said, EM.TV is only a tangential player in the demise of Farscape. The SCI Fi Channel chose not to pick up the series for Season Five, period. To say that they want the show is completely false. Please don't let the real story get clouded. Writing letters to EM-TV in German[y] won't hurt, but it shouldn't be the focus of anyone who is moved to protest." Further pieces of information that has leaked out from insiders indicate that SciFi wanted to cut costs and not pay as much for the shows to which EM.TV balked.
Perhaps because of his decade experience of working with CBS, David Kemper was very smart to get the information to the fans as soon as possible before any official announcement was made. The "Scaper" response has been quick and well-orchestrated. Online petitions have gathered over 17,000 signatures since the news broke a couple days ago. The voice mail and fax machines at SciFi were filled to capacity as early as Saturday morning.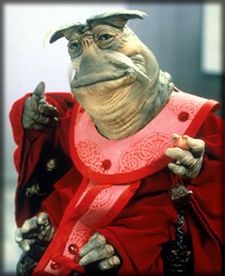 Unlike some similar fan campaigns to save canceled shows, the general feeling from fan and media personnel alike is that the Save Farscape effort has a real chance of succeeding due to the speed and level of response in addition to Farscape's success for the network. Drawing on his experience with network programming decisions, Kemper urged fans that while emails and petitions were helpful, the most serious attention would ultimately be paid by one-page letters, telegrams, and calls. He strongly advised that all correspondence should be civil and non-threatening, adding that profanity equals "nuts" and angry, but cool and collected responses equals "fans" and networks listen to "fans" not "nuts".
While a common idea on bulletin boards has been to send the SciFi Channel crackers (as a reference to the "Crackers Don't Matter" episode) in the same manner that cherry pies were sent to protest the cancellation of "Twin Peaks" and Tabasco sauce for "Roswell", fans are being advised not to do so due to the possibility of crumbs being mistaken for anthrax powder at a time when mail handlers will be on heightened security during the anniversary of 9/11. Postcards with pictures of crackers or sealed boxes are encouraged instead. New York fans plan to picket and demonstrate at SciFi's headquarters on Thursday. While all efforts to raise attention are helpful, above all else, fans wanting to contribute to the Save Farscape efforts are strongly encouraged to focus on letters, telegrams, and calls first and foremost.
The central resource for the effort is the continually-updated Save Farscape web page. The site offers extensive contact information for all parties as well as news updates, chat transcripts and important "do's and don'ts".
Because the cancellation news was handed down at the production team was wrapping up filming of the final episode of the season, it was too late to make any changes to the episode's content to where it would serve as a "series finale" rather than a "season cliffhanger". The plot points and storylines for the fifth season has already been drafted and no matter what happens with the Save Farscape effort, everyone involved wants to see the story brought to its proper conclusion be it in the form of a book, movie (Rockne O'Bannon and David Kemper have continued discussions regarding a film as recently as Saturday morning), or pickup by another network. While most people would prefer the latter, whether or not a network change could realistically happen or not hinges on whether SciFi would be willing to sign over its broadcast rights to the first 88 episodes as another network would be reluctant to start broadcasts of new episodes without having the previous ones to catch up new viewers on.
If they're able to clear this hurdle, the networks many are considering to be the most likely candidates are UPN, TNT, and Showtime. The Save Farscape page includes contact information for various television networks should fans want to encourage them to pick up the series. But for the present, the main hope lies in getting SciFi to reverse its decision, ideally before it makes any official announcement to the press. Regardless of whether or not Farscape remains canceled by SciFi, the network will air the final 11 episodes of the fourth season starting in January 2003.
The decision to cancel its most successful show is drawing a huge amount of negative press for the Scifi Channel, most notably from TV Guide's Matt Roush and USA Today's Robert Bianco.