Manhattan Research Inc. CD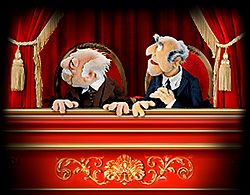 Phillip Chapman (5-8-00) - This wonderful collection from Raymond Scott's work during the 1950's and 1960's is so well produced and put together, that it will be an intriguing part of your collection for many years to come.
Why are we writing about a Raymond Scott CD you ask? Well, this double-CD and 144 page book contains 9 tracks and a chapter about Jim Henson. Henson and Scott worked on a number of rare films together during the 1960's and these discs contain the actual soundtracks to these classic Henson works. In this review, I'm going to focus upon these Henson tracks and provide a little information about them taken from the 144 page hardback book, which accompanies the two CD's, along with some personal commentary on the tracks.

Speaking of the book, it includes some Henson tidbits I had never heard of, including plans for an undated Thanksgiving special called "The Musical Monsters of Turkey Hollow". Jim wanted Raymond Scott to write the music for the special that never happened.
This double-CD and hardback book is now available from Muppet Central.
Limbo: The Organized Mind (July 1, 1966)
"Scott's Musique Concrete score for a Henson film starring the character Limbo, a foam-rubber face that was manipulated with strings to move the mouth. The film's narrator guides us around inside his own head, while explaining how he organizes his thoughts, personal memories and fears. This track provides a fine example of Scott's musical engineering in a professional produced and original soundtrack."

Jim Henson performed this piece using Scott's soundtrack on "The Mike Douglas Show" and also "The Tonight Show" in 1968 and 1974. The voice used here is almost Jim's "real" voice and is a great track, especially toward the end when things go out of control in Limbo's mind. Jim Henson showed how the Limbo character is performed on the 1968 special "Adventure in the Arts: The Muppets on Puppets".
You can listen to an MP3 sample of "Limbo" on-line.
IBM MT/ST: The Paperwork Explosion (October 1967)
"This industrial film, produced by Henson Associates, Inc. for IBM Office Products Division with soundtrack by Raymond Scott, sings the praises of one of the world's first world processors, the IBM MT/ST (Magnetic Tape Selectric Typewriter), introduced in 1964, "turns rough draft into errorfree copy." A prestigious project for Manhattan Research, Inc. - a musique concrete and electronics soundtrack. Another good example of Scott's musical engineering. Of special interest is Jim Henson's contribution to the announce copy: "Use systematically throughout an office, these two pieces on IBM equipment alone have increased people's productivity by 50%."
Listen closely and you'll hear Frank Oz say, "That IBM has always been one of he leaders in the field of…" and then he gets cut off in the montage of clips. There are also two other tracks from this piece based on Scott's work tapes.
Wheels that Go (1967)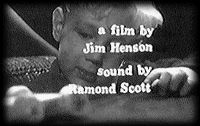 "A Jim Henson short film with Raymond Scott's electronic score. The film, one of two short pieces Henson created for "Expo67" in Montreal, depicts his son Brian exploring toys with wheels."
As you listen, you can almost see Brian playing with the little cars going up and down. I wonder what Brian thinks of this little gem today.
Bufferin: Memories (Original - October 1967)
"Jim Henson translated his "Limbo" character and the concept from his "Organized Mind" projects into this Bufferin pain reliever TV commercial titled "Memories." The narrator (Henson) describes how a headache almost ruined his day. Scott's score contains sonic quotes from "The Organized Mind", and "The Paperwork Explosion", and the rhythm track from "Sleepy Time" (on Soothing Sounds for Baby Vol. 1)."
This track is fun because Jim seems to find a better solution to his "Limbo" problems, Bufferin, the pain reliever.
Bufferin: Memories (Demo - October 1967)
"Soundtrack with Jim Henson narration against a romantic electronic backdrop. This is an earlier version of the finished commercial soundtrack."
It's really neat to hear this commercial against a different musical backdrop, it shows Scott's versatility and yet keep the same Henson charm.
Ripples (Original - January 1967)
"In 1967, Jim Henson and Raymond Scott collaborated on a one-minute film called Ripples. The film depicts an architect who while searching for inspiration, makes ripples dropping sugar cubs into his coffee and tossing pebbles in a pond."
This is a good example of the more abstract things that Henson enjoyed producing. Jon Stone, who would become the director/producer of Sesame Street, is the one who is tossing the stones into water - making ripples.
Ripples (Montage - Late 1966)
"An edited version of samples from the "Ripples" work tape, containing electronic sounds, experiments and long silences. The first 1:44 of this track is called "Seven Sugar Plop Sounds" it is followed by our choice of the more appealing sounds bites from the tape."
Listening to this track makes you realize just how much fun these guys were having. And aren't we glad we are able to join them as we listen?