The Henson Timeline: The 1960's

1960 The Muppets appear on "The Today Show" for the first time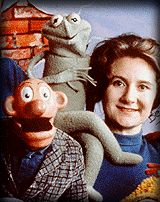 1960 Lisa Henson is born
1961 Jerry Juhl joins Muppets, Inc. as a puppeteer and writer
1961 The Muppets begin regular appearances on "The Today Show"
1961 Bernie Brillstein becomes the Muppets' agent
1961 Cheryl Henson is born
1962 USIA show, Berlin, Germany
1962 Appearance on "Mad, Mad World" pilot episode
1962 "Tales of the Tinkerdee" taped in Atlanta

1962 Don Sahlin joins Muppets, Inc. and builds Rowlf for Purina dog food commercial
1963 Frank Oz joins Muppets, Inc.
1963 The Muppets move to New York, with a small office on 53rd Street
1963 Rowlf Jim Henson begins regular appearances on "The Jimmy Dean Show"
1963 Brian Henson is born
1964 Kermit and Big V perform Inchworm on The Jack Paar Show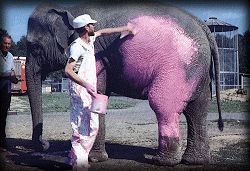 1964 Timepiece begins production
1965 The first meeting films are developed by Jim Henson and David Lazer for IBM
1965 Jerry Nelson joins Muppets, Inc.
1965 Hey Cinderella! pilot taped
1965 Timepiece has first screening at the Museum of Modern Art, New York
1965 Appearance on "The Perry Como Christmas Show"
1965 John Henson is born
1966 Regular appearances begin on "The Ed Sullivan Show," which will last through 1971; Additional appearances on "The Mike Douglas Show" and "The Hollywood Palace."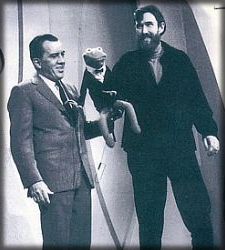 1967 First films made for IBM; Jim Henson's Rowlf becomes mascot and salesdog
1968 "Muppets on Puppets" TV special taped for PBS
1968 Rowlf hosts "Our Place", the summer replacement series for The Smothers Brothers Comedy Hour
1968 "Hey Cinderella!" filmed in Toronto
1969 "Sesame Street" pilot and first episode taped; Episode #1 is shown November 10; Big Bird Carroll Spinney first created and the first Muppet to appear on the Street

If you would like to make an addition to our timeline, e-mail Muppet Central. Please include your full name, the year, the information you would like to add, and a source documenting your submission.