2002: The Year in Review
By Luke Robbins
January 1, 2003
Following the December MuppetFest, fans started the year on a high and celebrations for the 25th anniversary of "The Muppet Show" ensured that 2002 was a year to remember with new merchandise, appearances and movies. Things continued to look uncertain behind the scenes as EM.TV failed to find a new home for the Muppets but hope came with the announcement of a last minute co-ownership deal which left fans wondering what lay ahead in 2003 for Kermit and his friends.
JANUARY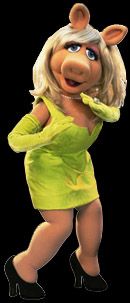 We soon began to see the first of Creation's Muppet Moments appearing on the Henson Company's website. These were a collection of short video clips released gradually over the year to celebrate the 25th anniversary of the Muppet Show. Miss Piggy returned to our screens appearing in an advert for Virgin Airlines in the UK and also joined Kermit in an appearance on "The Today Show". Personalized Muppet Checks were announced which meant paying a bill would no longer be a sad occasion for fans of Kermit, Miss Piggy, Fozzie and Animal. Birthday celebrations ended the month as Muppet Central marked it's fourth anniversary online.
FEBRUARY
Grover's super little interview with TV Guide had fans laughing at the beginning of the month and more Sesame related fun came when Big Bird and Elmo appeared on "The Today Show". Elmo also dropped in on old friend Rosie O' Donnel to promote the new season of Sesame Street and Follow That Bird was released on DVD. DivXNetworks announced that it had licensed it's new video compression technology to the Henson Company which they were using to make promotional CD-ROM's.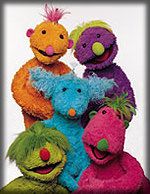 Early episodes of pre-school show, The Hoobs, began airing on Nick Jr. in the UK which became the second channel to simultaneously carry the program. We heard that the New York Muppet Workshop had created puppets for the Broadway musical "Carnival" and that Bear in the Big Blue House had taped it's 100th episode. The race was on to find news about NASCAR when it was revealed that Muppet paint schemes would begin appearing on racing cars. Kermit, Gonzo and Bear all appeared on "Hollywood Squares" and Frank Oz received an award for his contribution to cinematic imagery from the Art Directors Guild. There was excitement for merchandise collectors as Palisades Toys announced the line up for the first three series of Muppet action figures, Corgi re-released their classic Muppet cars, and Sideshow Toys announced a series of twenty character busts would be gradually released, starting in the fall. No sooner was Christmas over than Muppet fans started looking forward to it again as the Henson Company and NBC announced a brand new made for TV seasonal Muppet movie - working title "It's a Wonderful Muppet Christmas Movie".
MARCH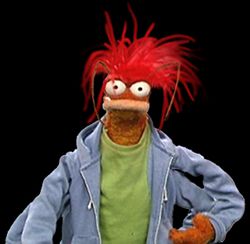 The Muppets joined an all star line up to promote We Are Family - a new charity CD. A new logo for the Muppets began appearing on products and websites as media interest in them began heating up, especially in the UK where many TV companies were reported to be interested in the rights for the upcoming Muppet TV Show - an edgy and exciting new series by Team Todd for Fox in the USA. The Very Best Of The Muppet Show was released on DVD in the UK and included the documentary "Of Muppets and Men" as an extra. Prawn lovers rejoiced as Long John Silvers launched Pepe's Lounge, an entire website devoted to Pepe, spokesprawn for their seafood restaurants and increasingly popular Muppet character. News broke that Muppet Treasure Island would receive a DVD release but fans were disappointed the disc would be pan & scan, and not widescreen. Henson fans with colds no longer had to hold their nose when the Muppets appeared on Scotties tissue boxes.
APRIL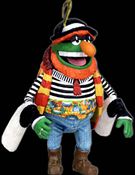 The month began with a very special treat for Muppet fans in the UK - "I Love The Muppets", a brand new 60 minute documentary celebrating 25 years of The Muppet Show aired on BBC2 featuring interviews with Frank Oz, Dave Goelz and Jerry Nelson as well as the Muppets themselves. Play With Me Sesame debuted in the USA. Henson.com - the Jim Henson Company's flagship website re-launched with a new Flash design, but owner EM.TV was shocked to find out Kirch, the German media company who had earlier signed a rescue deal to save them were facing bankruptcy themselves. A fan-initiated campaign began in the form of a petition to see the release of Fraggle Rock on DVD including backing from the likes of Karen Prell and Jerry Juhl. Dark Crystal figures were released by Sideshow Toys and fans learned that The Muppet Christmas Carol would be released on DVD in October, again in the less popular pan & scan format. Collectors flocked to a Philadelphia toy convention to pick up an exclusive Dr. Teeth action figure from Palisades. Fossil released their first Muppet Show anniversary watch and Fraggle Rock T-shirts began to appear at Top Shop in the UK. Sad news came when Pepe said adios to Long John Silvers and his affiliation with the company ended. Fans looked ahead to the summer as post production work on Kermit's Swamp Years was completed.
MAY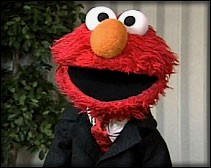 Ever heard of a pig promoting a sausage breakfast? The Muppets made it happen when Kermit & Miss Piggy joined with Denny's restaurants to let the public know about their Grand Slam Breakfast and the Muppet Show's 25th anniversary. Elmo decided to take the more high brow approach when he appeared in a smart suit and tie on Capital Hill as he testified before the Senate committee on funding for music education. Kermit was named as a judge in the annual "Make A Difference Day" awards and he appeared, along with Miss Piggy on Hollywood Squares. TDK Mediactive announced they had secured the license to produce Muppet video games on next generation consoles and a brand new selection of Elmo and Bear DVD's were released. The Muppets were featured on "Totally Nascar". News reports hinted that the sale of the Henson Company could soon be resolved and it was announced Jim Henson would be honored with a life-size statue at the University of Maryland, where he began his career in puppetry.
JUNE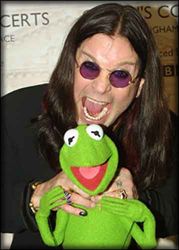 Kermit partied at Buckingham Palace in June when he joined Ozzy Osbourne and other stars for a concert to celebrate the Queen's Golden Jubilee. The Henson Company was also no stranger to gold when they picked up three Saturn TV awards for Farscape and Jack and the Beanstalk: The Real Story. We learned that Kermit would soon join Jim Henson and Big Bird with his very own star on the Hollywood Walk of Fame and Jim Henson Pictures announced two new movies - "Let It Rain" and "Good Boy!". The Henson Company also told the media about Jim Henson's Frog School - a TV show in early development helping pre-schoolers learn through stories about Kermit's adolescent life. He also joined Miss Piggy in an advert for UPS urging Dale Jarrett to race the truck, while Bert and Ernie appeared on "The Today Show" to promote their new DVD and Video. Palisades Toys exceeded all expectations when their series one Muppet action figures were released, along with the long awaited Muppet Pinball Mayhem on the Game Boy Advance. Fans were excited to hear that the Muppets would soon appear with Weezer on a new music video but were also sad to hear that Brian Henson was stepping down from his post of Chairman of the Jim Henson Company after nearly 12 years. At the end of the month, the Muppets took over Capital Radio in the UK for an hour long broadcast and featured many classic characters being performed by their new Muppeteers.
JULY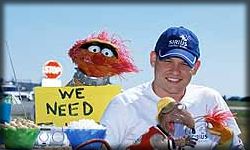 In what must have been one of the busiest months in recent years for the Muppets and their fans, July saw the much hyped Nascar Winston Cup Race which featured Muppet themed race cars but even though the Muppets had promoted the Nascar tie-in on TV channels like QVC they were left without a ticket to the actual event when they were kept from appearing due to licensing issues. Things began to rock though when the Weezer video "Keep Fishin" debuted on MTV featuring the Muppets, who also helped promote the song through branded T-shirts and a double page spread in "Kerrang" magazine. The Henson Company announced they were launching a talent search to find the lead actor for their film "Good Boy!" and original Muppet Show scripts and set design sketches were sold in a UK auction. The Muppets did their bit for charity when 25th Anniversary Broaches were sold at UK banks in aid of Nordoff-Robbins Music Therapy, and Kermit plushes were handed out to children at a special Baseball game. Production of The Hoobs wrapped at Elstree Studios in the UK as the Henson Company fulfilled their 250 episode commitment. We heard the first rumors of a new Muppet Show music CD from Rhino to celebrate the anniversary and learned that Muppet and Bear DVD's would soon be given away free with General Mill's cereal. Palisades Toys expanded their range with announcement of Mega Muppet action figures, while their mini-lunchboxes arrived in stores. For fans of the increasingly popular regular line, the company also sold Vanishing Cream Beaker at a convention in Chicago and gave away an Invisible Beaker figure to delegates at an industry party. Muppet fans mourned Dave Wilson, a director of The Muppet Show who died age 69.
AUGUST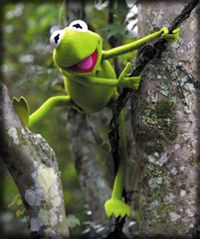 Kermit's first solo direct-to-video movie Swamp Years debuted on Starz in August to a mixed reaction from fans and reviewers. The production team also held a presentation at the San Diego Comic Con where fans could meet see preview clips and meet the puppets. Palisades Toys were also at the convention giving fans a sneak peak at their second wave of figures and selling a Vanishing Spray Fozzie figure complete with rubber duck. There was much debate over Snoop Dogg a rapper set to cameo in the upcoming Muppet Christmas movie who was also appearing in adult films and was well known for his controversial past. Sesame Street appeared on QVC with special guests Elmo and his friend Gordon, and a range of Christmas ornaments were also announced by Carlton Cards. A Vacation Fozzie figure was announced by Palisades and the title of the forthcoming Muppet Anniversary CD from Rhino was changed from its working title "Who Let The Frog's Out". There was more sadness among Henson fans as the original Gordon from Sesame Street, Matt Robinson died.
SEPTEMBER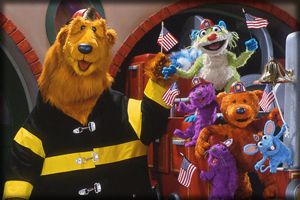 It was a great month for Henson DVD and video collectors when two "Best Of The Muppet Show" discs were released by Columbia Tristar as well as "Kermit's Swamp Years" which featured an appearance by Joe The Armadillo among its many extra features. Bear Cha Cha Cha'd on the Jerry Lewis Telethon and fans learned of a new Muppet video game called Muppets Take To The Skies which was planned for release before the end of the year. Filming of the Muppet Christmas movie wrapped in Vancouver, Canada and a Bear in the Big Blue House special was shown on the first anniversary of the September 11th terrorist attacks in the United States. America's First Lady, Laura Bush was pictured on the set of Sesame Street filming a book recital for season 34, and free 25th anniversary Kermit plush keychains were given away by a national newspaper in the UK. The long awaited new Muppet music CD entitled "The Muppet Show: Music, Mayhem and More" was released and new Henson show Bambaloo began production in Australia. Fan website Muppet Central relaunched this month with a great new look and making use of Flash technology. Three controversial stories dominated the news during September - Snoop Dogg's appearance in the Muppet Christmas movie was cut along with 30 minutes of footage, Sesame Street announced a HIV+ Muppet to be used as a character in the South Africa version where the disease was common in children, and shockingly, the hugely popular Farscape series was canceled which led to mass fan protest including a campaign to send cracker boxes through the mail to the Sci Fi Channel.
OCTOBER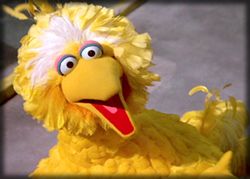 The sale of the Henson Company edged ever closer as we learned that Haim Saban - famous for his connection with the Power Rangers planned to bid for Kermit and Co. Sesame Street producers announced they were considering making a Belfast version to draw attention to the troubles in Northern Ireland and Big Bird alias Carrol Spinney was awarded the 2003 Legacy For Children award. The Muppet Movie was honored at the Black Bear Film Festival in Pennsylvania with an outdoors showing complete with John Henson dressed as Sweetums to greet the guests, while stars recorded versions of classic Muppet songs for a charity CD called "For The Kids". Husband and Wife team Kathy Mullen and Michael Frith who worked alongside Jim Henson on The Muppet Show announced they were to go on a mission to Afghanistan where they would stage a puppet show to teach children about the dangers of landmines. Great news for UK fans as it was announced Elmo's World would soon debut in the country along with a mini-documentary featuring the puppeteers from The Hoobs. Muppet bobbleheads appeared in U.S stores and it was announced Rittenhouse Archives would soon release a limited edition set of Muppet Show anniversary trading cards. Fans began to look forward to the holiday season when it was announced a brand new Kermit balloon would debut in the Macy's Thanksgiving Parade at the end of November.
NOVEMBER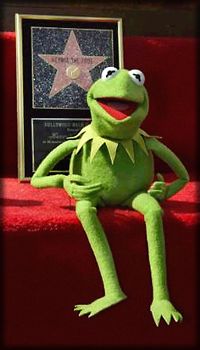 There was bad news for Haim Saban when EM.TV denied they had signed a deal to sell him the Muppets and said they were in talks with a number of prospective buyers - at the same time Thomas and Florian Haffa, who used to run the troubled German company appeared in court accused of fraud. The Muppets were seen out on the streets of New York in commercials for Mastercard's Priceless campaign and Kermit received his star on the Hollywood Walk of Fame in a ceremony attended by Charlie Rivkin, Steve Whitmire and the Henson family. Fans saw the new Kermit balloon unveiled in the Macy's Thanksgiving Day Parade and could also buy a snowglobe, Christmas ornament and special talking Kermit plush with working camera from the store. As if that was not enough, the Muppets took pride of place at Macy's over the holiday season with special themed displays in each window using actual Muppet puppets, and a giant Kermit the Frog greeted shoppers above the door. There was good news for fans of Bear in the Big Blue House as new plushes and figures were announced by Equity Marketing and UK fans struck it lucky when Palisades' series two Muppet action figures arrived in stores ahead of the USA because of a port strike. Kami, Sesame Street's HIV positive Muppet appeared with Whoopi Golderberg at the United Nations to promote awareness of the disease and Peter Orton, who set up Henson International Television received a special achievement award at the Children's Film and Television BAFTA's in the UK. Bear danced with the audience during the UK's "Children in Need" Telethon and fans there were also excited when the Muppets arrived at McDonalds in a 25th anniversary promotion that included a series of TV adverts and eight Muppet character plush toys available in Muppet themed Happy Meals. Kermit, Rowlf, Bunsen and Beaker - the first four Muppet character busts by Sideshow Toys were released and we found out two more Muppet watches were to be released by Fossil in 2003. The Muppets made countless TV appearances across America to promote the debut of their Christmas movie including Miss Piggy appearing on "Live With Regis and Kelly" and "The Today Show" while Kermit went out on the late night talk show circuit and was interviewed by Craig Kilborn on what really happened with Snoop Dogg. On Friday November 29th, the long awaited It's A Very Merry Muppet Christmas Movie debuted on NBC and showed that the classic Muppets were back with lots of laughter and a new edgier style.
DECEMBER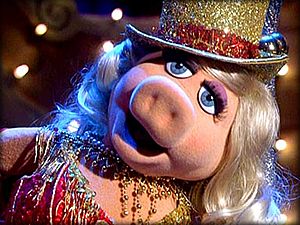 In what had been an extremely busy year for the Henson Company stories appeared surrounding the sale of the company, suggesting Saban, Valentine, Entertainment Rights PLC and Classic Media were the four main bidders for the Muppets although rumors persisted that Disney was also casting its eye over the Henson Company once again. There was good news when we learned the Christmas TV movie had done respectably well in the ratings topping the 18-49 ratings for its time-spot. Elton John auctioned his clothes from his appearance on The Muppet Show amongst others in a London auction and Palisades Toys appeared on "The Today Show" to talk about their donation of Muppet action figures in the Toys For Tots charity campaign. The Muppets also did their bit for charity when Gonzo and Kermit made a rare appearance at "Toys R Us" in Time Square helping with a Mastercard sponsored shopping spree for 50 needy children. Gonzo also appeared with Rizzo on ESPN Sportscenter and "Good Morning America". Muppet Sour Candy was released along with car air freshners themed around the Muppet characters, and Bear in the Big Blue House themed Happy Meals arrived at McDonalds in the UK. Fans in England were also given the chance to win a visit to the Henson Studios in a competition run alongside a Muppet sticker give-away in boxes of cereal at Asda. Congratulations were in order for Kenneth Lilly, long time friend of the Muppet fan community and developer of the fantastic Muppet Show action figures when he married his bride-to-be Jennifer, with specially commissioned Kermit and Miss Piggy wedding figures given to guests as party favors. In a last minute deal, EM.TV surprised fans by announcing they had agreed to sell 49.9% of the Henson Company to an investment group led by Dean Valentine who planned to aggressively market the Muppets and return the characters back to their former glory. However, fans also learned that financing problems might cause the deal to fall through and it looked like Jim Henson's Creature Shop was not a part of the deal and had been put up for sale separately, meaning that uncertainty over the future of the company would continue into 2003.