Muppets wrap up new MasterCard commercial for November debut
By Phillip Chapman
November 1, 2002
Muppet mayhem overtook New York City as the Henson crew just completed filming a new series of commercials for "MasterCard's Priceless Memories Sweepstakes Series".
Directed by Brian Henson, the first commercial features Kermit, Miss Piggy, Fozzie, Gonzo, Animal, Rowlf, Rizzo, Sam the Eagle, Pepe and Miss Piggy's dog, Foo Foo. The commercials were filmed on October 16th, 17th, and 18th in New York City and will begin airing nationwide in November. Beginning November 15th the commercials will be even more visible as they will also be shown in movie theaters.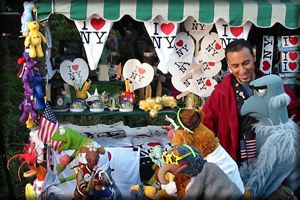 The first commercial begins on a boat looking out on the Statue of Liberty. Piggy says: "Vous, Moi. The City. How Romantic." Then a voice over declares "Trip for eight to New York City: free".
The next shot has Piggy crossing 5th Avenue followed by other Muppets carrying her boxes and shopping bags. In the next shot, the Muppets are at a souvenir stand loaded with souvenirs. Then another voice over is heard, "Shopping, sightseeing: free."
Next, the Muppets are all wearing cool sunglasses, under a sign for the popular musical, "The Producers". The voice over continues, "Broadway show: free."
The next scene is a piano bar with Rowlf playing piano. The voice over concludes, "Being there with people who make you feel warm and fuzzy: priceless."
In the final shot, all the Muppets are in a big checker cab. Animal yells, "Drive fast, drive fast." The voice over concludes, "Use your MasterCard and you could win a getaway almost anywhere with the people you're closest to... In our Priceless Memories Sweepstakes."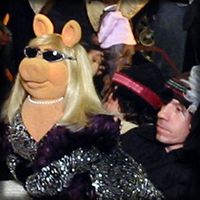 Henson performers in the MasterCard Sweepstakes commercials are: Steve Whitmire, Dave Goelz, Bill Barretta, John Kennedy, Eric Jacobson, Joey Mazzarino, David Rudman, Peter Linz, Stephanie D'Abruzzo, Jim Kroupa and Carmen Osbahr.
The Muppet Workshop provided puppet props, rigging, and a radio controlled Rizzo used for the shoot.
The Muppets have appeared in many commercials throughout 2002. Kermit and Piggy along with Statler and Waldorf were featured in commercials for Denny's Restaurants and Pepe was the spokeshrimp for Long John Silver's last spring.