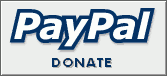 Muppet Show Action Figures Series 1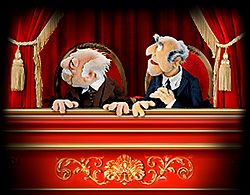 Annika Abel (6-13-2002) - Wow! What incredible collectibles. What fabulous toys. Palisades Muppet Action Figures Series 1 has landed and the Muppet collectibles world will never be the same.
Series 1, as every Muppet fan must know by now, consists of Kermit the Frog, Miss Piggy, Dr. Bunsen Honeydew, and Dr. Teeth with a Muppet Labs Playset with Beaker figure coming out in July. There are also four exclusive figures: Kermit in tuxedo (available from Toys R Us and ToyFare Magazine), Piggy with her hair down (EB Games), Dr. Teeth in a black suit (Wizard World East), and Vanishing Cream Beaker (Chicago Wizard World). In a nod to serious collectors, the exclusive figures are alternate versions of characters available in the regular series. This means every fan should be able to get at least one version of each character released.
For decades, Muppet fans have longed for this, a full line of Muppet figures. The emphasis is on "full". Not just Kermit, Fozzie, and a few others, this line is intended to keep going and going and could well out last the Energizer Bunny, producing all the supporting characters as well as a good number of background Muppets. Rumor has it there may be an Uncle Deadly in the future, something Muppet fans have never before been able to dream about, at least not realistically. Check out Muppet Central's Figure Updates for information on future releases.
Muppets have come close to the action figure world before, but never quite made it. In 1982 Hasbro developed a line of Dark Crystal figures, but never released them. The closest Kermit and company have come to being immortalized as action figures was the 1978 Fisher Price series of seven stick puppets. Of course the stick puppets, with their simplistic movements and detail are not even close to the same league as the Palisades figures. Beyond that, there are a plethora of Muppet PVC's and some Bend-ems, but nothing that entered into the world of action figures.
And what an entrance it is! The most demanding collector will be satisfied with the detail and accuracy on these guys. The texture is, for the most part, just perfect. These plastic toys have the same look to their 'skin' as the foam and fleece Muppets they represent. The quality of the texturing lifts the figures from toys to true collectible status.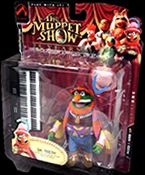 The packaging is great. The Muppet Theater curtains are the inspiration for the blister cards. The blurbs on the back of the cards talk a little about each character; listing their likes, dislikes, hobbies, and profession. Palisades has had fun with these capturing a bit of the personality of each Muppet and playing on long-standing Muppet jokes (Kermit's card, for example, lists 'Pushy Pigs' under dislikes). In fact, the packaging is so well done it almost feels wrong to open it.
Not that they should be left on a shelf in their original packaging. To fully appreciate the detail and fun, the figures have to be taken out and played with. Put Kermit's coffee cup in his hand and swivel his arm around to bring it to his mouth. Check out the tail on Bunsen's Robot Rabbit. Twist Dr. Teeth's hands and pose him at his keyboard. Holding these brings out a whole new appreciation for the work going into the line.
Accessories are frequently after thoughts that add little to a toy. Not so in this case. Almost as much effort must have gone into the extras as went into the characters themselves. Palisades has included accessories that capture the essence of each character. For a Muppet like Dr. Teeth, that's easy. Give him his keyboard, but for others it is less clear cut. Kermit, for example, has no signature accessory. Giving him a television camera was an inspired choice. No, the cameras were never seen on The Muppet Show, but it was a TV show and cameras were clearly involved. More importantly, it underscores Kermit's role as the ring leader; the Muppet trying to hold everything together.

Take care when picking out figures. Inspect the paint carefully. The occasional imperfection is unavoidable. We will not get museum quality art for $7.99. However, we will get the best action figures around and a more complete line of Muppet characters than ever before. Sure Piggy isn't perfect, but she is an action figure. Piggy looks like a Miss Piggy action figure, not an unreasonable trait in an action figure line. The only reason fault can be found with that is because the other three don't look like action figures, they look like model Muppets. Palisades Muppet figures are truly a must-have for any Muppet collector. The most discriminating fan will be pleased with this line. In conclusion, all I can say is: bring on series 2!

Kermit the Frog
Accessories: Camera with The Muppet Show logo, 'Kermit' Coffee Mug, Logo Base

Kermit is superb. Each long, thin finger is rendered perfectly. He can hold his coffee mug in his right hand. The slight creases at his elbows and knees mimic the movement of the real cloth Kermit. His collar, with all eleven points, is made of a more flexible plastic allowing his ball-jointed shoulders full rotation. The slight upward curl of the toes on his flippers is a wonderful touch. However, my favorite features are the creases in his neck. This seems like a small detail that could easily have been over looked but it adds so much realism to the figure and demonstrates the attention to detail and accuracy that is the hallmark of this line. I chose my Kermit carefully. Some had slight cuts to the collar. Collectors should watch for this when picking their piece. Kermit is deceptively simple and my favorite of Series 1. Nothing has been over looked with this figure, right down to the movement of the camera.

Miss Piggy
Accessories: Dressing Table with Mirror, Hand-held Mirror, Boa and Logo Base

Piggy is the only figure with which I am not entirely satisfied. Her ears are a touch too close together, but the main problems are her figure and 'skin.' This svelte Piggy is not the lovable diva of The Muppet Show. She has the model-like proportions Piggy has always imagined for herself; long legs, slim waist, even a reduced bosom. This is, reportedly, the way Henson wants Piggy portrayed so it is not to be held against Palisades, still, I hope Henson will return Piggy to her old self in short order. Piggy lacks the texturing that makes the other figures look like Muppets. Her smooth 'skin' gives her a more human appearance. Subtle texturing would give her a more Muppety look. On the up side, the vanity drawer opens and the mirror tilts. Piggy can hold her hand mirror and on the back of the mirror is an elegant P. Of course both mirrors actually reflect. Piggy can stand on her own, but with her high heels she is far more stable on the stand (that's Piggy for you: fashion before function). All of the Piggy figures I saw had some gunk around the shoulder ball joints and several had paint drips in various places. Unfortunately, I became so wrapped up in the details of the figure, I did not notice a damaged leg on my Piggy's vanity until after I got her home. Piggy's signature pearl necklace is nicely done, with the head movement above the necklace, allowing the necklace to remain stationary when her head is turned. Her gloves are just the right shade of purple and have creases and wrinkles in them as appropriate. It is possible to adjust one hand so Piggy can study her reflection in the hand mirror and wave with her other hand. The sculpted up-do is far better in person than in photos. Piggy's skirt is made of flexible plastic allowing a bit of leg movement despite the tight skirt.

Dr. Bunsen Honeydew
Accessories: Robot Rabbit, Muppet Labs Book and Logo Base

They say accessories make the man, and that is certainly apt in this case. Robot Rabbit is more like a second figure than an accessory. His legs, arms, head, and head lever move. He has raised nail heads in all the appropriate places. He is a grand robot and would probably sell well on his own. The Muppet Labs notebook opens to reveal a tic tac toe game and a shopping list. Not that Bunsen needs the accessories to be a great figure. From his shoe laces to the pencil in his lab coat pocket, no detail has been missed. Even the buttons on his coat and vest have realistic holes in them. His coat is made of flexible plastic, like Kermit's collar and Piggy's skirt, so it will stand up to rough play. Different textures for his vest and tie convey the look of different fabrics. He can hold his notebook and he has more movement than Kermit. The accuracy of the face sculpt is refreshing. There's just enough detail to give the hint of a chin and cheeks without making his face more human than Muppet. No advice for collectors on this one-- the Bunsen I got is flawless. Now that I think about it, Bunsen might be my favorite…

Dr. Teeth
Accessories: Black Keyboard with Stand and Logo Base

The problem with Dr. Teeth is where to begin. There is tons of detail on this one. I don't even want to contemplate how many different applications of paint go into this guy. At a quick glance, I counted 26 different colors. The amazing thing is, when you look at the figure, you just see Dr. Teeth. Not a simplified Dr. Teeth. Not Dr. Teeth minus the groovy clothes. Just Dr. Teeth, exactly as he should be. There are stitching lines in the loafers, rings on his fingers, and individual strands of fringe everywhere. From the back, the attention to detail is awing. Dr. Teeth's vest, a separate piece of softer plastic, has numerous out of place pieces of fringe, each individually painted. The figure almost needs to be displayed backwards to spotlight this bit of work. Dr. Teeth's hat fits snugly on his head via little notches. His wrists swivel allowing him to 'play' his keyboard. An unexpected touch is the movement at his ankles. The downside of a figure this complex is the inevitable paint goof. Mine has a small drop of pink just beyond his tongue. There are also a couple of small scratches on his nose and a smudge on the fringe of his vest near one shoulder. However, the other Dr. Teeth available had a far more noticeable discolored sleeve. This figure requires careful scrutiny before purchasing.

Muppet Labs Playset with Beaker
Accessories: Gorilla Dector, experiment table, lab equipment

The Muppet Labs playset is more reminiscent of the lab in Disney's MuppetVision 3-D than any of the versions of the lab from The Muppet Show. This will disappoint fans looking for replicas of The Muppet Show sets, but it is important to remember Muppet Labs did not have a consistent set throughout the series. This incarnation of the lab is intriguing and dark, truly setting the stage for experiments gone a wry. The green and black color scheme gives it a feeling of foreboding, perhaps a foreshadowing of the perils that await poor Beaker at the hands of Dr. Honeydew. The green and yellow tiled floor, green walls, and hazy windows are all textured. The counter and machinery have an industrial look to them, done in black with detailed nail heads and moving levers in two places. In an intricate collection of test tubes on the counter, Bunsen's latest experiment bubbles away. No detail has been missed on the experiment table where multiple cuts are evident on the wood planks. One can only imagine what Beaker has endured while strapped to this table, all in the name of Science. Centered against the back wall of the lab is a large cauldron with a window, perfect for dropping Beaker in because his face appears in the window, pleading for help (Meep!). The gorilla detector, while it does not do anything, is a great nod to hard-core Muppet fans who remember this prop from the Avery Schreiber episode of The Muppet Show.

Beaker, plain old ordinary Beaker with no vanishing parts, is reason enough to buy the playset. From his saddle shoes and striped sox, to his checkered shirt and the uvula painted in his mouth, this is Beaker. The red highlights in his orange hair are a very nice touch. A couple picky little complaints: Beaker has a button on the cuff of each arm, on his right arm the button is painted white, on his left it is pained along with the rest of the shirt in the green and white check pattern. The paint scheme is not quite perfect on the fold of one of Beaker's shirt collars. There are a few drips of paint on the lab counter top and it is difficult to make the electrode helmet stay on Beaker's head. Would have been nice to get some free standing test tubes and other equipment Bunsen and Beaker could hold in their hands, thus allowing the user to create their own experiment set up. Working drawers under the counter would also be a good addition and allow for extra storage. As I said, these are all small details, over all the labs playset is another top notch toy from Palisades.

Exclusive Kermit the Frog in Tux (Toys R Us and Toy Fare)
Accessories: Camera with The Muppet Show logo, 'Kermit' Coffee Mug, Logo Base

Tuxedo Kermit has a distinct advantage over regular Kermit. Not only is he a snappy dresser, his trousers allow for fatter legs which give the figure more stability. His clothing also makes possible jointed ankles and wrists. At this point we can pretty much take attention to detail for granted, but it is still worthy of note. Kermit's shirt has tiny tucks running down the front. The buttons on his vest and jacket are properly placed and Palisades remembered the two buttons on the back of the jacket. The studs on his shirt are not simply dots of black paint, the plastic is actually raised slightly to give the buttons depth. There are wrinkles in his trousers in the proper places and they have a freshly pressed look with creases running down the front and back of each leg. Kermit's lapel and the trim on the side of the trousers are shinier than the rest of the tux, indicating the satin lining of a tuxedo. Kermit is walking and, when properly posed, the figure truly looks as though he is about to take a step. When the top hat is removed, there is a hole in the back of Kermit's head (the hat has a peg which fits in the hole and holds the hat in place). However, the top hat is such a wonderful finishing touch I see no reason to ever remove it. It can be a bit tricky to get Kermit positioned properly, but the packaging does tell us to 'play with it.' The shiny plastic of the shirt, vest, and bowtie can look a little fake, but that is a minor point. I would have liked spats on Kermit's feet, but again, that is a matter of splitting hairs. Overall this is a must have figure and he looks great.

Exclusive Miss Piggy with Long Hair (EB Games)
Accessories: Dressing Table with Mirror, Handheld Mirror, Boa and Logo Base

As expected, the hair down version of Piggy is a big improvement over the regular series Piggy. This is the Piggy we know and love. I still think the ears are a tad too close together, but having her hair down makes this less noticeable. The long molded hair impedes Piggy's head movement, but this is the sole downside of this do. The hair has been sculpted in detail with tons of individual strands and soft curls at the ends. The detailed texturing of the hair, however, reminds one of how much 'skin' texturing would improve the Muppet look of this figure. The smooth legs, face, and upper arms just don't reflect the fabricated look of the real Miss Piggy. The colors are great on this repaint. The dark blue dress brings out Piggy's eyes and is more complimentary than the purple on the regular assortment Piggy. I have to wonder about the lighter blue of Piggy's shoes. I imagine they are intended to more closely match the color of the boa, but they look funny with the dress. Miss Piggy would have shoes that go perfectly with her dress, wouldn't she? The boa is magnificent. It's a grand Piggy accessory. It looks great with the dress and suits Piggy beautifully. The vanity, in light purple with silver and pink accents, is quite snazzy and far more striking than the pinks and gold on the regular vanity. Again there are paint drips, particularly on the shoes. My exclusive Piggy has a bit of plastic gunk on one ear and some black stuff on her chin. The long hair helps hide the shoulder ball joints and the smudges accompanying them. This Piggy is far superior to the regular Piggy, I just hope future Piggy's come with the same wonderful Muppety texturing as the other figures.

Exclusive Dr. Teeth in Black Suit (Wizard World East)
Accessories: Purple Keyboard with Stand and Logo Base

The Dr. Teeth exclusive available at Wizard World East, a convention held in Pennsylvania, is a repainted version of the regular Series 1 Dr. Teeth. Again, the paint job is complex and incredibly detailed. And again, there are paint drips in places. Fewer colors are used on the exclusive than the regular Dr. Teeth; a quick count reveals 12 different colors. Dr. Teeth's cummerbund has a flower (or perhaps it is supposed to be fireworks?) design versus the paisley pattern on the regular figure. His shirt, in black and white stripes, is quite striking. The darker blue color shows off the texturing on the exclusive's pants better than on the regular Dr. Teeth. Dr. Teeth's keyboard is purple on a black base. While the regular Dr. Teeth's coloring remains true to the images from The Muppet Show, the variant captures the band leader's preference for groovy clothing and unique sense of style.

Exclusive Vanishing Cream Beaker (Chicago Wizard World)
Accessories: Vanishing Cream

This is just cool! The bottom half of Beaker, elbows and waist down, is visible; painted just like any other Beaker figure. The upper half, however, is clear plastic. The paint job thins out around the waist, making it appear the cream is still taking effect. Apparently, Bunsen has only rubbed vanishing cream on half of Beaker. The Muppet texture on Beaker's clear head is very nice. The tube of vanishing cream may have been designed to fit in Bunsen's hand, but Beaker can also hold it. The clear glob of cream coming out of the tube is a great touch. This Wizard World exclusive comes boxed and the packaging is top notch. Different pictures of Beaker grace the sides of the box. The back shows all the figures in Series 1 and 2 (excluding exclusives) and the front consists mostly of a window to display the figure. Mine does have a little bit of sloppy paint on the cuffs and shoes, but you have to go looking to notice. Two tiny buttons on the cuffs of Beaker's sleeves are not painted, but that is my only complaint.
Exclusive Invisible Beaker Giveaway (Chicago Wizard World)
Accessories: None

Invisible Beaker is technically not an exclusive. This figure was given away at an industry-only party at the Chicago Wizard World convention. Invisible Beaker was also given away as a special surprise to the first 500 people who joined the Palisades Collector's Club. Invisible Beaker comes in a clear plastic bag, not as a carded or boxed figure. As the name implies, this is a fully invisible Beaker—Bunsen must have gone through a lot of vanishing cream on this experiment. Invisible Beaker is identical to the other two Beaker figures (Vanishing Cream and the standard figure) however he is made entirely of transparent plastic. The only paint on the figure are the two white pupils. The lack of paint means there is no need to worry about paint drips. It is fun to see some of the articulation workings and how these figures are put together. In combination with the other two Beakers, Invisible Beaker offers ample opportunities for creative play and practical jokes.