Swamp Years ends production with September release
Courtesy of Video Premiere On-line
May 24, 2002
Having completed postproduction work last month on the first live action Muppet video premiere movie, "Kermit's Swamp Years: The Real Story Behind Kermit the Frog's Early Years", Jim Henson Home Entertainment has delivered the finished film to Columbia TriStar Home Entertainment for a planned debut in September.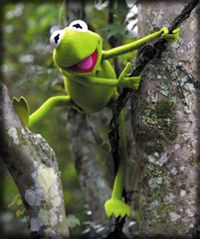 Henson senior VP Michael Polis, who is executive producer on the film, said the company is now working on extras for the DVD.
In addition to outtakes and behind-the-scenes footage, extras include a new Muppet armadillo character providing quasieducational interviews of members of the cast and crew (to the best boy: "Did you work your way up from Good Boy?") and a new Muppet horsefly character named Horace who is interviewed along with Kermit.
A rock version of the popular "The Rainbow Connection" theme song from the first theatrical Muppet movie is performed by Me First and the Gimme Gimmes with the outtakes on the DVD edition.
The movie itself features two original songs, one of which takes place in a pet store where the other animals describe how great it is to be a pet and have owners clean up your "number two."

Henson has many hopes pinned on the success of this 82-minute video premiere movie, with outlines for follow-ups already drawn up.
Henson is also developing original video premiere movie franchise projects to be announced in August that would build on strong consumer sales of the company's fantasy films, including Dark Crystal and Labyrinth.
Henson might partner with Columbia or another distributor on those projects.
"Kermit's Swamp Years" was filmed at Disney's MGM Studios last fall.