The Muppet Movie honored at Pennsylvania film festival on October 13
Courtesy of the Black Bear Film Festival
October 6, 2002
At the highlight of this year's Black Bear Film Festival is a special screening of the 1979 film "The Muppet Movie". The newly restored print of the 1979 classic will be shown outdoors highlighting the Black Bear Film Festival. John Henson will be performing Sweetums at this special event.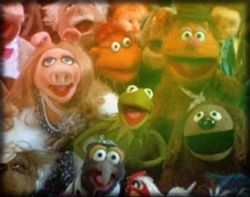 "The Muppet Movie" screening will take place on Sunday October 13th at 7:30 pm. The film will be shown at the Tri-State Drive-In Theatre Route 6/209 in Matamoras, Pennsylvania. The theatre is located just north of Exit 53 off Interstate 84. Matamoras is at the point where New York, New Jersey and Pennsylvania all meet. It is about 1 hour and 40 minutes from New York City.
Admission is only $10 per car. This is a fantastic opportunity to see this great film on a really big screen and under the stars. Call 570-409-0909 for information.
The weekend-long festival begins Thursday October 10 and contuines until Sunday October 13. Find out more info on the festival at blackbearfilm.com.