"The Great Muppet Caper" and "Muppet Treasure Island" coming to Blu-ray December 10
Both Muppet films have been restored and remastered for the first time on Blu-ray
Courtesy of The Walt Disney Company
August 10, 2013
Walt Disney Home Entertainment is bringing The Great Muppet Caper (1981) and Muppet Treasure Island (1996) to Blu-ray this holiday season via a 2-Movie Blu-ray/DVD Collection.
Both Muppets feature films are making their Blu-ray debuts, and arrive on December 10th.
A treasure trove of hearty laughs is yours when two of the funniest, most action-packed Muppet movies of all time make their Disney Blu-ray debut in this heartwarming 2-Movie Collection.
From the special star-studded lunacy in Muppet Treasure Island to the jewel-heist hilarity of The Great Muppet Caper, these two classic comedy-adventures are packed with music, mirth, mayhem and, of course, Kermit, Miss Piggy, Animal, Fozzie, Gonzo and all your Muppet favorites.
Loaded with unforgettable music and sparkling special effects, this restored and remastered collection is a 2-movie treasure you won't want to miss.

Blu-ray Bonus Features
Special Features: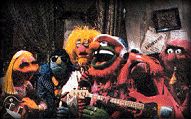 • Frog-E-Oke Sing-Along
Sing, howl and croak along with Kermit and the gang.
Muppet Treasure Island – "Cabin Fever"
The Great Muppet Caper – "Steppin' Out With A Star" & "Happiness Hotel"
• "The Tale of the Story Beyond the Tail"
Set sail with the Muppets – and try not to get seasick – as cast, crew and creatures take a look back at the making of the movie.
• "Let the Good Shine Out" Music Video
• Audio commentary with Gonzo, Rizzo And Brian Henson.

Save off the regular price, pre-order the restored Great Muppet Caper and Muppet Treasure Island on Blu-ray and DVD with a low price guarantee.

MORE MUPPET NEWS

• Muppets star in Toyota Super Bowl ad campaign
• Music Video: "All I Need is Love" with CeeLo Green and The Muppets
• Muppets on The Voice Tuesday November 27
• The Muppets Take Disney Store Manhattan November 27
• The Muppet Christmas Carol arrives on Blu-ray November 6
• Kermit and Miss Piggy on "Best in TV" ABC special September 18
• "Kermit's Party" viral videos from Bounty Paper Towels
• The Electric Mayhem on Jimmy Kimmel March 21
• Miss Piggy and Sharon Osbourne go head-to-head on The Talk