Follow that Bird DVD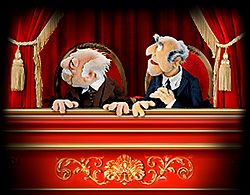 Scott McGuire (5-16-02) - The first Sesame Street movie, "Follow That Bird," was released on DVD on March 26, 2002.
Originally shown in movie theaters in 1985, "Follow That Bird" tells the story of how the misguided Feathered Friends society decides that Big Bird needs bird companionship, which he isn't getting on Sesame Street, where instead he is surrounded by the Sesame Street humans and Muppets. So Big Bird is relocated to live with the Dodos, a rather dull-witted family of large birds who don't even understand what "make believe" is. Big Bird decides to sneak out and return to Sesame Street by walking. He's pursued in one direction by the Sleaze brothers, who want to turn him into a circus attraction and in the other by his friends from Sesame Street who want to bring him back to Sesame Street.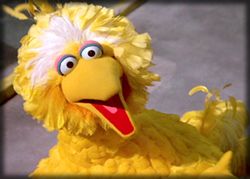 Watching the DVD, I was reminded what a fun movie this is. It has quite a bit in common with "The Muppet Movie". It's a road/chase movie with all the Sesame Street Muppets and humans, along with celebrity cameos, and it's all pretty much played for laughs instead of educational content, although there is a message about being among your friends no matter what they look like at the end.
The DVD itself is minimal, but you get good quality. First off, the DVD is full screen (pan-and-scan) only. No widescreen. This is kind of disappointing, but not a complete surprise. Warner Brothers, who released the DVD, seems to believe that "children's" titles shouldn't be widescreen. (Last fall they attempted to release "Willy Wonka and the Chocolate Factory" and a couple of other titles as full screen only and only released widescreen versions after a large hue and cry. Unfortunately, the lesser known "Follow That Bird" probably won't inspire a similar campaign.) If Warners feels that kids want full screen, that's fine, but would it hurt them to include a full screen version on one side of the DVD, and a widescreen on the other?
But oh well, my off-air VHS tape of the movie was only full screen too, and this DVD looks a heck of a lot better than that, so I'm still happy to replace my tape with the DVD. The video is clean, sharp, colorful, and with good contrast. I was pleasantly surprised that it looks like some care was made in preparing it. For comparison, it looks a lot better than The Muppet Movie DVD does.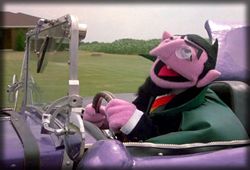 The audio is only in Dolby Prologic Surround, no Dolby Digital 5.1 remix was done. But once again, even with the older surround mix, I thought "Follow That Bird" sounded fuller and had better surround use than the 5.1 remixes which were done for "The Muppet Movie" and "The Great Muppet Caper." So I was pleased with the audio too. Of course, "Follow That Bird" is a newer movie than either of the first two Muppet movies, so it should look and sound better, but sometimes there's no telling.
There are essentially no extras, only the movie's trailer and a "jump to any song feature" (which really you can do with the scene selection screen). As befits a Sesame Street disk, the movie's audio is also available in Spanish and Portuguese, and French, Spanish, and Portuguese subtitles are an option.
The menus are simple, brightly colored, and seem geared to a child. For instance, the marker for which option you're going to choose is a big green "Go" and "return to main menu" is an arrow labeled "My Main Page" pointing at Big Bird.
Overall, I'd recommend the DVD, despite the lack of widescreen.

Discover what you may be missing!
Learn the differences between widescreen and pan-and-scan DVDs.