It's a Grand Slam: The Muppets arrive at Denny's
Courtesy of Denny's Restaurants
May 16, 2002
Denny's restaurants and Jim Henson's Muppets have partnered for a summer celebration of 25 years of the Grand Slam Breakfast and The Muppet Show.
Beloved characters from the Muppet television series, including Kermit the Frog, Miss Piggy and Statler & Waldorf, the two heckling old guys in the balcony, will be featured in new commercials for Denny's that will begin airing nationally on May 20.
"We are pleased to celebrate the Grand Slam's 25th anniversary with the unique brand of fun that only the Muppets can deliver," said Nelson Marchioli, chief executive officer and president of Denny's.
"The Muppet Show and our world famous characters have been part of popular culture for 25 years," said Charles H. Rivkin, president and CEO of The Jim Henson Company. "Commemorating our silver anniversary together with Denny's ever-popular Grand Slam Breakfast seems like a natural fit."
Denny's is celebrating the 25th anniversary of the introduction of its signature Grand Slam Breakfast with a comprehensive advertising campaign, including television, radio and print as well as in-store point-of-purchase materials featuring the Muppets. The advertising creative was developed by WestWayne, Inc. of Tampa, Florida.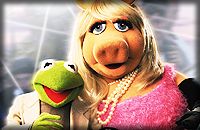 Jim Henson's Muppets have brought joy to generations for over 45 years. Notorious for their unique style of entertainment, the Muppets have become international superstars. This year they are celebrating the 25th anniversary of The Muppet Show, the Emmy Award-winning television series that aired in over 120 countries. The Muppets are pop culture icons with over 5,000 licensed products in the marketplace and promotional deals with NASCAR, UPS, McDonald's and Virgin Atlantic among others. These irreverent characters have recently appeared on MTV Music Awards, Access Hollywood, Today, Live with Regis and Kelly, Who Wants to be a Millionaire? and Hollywood Squares. The Jim Henson Company recently partnered with Fox Broadcasting Company to develop a new primetime Muppet series and is currently producing a Muppet holiday movie for NBC to air in 2002.
Denny's signature Grand Slam Breakfast -- two fluffy hotcakes, two eggs, sausage and bacon -- was first promoted in May 1977 and remains the brand's best-selling entree. The Grand Slam Breakfast is available for only $2.99 from 5 a.m. to 10 p.m. at participating Denny's locations. In addition, the company has introduced a new breakfast entree, Fabulous French Toast, and a BBQ Chicken Sandwich.
The Denny's commercial will air on national cable, including A&E, ESPN, The Family Channel, Lifetime and USA networks. The ad will also run on spot television in over 30 markets.
The Jim Henson Company, an established leader in family entertainment for more than 45 years, is a multimedia production company; one of the top character licensors in the industry; a leading publisher of children's books and home to Jim Henson Television, Jim Henson Pictures, Jim Henson Interactive, Jim Henson Home Entertainment and Jim Henson's Creature Shop. The Company is headquartered in Los Angeles with offices and production facilities in New York and London. The Jim Henson Company is a wholly owned subsidiary of EM.TV & Merchandising AG based in Munich, Germany. The Jim Henson Company website is located at: www.henson.com.
Denny's is the nation's largest full-service family restaurant chain with more than 1,700 locations in the United States, Canada, Costa Rica, Guam, Mexico, New Zealand and Puerto Rico. Denny's is owned by Advantica Restaurant Group, Inc., one of the largest restaurant companies in the United States.