Caroll Spinney awarded the 2003 Legacy for Children Award
Master Puppeteer of Big Bird and Oscar the Grouch will be honored Thursday, January 30, 2003 6:30 p.m. at the San Jose Fairmont Hotel
Courtesy of the Children's Discovery Museum
October 1, 2002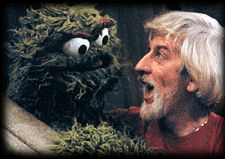 Perhaps best known to generations of children as Big Bird and Oscar the Grouch, Caroll Spinney has devoted more than 30 years to being the live puppeteer of these beloved characters. A member of the original Muppets cast and recruited by Jim Henson, Spinney has performed at 123 Sesame Street, the fictional New York City neighborhood, since 1969.
More than 10 million U.S. children tune into Sesame Street each week and thousands more in 148 countries to learn the alphabet, their numbers, and some of the "hows" and "whys" of the world we live in. In 2000, Spinney was named a "Living Legend" by the Library of Congress (joining Bill Cosby and Barbra Streisand) and has won four Emmys for his puppetry. He reports that his greatest accolades, however, come from the children he has devoted his life to serving, who send care packages of bird seed and letters to Big Bird thanking him "for being their friend!"
Please support this event by sponsoring a table! Complete the reservation form and fax it to 408-298-6826, or send it to:
Debbie McKenzie
Children's Discovery Museum of San Jose
180 Woz Way
San Jose, CA 95110
Individual tickets for the event and dinner are $250. For more information or to purchase tickets, please contact Debbie McKenzie at 408-298-5437 ext. 202. Note: Caroll Spinney will not appear as Big Bird.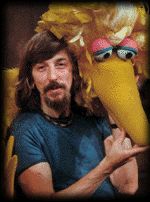 About the Legacy for Children Award
The Legacy for Children Award honors an individual or organization whose work has significantly benefited the learning and lives of children, thereby helping focus Silicon Valley's attention on the needs of its children and encouraging us all to take responsibility for their well-being. Rob Reiner and "I Am Your Child Foundation" (2001), The David and Lucile Packard Foundation (2000) and Mr. Fred Rogers (1999) were the previous awardees. Candidates are nominated by a committee of notable community members involved in children's education, health care, human and social services, and the arts.