Muppet Checks and Address Labels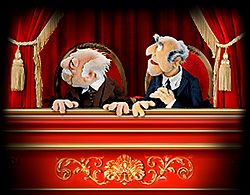 EDITOR'S NOTE - Image Checks is no longer licensed to sell Muppet checks, address labels, address cards or leather checkbook covers. The decision to end the contract was made by Disney, not by Image Checks and the contract ended on July 31, 2004. Please do not contact Image Checks as they no longer have Muppet product.
Annika Abel (2-3-2002) - Nothing brightens that electric bill like Kermit smiling up at you as your bank account dwindles! Now available from Image Checks are Muppet checks and address labels. The series consists of four images: Kermit, Piggy, Fozzie, and Animal. Rumor has it there is also a leather checkbook cover available, though it is not currently listed on-line with the other Muppet products.
One-part checks are available at $23 for 400, duplicate checks are $29 for 300, however, there are special discounts for first time customers and prices in brochures and newspaper ads are significantly cheaper than the Image Checks Web site. The Sesame Street checks available from Checks Unlimited are the same price as the Muppets checks. Sesame Street address labels, however, are a bit cheaper at $6.95 for 200 versus $7.95 for 144 Muppet labels.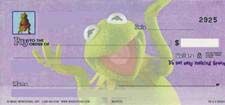 On the plus side, it is great to finally have Muppet checks. For years, checks have been available in a myriad of designs, but no Muppets. Sesame Street checks have been available for a few years now, but for many of us, nothing compares to the classic Muppet characters.
A nice touch to the checks is the inclusion of a small-boxed Muppet image in the upper left corner. The larger, primary Muppet picture serves as the background to the check. The additional boxed image is a different picture of the same Muppet.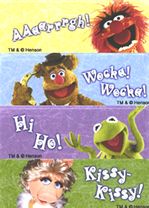 On the down side, only four Muppets are included in the series (the Sesame Street series include 8 check designs and ten Muppets). No Rowlf, Rizzo, Pepe, Floyd, and most notably, no Gonzo. Additionally, the checks come with a plain register where as the Sesame Street register has a cute little Sesame Street picture on the cover and comes with a clear plastic checkbook cover so the register cover may be displayed. Thus, with the Sesame Street checks, one may achieve a completely Muppetized checkbook without the additional expense of the leather Sesame Street checkbook cover. For a fully Muppet check experience with this series, one must purchase the currently unseen leather checkbook cover.
The Muppet address labels have Kermit saying "Hi Ho!", Piggy replying with "Kissy Kissy!", Fozzie with his trademark "Wocka! Wocka!", and Animal proclaiming "AAaarrrgh!"
Overall, I am delighted to have classic Muppet checks. The checks are nicely designed and produced. However, I think for a truly top-notch product Image Checks could have taken a little more time and included a few more Muppets in the series.