Chicago Speedway: Free the Muppets
Courtesy of Scene Plus
July 18, 2002
Kermit The Frog was all excited about attending the NASCAR Tropicana 400 at Chicagoland Speedway. He was so excited about sharing the hood of Dale Jarrett's Ford with Miss Piggy that he was even quoted in Jarrett's pre-race press release.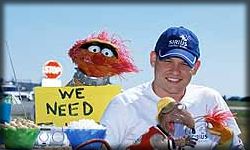 "I don't have to worry about getting queasy during the race," Kermit was quoted as saying. "I turned green years ago."
When the big day finally arrived, Kermit was green with envy, watching from outside the track like the rest of his Muppet pals.
Kermit, Miss Piggy and the rest were left holding "We Need Tickets" signs due to a dispute between Chicagoland officials and Action Performance Cos. Inc., which was running the promotion.
The dispute, involving a licensing agreement, had both sides seeing red, but most competitors in the garage joked about the issue, with signs proclaiming "Free The Muppets" popping up everywhere.
Bill Elliott even broached the subject during his post-qualifying news conference. "Isn't anyone going to ask me about the Muppets being in jail?" he asked. "There's a ban on Muppets in Chicago," said car owner Ray Evernham. "What kind of town is that? (Frank) Sinatra would be rolling over in his grave if he knew they banned the Muppets. It wouldn't be his kind of town."
Although the issue was never resolved, eight Winston Cup cars carried special Muppet paint schemes for the race. In addition to Jarrett's Ford, other Muppet drivers were Jimmy Spencer, Casey Atwood, Bill Elliott, Mike Wallace, Bobby Labonte, Jeremy Mayfield and Ricky Rudd.
Special thanks to Scene Plus for their contributions to this article.