"The Muppet Movie" anniversary edition arrives on Blu-ray August 13, 2013
Experience The Muppet Movie like never before as it arrives on Blu-ray and digital hi-def this summer.
Courtesy of The Walt Disney Company
May 17, 2013
See how the Muppets began, with the nearly 35th Anniversary Special Edition of the original, classic that started it all—The Muppet Movie, produced by the cultural icon and Muppet creator himself, Jim Henson!
Witness the hilarious origins of everyone's favorite Muppets--Kermit the Frog, Fozzie Bear, Miss Piggy, Gonzo, Animal, and the rest—as they embark on an inspirational and laugh-filled road trip to follow their Hollywood dreams. And now for the first time, you and your family can see the Muppets make the "rainbow connection" in vibrant Blu-ray Hi-Def.
Bring home the story of the Muppets' rise to stardom on hi-def for the first time ever, complete with all-new bonus and the non-stop entertainment of Disney Intermission. Experience the beloved Muppet classic like never before on hi-def Blu-ray and digital download, August 13, 2013.

The Muppet Movie Blu-ray Bonus Features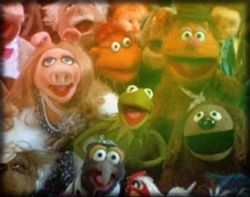 Disney Intermission - An all-new bonus feature. When the film is paused, fans can watch humorous songs and sketches from your favorite Muppets.
Director James Frawley's Muppet Screen Test - Including never-before-seen-footage!
... and much more!
Editor's Note: Disney is currently finalizing more bonus features and they will be announced soon. Follow us on Twitter, Facebook and sign up for our mailing list for the latest updates on The Muppet Movie Blu-ray release.
Here's Muppet Central's bonus feature "wish list". We'd love to see included:
Surviving deleted scenes as seen on various 16mm versions of the film and the 1980's UK home video release

"The Muppets Go Hollywood" the one-hour special promoting the theatrical release of "The Muppet Movie"

Commentary by Muppeteers (and Muppets!): Dave Goelz, Steve Whitmire, Frank Oz and Director James Frawley

Isolated instrumental score

Original theatrical trailers and Muppet Movie TV commercials

Preview The Muppet Movie Blu-ray
Save off the regular price, pre-order the restored Muppet Movie on Blu-ray and Digital Copy with a low price guarantee. The Muppet Movie on DVD will also be released on August 13, 2013.

MORE MUPPET NEWS

• Muppets star in Toyota Super Bowl ad campaign
• Music Video: "All I Need is Love" with CeeLo Green and The Muppets
• Muppets on The Voice Tuesday November 27
• The Muppets Take Disney Store Manhattan November 27
• The Muppet Christmas Carol arrives on Blu-ray November 6
• Kermit and Miss Piggy on "Best in TV" ABC special September 18
• "Kermit's Party" viral videos from Bounty Paper Towels
• The Electric Mayhem on Jimmy Kimmel March 21
• Miss Piggy and Sharon Osbourne go head-to-head on The Talk