Original Gordon, Matt Robinson dies
Courtesy of Yahoo News
August 6, 2002
Matt Robinson, a writer for the 1980s sitcom "The Cosby Show" and the first actor to play kindly neighbor Gordon on the children's show "Sesame Street," has died. He was 65.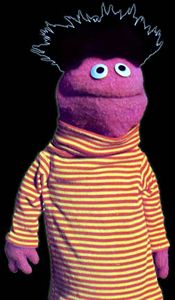 He died in his sleep Monday at his Los Angeles home after a 20-year struggle with Parkinson's disease ( news - web sites), spokeswoman Patti Webster said Tuesday.
Robinson, father of actress Holly Robinson Peete, began his show-business career in 1963 as a writer, producer and on-air talent at local TV station WCAU in Philadelphia.
In 1969, he took the role of Gordon on the PBS children's program "Sesame Street" and also performed the voice of purple-faced puppet Roosevelt Franklin. Robinson remained with the show until 1971, and the role was briefly handed to actor Hal Miller. Roscoe Orman has played the part since 1972.
Robinson went on to produce and write the films "Save The Children" (1973) and "Amazing Grace" (1974). He also wrote several plays including the off-Broadway production "The Confessions of Stepin Fetchit."
His most significant contribution to the entertainment community was as a television writer, penning scripts for such shows as "Sanford and Son" and "Eight is Enough."
He joined with fellow Philadelphia native Bill Cosby in 1983 as a staff writer and producer for the comedian's NBC family sitcom "The Cosby Show."
Though impaired muscle coordination from his Parkinson's disorder made work difficult at times, Robinson remained with the show for seven seasons.
Born Matthew Thomas Robinson Jr. in 1937, he was raised in Philadelphia and attended Penn State University. He is survived by his daughter; son Matt Robinson III; their mother, Dolores Robinson, and five grandchildren.
A memorial service was scheduled for Friday at the Writers Guild of America theater in Los Angeles.