Muppet tech master and puppeteer Franz "Faz" Fazakas dies at 95
Fazakas made huge contributions to Muppet productions in the 1970's and 1980's by pioneering hundreds of puppetry special effects.
Courtesy of The Jim Henson Company
September 30, 2013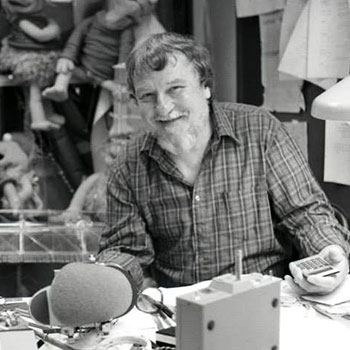 Muppeteer Faz Fazakas has died.
Fazakas was a genius special effects designer and puppeteer who began working with puppets in the 1950's.
He joined Jim Henson in the 1970's and developed the mechanism to control the eye movement of life-size Muppets like Big Bird and Sweetums as well as the wizardry needed for the smaller characters including Rizzo the Rat and the Doozers. He worked on many of the Muppet films as well as The Muppet Show, Fraggle Rock and The Dark Crystal.
From helping the Muppets ride bicycles, to rowing a boat for Emmet and Ma Otter, to controling the massive Gorgs and miniscule Doozers, the pioneering work of Faz Fazakas will live on for generations.
Share your memories and favorite moments of Faz Fazakas in the Muppet Central Forum.

MORE HENSON NEWS

• Jerry Nelson tribute at The Moving Image Museum October 27
• Jim Henson's Pajanimals debuts on NBC Kids Saturday July 7
• The New York Pops play The Muppets at Carnegie Hall April 14
• Henson announces "Sid the Science Kid: The Movie" in 3-D
• The Jim Henson Company Puppets to perform at the 2011 Grammys
• "Pioneers of Television" special to honor Jim Henson
• Classic "Henson's Place" special arrives on DVD August 3
• Frank Oz unveils tribute to the "Henson Pipes" at NBC Studios