Disney and Viacom compete for Henson
By Phillip Chapman
Courtesy of the Orlando Weekly
March 2, 2001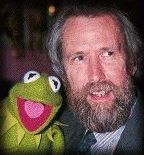 Published reports in the Orlando Weekly raise speculation of EM.TV's imminent sale of the Jim Henson Company to new levels.
According to the report, one of the stipulations of the Kirch rescue package, was the "demand that EM.TV immediately divest itself of all unnecessary assets. Which, apparently, included the Jim Henson Co."
Many at EM.TV are more willing to sell Henson since the surprise revelation that they wouldn't own the full rights to The Muppet Show and Fraggle Rock until 2050. The board found out last month, even though the contract was signed in March 2000.
Henson sources confirmed that there is strong interest from other companies wishing to acquire the Henson franchise. There is also some appeal for the Henson family to see the company back in US hands since Germany's EM.TV stock dropped 95% last November.
To add fuel to the fire, the Orlando Weekly revealed more details of what has been speculated since January concerning Disney's interest in the company. "Though Disney reportedly has offered EM.TV $300 million for the Muppets, that initial offer (less than half of what EM.TV paid 12 months ago) was rejected out of hand. Complicating matters is the fact that one of Mickey's main competitors -- Viacom/Nickelodeon -- also wants to get their mitts on the Muppets."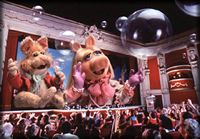 Both companies have different appeal. While Disney does have the theme parks (specifically Muppet Vision 3-D) and merchandising savy, they've been known to stifle "creative control" in order to get the finished product they want. Likewise, the Muppets would also be living in Mickey's shadow, Disney would only let the Muppets grow so much.
Viacom is intriguing because they've been looking for "character icons" to associate with the company and the Muppets would be at the top of their promotional interests. Viacom would put the Muppets back at the television forefront. However, it's unknown what kind of vision they have for the future of the Muppet franchise and they lack the merchandising prowess of Disney.
Last month, rumors were circulating about Disney and Viacom both being strongly interested in acquiring Henson. HIT was also pursuing Henson, but that deal seems unlikely now after they bought the rights to Barney for $275 million on February 9.
Let's not forget that other suitors are very likely. EM.TV is keeping things very quiet concerning their plans for Henson, so if a change in ownership does occur it will happen without much warning.
Up until this point, EM.TV has just been trying to survive. Now that they have the financial backing of Kirch, in the coming days and weeks EM.TV will be making decisions concerning their various properties, like the Muppets and Formula One. And that's when things will get really interesting for us.
Stay tuned as the story unfolds.