Fan support essential for production to begin on "I Am Big Bird"
Copper Pot Pictures needs to raise more than $20,000 in order for production to be officially underway
By Muppet Central
August 9, 2012
Muppet fans, if we don't act now, the proposed documentary "I Am Big Bird: The Caroll Spinney Story" won't get made.
There are only 7 days left in the "I Am Big Bird" Kickstarter campaign and the project still needs more than $20,000 to hit its goal of $100,000. If it doesn't hit that goal, the project gets no money (and no one who has pledged to the film will be charged).
In other words, without us, "I Am Big Bird" won't ever see the light of day. All of that wonderful archival footage we've been enjoying is going to go back into the archives where we'll never see it again.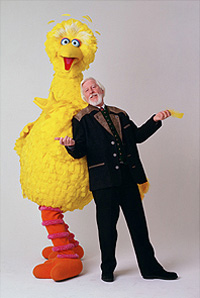 Right now, the project only has about 1000 backers. If everyone on the Muppet Central Mailing List and Muppet Central Forum just pledges $1, "I Am Big Bird" will crush its goal by more than $25,000 and the film will be produced. The more money that's given, the more rare content will be included in the film.
Pledging $1 will also get you access to all of the great archival material hosted on the film's production journal, which is currently public, but will only be accessible to backers once the campaign is over.
You can also contribute $25 and get a DVD and soundtrack, or $30 for an exclusive "I Am Big Bird" crew shirt or $60 for an alternate "I Am Big Bird" poster. Higher levels even have signed Caroll Spinney merchandise and a chance to have dinner with Caroll himself.
We have one week, Muppet fans. Contribute to the "I Am Big Bird" Kickstarter campaign today. Let's make our voices heard.

MORE SESAME NEWS

• Sesame Street Season 45 premieres Monday September 15
• Elmo Muppeteer Kevin Clash resigns from Sesame Street
• Kevin Clash takes leave from Sesame Street
• Sesame Street to air hurricane special Friday November 9
• Sesame Street Old School Volume 3 coming to DVD November 6
• Sesame Street Season 43 begins September 24 on PBS
• Fan support essential for production to begin on "I Am Big Bird"
• "I Am Big Bird" Caroll Spinney documentary in development