Sesame Street Season 43 begins September 24 on PBS
"Elmo the Musical" to replace "Elmo's World" with a new emphasis on teaching the arts
Courtesy of Sesame Workshop
August 6, 2012
Sesame Workshop, the nonprofit educational organization, launches Sesame Street's 43rd season on PBS KIDS September 24 (check your local listings) with an exciting new segment and interactive experience, "Elmo The Musical." Each 11-minute episode of "Elmo The Musical" is a math-filled adventure inviting kids to sing, dance, play and imagine along with Elmo. Other season highlights include new original songs and street stories; new "Super Grover 2.0" segments; new "Abby's Flying Fairy School" animations and, as always, new hilarious spoofs and celebrity appearances!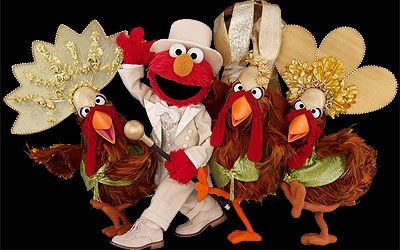 In season 43 of Sesame Street, the show remains on top of the educational and social needs of its preschool audience by continuing its focus on STEM education, but this year we are adding the "arts" to the equation, creating STEAM. The cornerstone of the curriculum remains the connection between the four main domains: science, technology, engineering and mathematics, but the updated approach integrates the arts. This helps make learning STEM concepts relevant and enticing to young children by highlighting how artists use STEM knowledge to enhance their art or solve problems. It also provides context for the importance of STEM knowledge in careers in the arts.
"As STEM topics continue to be a critical area of a preschooler's early education, it is important to allow children to explore these concepts through various channels, especially the arts," said Dr. Rosemarie Truglio, SVP of Education and Research at Sesame Workshop. "Incorporating the arts into our STEM curriculum was an exciting and natural addition, as Sesame Street has always used music, visual and performing arts as tools to educate and entertain children."
An extension of our STEAM curriculum, "Elmo The Musical" is an interactive, fun-filled musical adventure created by Elmo and the child at home. With lots of silly singing and dancing, "Elmo The Musical" focuses on imagination and how to use math skills, such as enumeration, relational concepts, addition/subtraction and geometric shapes to solve problems. In new season 43 episodes, 10 "Elmo The Musical" segments will be replacing the existing "Elmo's World" part of Sesame Street's block format. Children will join Elmo on exciting explorations as he imagines himself in "Sea Captain the Musical," "Guacamole the Musical," "Prince Elmo the Musical" and even "President the Musical!"
"Creating 'Elmo The Musical' was an exciting process both creatively and educationally," added Carol-Lynn Parente, Executive Producer of Sesame Street. "We took what everyone loves best about Elmo, his singing and dancing, and created imaginative mini-musicals that highlight a math curriculum in a really fun way. We think the format will have toe-tapping appeal for kids and adults alike."

That's not all! There's more to "Elmo The Musical!"The new segment is designed to be a transmedia property that's accessible to kids on multiple platforms. New games, clips and activities themed around the segment will be available on www.sesamestreet.org and mobile devices for kids to learn math skills and play with Elmo.
Fans of the popular "Elmo's World" segment will still see Mr. Noodle, Dorothy and all the "Elmo's World" characters in repeat episodes from previous seasons that air alongside the new season 43 episodes of Sesame Street. Furthermore, a new "Elmo's World" section of sesamestreet.org will be a "hub" for all things related to "Elmo's World" including DVDs, games, clips and more!
New street stories and segments will not only highlight the 43rd season's curriculum, but also bring light to special topics. In "Me Am What Me Am," Mario Lopez is reporting for EXTRA! Sesame Street and catches Cookie Monster loving veggies! Cookie Monster has to prove that he's still a cookie-loving monster, while also loving vegetables. In another special episode that highlights people of differing abilities, Brandeis, a yellow Labrador retriever, is looking for a job on Sesame Street. Gina trains him for a career as a service dog. Additionally, a beautiful re-make of the popular Sesame Street song, "Count Me In," is one of the new live action films making its debut this season celebrating differences.
An impressive line-up of celebrities and headline makers are featured in the new season, including Academy Award-winning and nominated actors Halle Berry, Don Cheadle, Amy Ryan, Casey Affleck and Melissa McCarthy; Golden Globe-winning and nominated actors Steve Carell, Jon Hamm, Eric Stonestreet and Joseph Gordon-Levitt; Emmy Award-winning and nominated actors David Hyde Pierce and Timothy Olyphant, Up All Night's Maya Rudolph; Parenthood's Dax Shepard; NBA Slam Dunk Champion Blake Griffin; Los Angeles Dodger's Matt Kemp; actors Zac Efron, Ed Helms, Kristen Bell and Paula Patton; Extra's Mario Lopez; talk show host Wendy Williams; singer Colbie Caillat; rock band Train, rapper/musician Common, and Supreme Court Justice Sonia Sotomayor.
As always, Sesame Street is filled with hysterical moments for both children and their caregivers. This season's spoofs include: "The Voice," in which three judges are searching for "the voice," but keep mistaking it for sounds made by other parts of the body; "Upside Downton Abbey," a parody of the hit PBS series Downton Abbey, in which everything in Upside Downton Abbey keeps falling to the ceiling; "Eye of the Potato," a parody of the song "Eye of the Tiger" by Survivor in which Telly trains Elmo to become a hot potato champion; and "Five By," a parody of the song "Drive By" in which rock band Train, Elmo and The Count sing about finding the right amount.

MORE SESAME NEWS

• Sesame Street Season 45 premieres Monday September 15
• Elmo Muppeteer Kevin Clash resigns from Sesame Street
• Kevin Clash takes leave from Sesame Street
• Sesame Street to air hurricane special Friday November 9
• Sesame Street Old School Volume 3 coming to DVD November 6
• Sesame Street Season 43 begins September 24 on PBS
• Fan support essential for production to begin on "I Am Big Bird"
• "I Am Big Bird" Caroll Spinney documentary in development