Elmo Muppeteer Kevin Clash resigns from Sesame Street
Courtesy of Sesame Workshop
November 20, 2012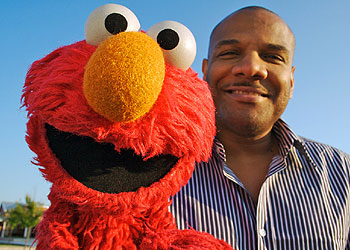 Kevin Clash, the beloved puppeteer who made furry red Muppet Elmo famous, has resigned from "Sesame Street", Sesame Workshop said today in the following statement.

Sesame Workshop's Statement
Regarding Kevin Clash
Sesame Workshop's mission is to harness the educational power of media to help all children the world over reach their highest potential.
Kevin Clash has helped us achieve that mission for 28 years, and none of us, especially Kevin, want anything to divert our attention from our focus on serving as a leading educational organization.
Unfortunately, the controversy surrounding Kevin's personal life has become a distraction that none of us wants, and he has concluded that he can no longer be effective in his job and has resigned from Sesame Street.
This is a sad day for Sesame Street.

Last week Kevin Clash took a leave of absense from Sesame Street amidst allegations that he had an underage relationship.
Watch videos and share your favorite Kevin Clash Muppet moments.

MORE SESAME NEWS

• Sesame Street Season 45 premieres Monday September 15
• Elmo Muppeteer Kevin Clash resigns from Sesame Street
• Kevin Clash takes leave from Sesame Street
• Sesame Street to air hurricane special Friday November 9
• Sesame Street Old School Volume 3 coming to DVD November 6
• Sesame Street Season 43 begins September 24 on PBS
• Fan support essential for production to begin on "I Am Big Bird"
• "I Am Big Bird" Caroll Spinney documentary in development