Abby Cadabby heads to the Street
Sesame Street's 37th season begins August 14 and will be highlighted by the debut of a new female Muppet
Courtesy of The New York Times
August 6, 2006
Liz Nealon, executive vice president and creative director of Sesame Workshop, the nonprofit organization behind "Sesame Street," wasn't sure exactly what she wanted in a new Muppet for the show's 37th season, which starts on Aug. 14. But she did have one major goal: She wanted the creative team, at long last, to come up with a female Muppet star. The show did already have a number of female characters, including Zoe, a rambunctious, orange, furry friend of Elmo's, and Rosita, an emerald-blue, bilingual Muppet with a sweet, friendly soul.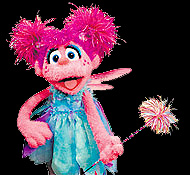 Abby Cadabby of "Sesame Street" has her own point of view and is "comfortable with the fact that she likes wearing a dress."

"We have our wacky, and we have our gentle," Ms. Nealon said in a recent interview. "But we wanted a lead female character. If you think about 'The Mary Tyler Moore Show,' some girls relate to Rhoda, who's our Zoe, and some girls really relate to Mary, who's a girly girl. And we didn't have that girl. We made a definite decision to sit down with the writers to figure out what this character might be."

The feminist-minded parent might not only applaud the decision to make a more high-profile female character, but wonder why on earth it took so long. "Sesame Street," created to help underprivileged kids prepare for kindergarten, has over the years gone out of its way to include images of children of every creed and color, and every level of physical ability and disability.

Yet its producers acknowledge it has never come up with a single female character with anything close to the name recognition of Big Bird or Cookie Monster or Ernie and Bert. (The closest that the Jim Henson Company, which designs Muppets for "Sesame Street," has come is Miss Piggy. But she starred on "The Muppet Show," not "Sesame Street," and probably for good reason. You have to go back to "Dynasty" reruns to find a more jealous, vain and domineering female role model on television.)

Even bastions of liberal creativity like "Sesame Street" are apparently vulnerable to the realities of show business, including a disproportionately high ratio of male to female puppeteers, said Rosemary Truglio, executive vice president for education and research at Sesame Workshop. (Miss Piggy has always been played by male puppeteers, starting with Frank Oz.) And a show as politically sensitive as this one has an added challenge: finding female characters that make kids laugh, but not laugh at them as female stereotypes.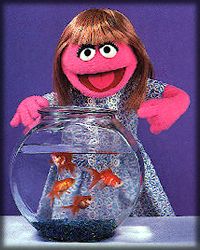 "If Cookie Monster was a female character," said Carol-Lynn Parente, executive producer of the show, "she'd be accused of being anorexic or bulimic. There are a lot of things that come attached to female characters." For example, said Deborah Aubert, associate director of national programs and training services at Girls, Inc., a nonprofit advocacy group. "It would be hard to have a female character with Elmo's whimsy who didn't also seem ditzy."
But it's not just a high-minded interest in gender equality that drove the search for a strong female character. The success of "Dora the Explorer," a show built around a strong female lead, has not gone unnoticed by its competitors at "Sesame Street." " 'Sesame Street' is living in an increasingly competitive market," Ms. Nealon said. "We used to be the only game in town, and now we're having more conversations about where are all the points of appeal of our cast. We're trying to be as absolutely broad-based as we can be."
The feminist parent might also wonder whether "broad-based" will boil down to characters with predictable girly-girl looks and interests. But Ms. Nealon said she wasn't worried. "I came of age during that 70's generation when you just had to do everything you could do to be taken seriously," she said. "But the world has changed since then. My daughter is comfortable with clothes and hair and makeup and totally embraces her femininity, but can still be strong and completely competitive in a world populated by men and women."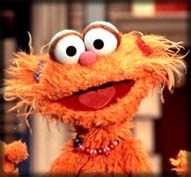 The Muppet that after nine months of research was selected to embody those characteristics is not technically a girl: she is a 3-year-old fairy named Abby Cadabby. Neither monster like Zoe nor humanoid like Prairie Dawn, the calico-wearing blonde who first showed up in 1970, Abby is a purely magical creature, complete with tiny wings, a magic wand and sparkles in her hair.
There's something suspiciously marketable, of course, about a new character who happens to be a fairy, just now in the midst of a girlish craze for tutus, tiaras and all things princessy, and as Disney prepares a big marketing push for its 2007 movie starring Tinker Bell. But the idea came not from some Mattel consultant but from a 30-year veteran of "Sesame Street, " Tony Geiss, whose most significant previous creations were the Honkers, monsters who communicate by honking their noses.
One day the writers were tossing around the idea of a girl who was new in town, perhaps trying to fit into a new classroom. After the meeting broke up, Mr. Geiss approached the show's head writer, Lou Berger, with the idea of making her the daughter of the fairy godmother, a character who is invoked but never seen.
Her origins in fairyland would provide plenty of story lines about difference, without the show "having consciously to introduce somebody from Indonesia or India," Mr. Geiss said.
Mr. Berger and the team liked the idea and told Mr. Geiss to develop it further. A few days later he presented the full picture: a fairy in training, capable of hovering only when very happy, able to turn any object into a pumpkin but unable to change it back with any reliability. Her family had recently moved to Sesame Street for the schools, leaving behind Fairyside Gardens, an elves' and fairies' housing community in Queens (a bit of back story that's mostly been dropped).
"When I did a little presentation, I was calling her Daisy," Mr. Geiss said. "Everyone said, no, that's not it, and then we sat around as if we were coming up with names for a new baby. Patsy, Dixie, Leonora. ..." Finally someone threw out Abby, and Mr. Berger followed that up with Abby Cadabby. "It had a vaguely magical sound to it," Mr. Geiss said. The combination of "correctness and exhaustion" kicked in, he added, and Abby Cadabby she's been ever since.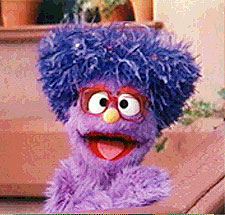 As a newcomer eager to learn, the writers knew, she would provide the perfect opportunity for explanatory lessons. She would also provide a way to talk about female friendships (including "What does it mean to bring a girl into the group?," Ms. Truglio said, and to show healthy models by which girls could resolve conflict). The show had tried to introduce a character for just that purpose in 2000, the short-lived Lulu, a shy monster who "had a kind of quirky personality," Ms. Truglio said. "She wasn't that attractive."
With the approval of Ms. Nealon and Ms. Parente, and the product and publishing divisions of "Sesame Street," the production team decided to take the idea of Abby Cadabby to the Jim Henson Workshop. Various sketches and fabric swatches of the Muppet-to-be were circulated for input from the writers and executives on the show.
There was some retreading of what Mr. Geiss calls the big-nose versus small-nose debate. "Some people think the big nose is funnier," he explained, but Abby's is small, a nod toward the more feminine aesthetic for which the producers were hoping. Careful attention was paid too to how much eyelid would be visible; the more eyelid, the more vulnerable-looking the character. "Her eyes look up," Mr. Geiss said. "They can look beseeching, and they can be sad as well as happy."
Sherrie Rollins Westin, executive vice president and chief marketing officer of Sesame Workshop, recalled seeing an early version that was a little too "bug-eyed" for her taste. One version had too much of a snout, rendering her worrisomely insectlike, given the wings in back, Ms. Truglio said. All versions featured various shades of pink- or lavender-toned skin, colors that would "work well next to Elmo," who is red, Ms. Truglio said. "That was not up for discussion."
Once they narrowed the sketches down to two images that they thought worked, they showed them to 77 children aged 2 to 5 and in one-on-one interviews asked them what they liked and didn't like about Abby's looks. The kids were particularly enamored of her turquoise dress; they also preferred a button nose to a flatter, more truncated version, and her hair in two pompoms, rather than in one big bunch atop her head.
Armed with that information, the team began to design the actual Muppet, a budget commitment of "tens of thousands of dollars," said Ms. Parente, the show's executive producer. They also began creating a 10-minute segment that they further tested on 53 3-year-olds.
The resulting confection is a Muppet with the pretty pastel aesthetic of an Easter egg, complete with pink skin (compared with Zoe's orange), purple and pink sparkly pompoms (Zoe's hair juts out from the sides of her face) and a Thumbelina-style petal-layered turquoise dress. (Zoe wears a tutu that's charmingly incongruous on her bouncy little body.)
Abby Cadabby's lashes are long and feminine, her voice pitched somewhere between Elmo's dog-range high notes and Zoe's scratchy old-womanish tones. In the first segment created, Abby played hide-and-seek, making ample, if not totally proficient use of her magic wand.
"The kids were pretty glued to the show," Ms. Truglio said. "They loved that she could do magic," she added. "But if you asked them how they imagined playing with Abby Cadabby, they mentioned regular kid stuff like playing catch. So we knew they liked her as a personality."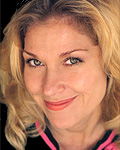 For all the educational consultants and child psychologists the show could have enlisted, the success of the character seems to rely largely on the one simple quality no other Muppet can claim: she's very, very pretty. As played by Leslie Carrara-Rudolph, a new Muppeteer, she's enthusiastic, eager, occasionally bashful but never coy (and certainly never divalike along the lines of Tinker Bell).
"I'm ready, I'm ready, I'm ready!" she answers Baby Bear emphatically in one segment when he asks if she's prepared for her first day of school.
In the past the show has bent over backward to counteract stereotypes, with the tomboyish Zoe or the highly opinionated Elizabeth. "But political correctness hampers creativity," Ms. Nealon said. "Abby Cadabby owns her own point of view, but she's also comfortable with the fact that she likes wearing a dress, and as we'd tried to model strong female models, we neglected that piece of being a girl."
On the set the joke was about the new toy on the block, as opposed to the new Muppet character, a dig at the obvious marketability of the new pretty-in-pink creature. Some of the writers, Ms. Parente said, worried about moving away from the show's merely surreal characters to one with a full-blown dependence on actual magic. Others were concerned about the character tipping over into a saccharine sweetness.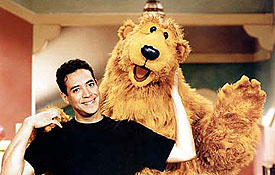 "What's always been great about 'Sesame Street,' " said Noel MacNeal, a longtime "Sesame Street" Muppeteer, "is that there was always a softness and gentleness to its characters, while still having enough edge. It wasn't too cute. I just hope with Abby Cadabby, they're not going to make a mistake they've made before when they tried to compete directly with 'Barney,' which was so cutesy." (He was referring to his take on why the show added a new set in the early 90's to give the street a clean new look. A few years later Ms. Parente reverted the set back to its old chipped-paint aesthetic.)
But for the most part the traditional "Sesame Street" team of performers and writers has rallied behind the character.
The producers' hopes of course are pinned on the possibility that Abby Cadabby could be the female equivalent of Elmo, a huge money-maker for the nonprofit organization behind the show. First to roll out will be storybooks featuring Abby Cadabby; if they succeed, videos and toys will follow.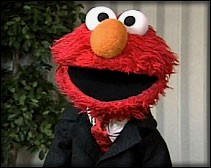 Maura Regan, vice president and general manager of global consumer products for Sesame Workshop, said she was confident about Abby Cadabby's market readiness. She'll be strong in spring, Ms. Regan theorized, because she has a "wood nymph quality," and added that her pink coloring made her great for merchandising around Valentine's Day and Christmas, when she will pair well with red Elmo. Then of course there's the fall back-to-school theme of a new girl getting to know her classmates.
Ms. Regan's team has already started working with the toy company Fisher-Price on a rough mockup of a doll. Most important, she said, is getting a cuddle-ready expression on the toy's face; then there's the challenge of capturing her feathery, fluffy, sparkly hair without creating a safety hazard.
"There are so many cute things out there," she added, "but in order to make them want one doll over another, I think the real deciding factor is how much they've connected with the Muppet from the show. And you've got to be able to capture that."
Could Abby's sales rival those of the show's marketing juggernaut, Elmo? Ms. Regan obviously hopes they can. But in an aside, as she demurred from making predictions, she gave a hint on just how much rides on the outcome. "I don't want to jinx myself," she whispered. "That would be terrible, terrible, terrible."

MORE SESAME NEWS

• Sesame Street Season 45 premieres Monday September 15
• Elmo Muppeteer Kevin Clash resigns from Sesame Street
• Kevin Clash takes leave from Sesame Street
• Sesame Street to air hurricane special Friday November 9
• Sesame Street Old School Volume 3 coming to DVD November 6
• Sesame Street Season 43 begins September 24 on PBS
• Fan support essential for production to begin on "I Am Big Bird"
• "I Am Big Bird" Caroll Spinney documentary in development