Sesame Workshop unveils plans for Season 37
Season 37 begins Monday August 14 and will feature a new female Muppet, celebrity guest stars Jamie Foxx and Matt Lauer, along with new parodies of "Law and Order", "Survivor" and "Extreme Makeover: Home Edition"
Courtesy of Sesame Workshop
June 15, 2006
Since its 1969 debut, Sesame Street has helped ready generations of children for the challenges of a formal educational experience. The groundbreaking show's 37th experimental season, premiering August 14 on PBS KIDS, will go "back to basics," focusing on preparing today's preschoolers for their first classroom experience.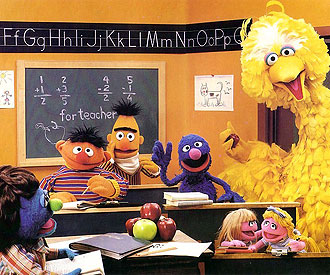 As part of the program's curriculum for this season, Sesame Street will address the critical stages of development that help children get ready for school. Whether the focus is on learning about emotions; developing task persistence; learning how to take turns, share or how to follow directions; making new friends or learning how to interact in a social group; the series' underlying goal is to engage and educate children of the challenges they may face as they enter school. Building on last season's successful campaign to help children establish an early foundation of healthy habits, season 37 will also include new segments aimed at healthy eating, physical activity and hygiene.
In addition, Sesame Street will introduce a brand-new character, Abby Caddaby, the first new female Muppet to join the program in over 13 years. Abby, whose catchphrase is "that's so magic," is a pink "fairy-in-training" who uses rhyme and magic to express herself – a youngster who knows just enough about magic to get herself in a jam but not always enough to get out of trouble. Viewers will follow Abby as she meets everyone on Sesame Street, even grouchy Oscar, and come along as she goes to school for the first time with her new friend Baby Bear. At school, she meets her new teacher Mother Goose (performed by the legendary actress Shirley Jones) and a multitude of new students including Jack and Jill, Peter Piper, Hansel and Gretl, and Mary, whose little lamb seems to be the focus of a prank on the first day of school. When Abby realizes she doesn't have anything to bring to show and tell, she asks her pal Elmo to help her out. Abby's exuberance and love for learning and meeting new friends make this one of her most memorable days ever.
Other areas of school readiness highlighted this season are the basic, yet important, tools of knowing your letters and numbers as well as the more challenging skill of rhyming, found to be especially helpful in nurturing the literary development of young children. With the help of Big Bird, Elmo, Oscar and the rest of the Sesame Street gang, season 37 will address all areas of a child's cognitive, social and emotional well-being, including the importance of knowing how to label and express emotions; how to cope with feelings such as anger and disappointment; and how to understand and respond to other's emotions.
In a national survey of kindergarten teachers on the preparedness of our nation's youngest students, conducted by Mason-Dixon Polling and Research , a majority of teachers cited the following behaviors or skills as those that best prepare children for the school experience: problem solving, getting along with others, recognizing the feelings of others, paying attention, following directions, and cooperating in a group setting.
"Entering school prepared involves multiple areas of development which go beyond the rote memorization of letters and numbers," said Dr. Rosemarie Truglio, Vice President of Education and Research for Sesame Workshop. "For season 37, we are focusing our attention on the critical educational needs of young children as they prepare for school by emphasizing skills such as: getting along with others, practice and task persistence, listening, literacy, mathematics, critical thinking, and healthy living."
Carol-Lynn Parente, Executive Producer of Sesame Street, said, "Despite the headway some educational systems have made in the past few decades, there are still many children that start school unprepared and it's clear that there is still a need for Sesame Street. " She added, "Parents continue to count on us to deliver the kind of educational foundation that is sure to give their child a strong head start as they prepare to enter school and that is the type of challenge we relish here at Sesame Workshop."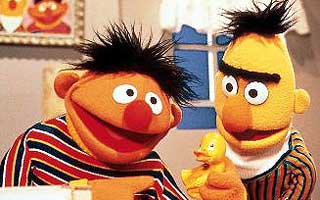 As always, the new episodes will include segments featuring well-known celebrity guests including Academy Award winner, Jamie Foxx; Grammy Award winner, John Legend; Today host Matt Lauer; comedienne Amy Sedaris; and Grey's Anatomy star T.R. Knight. In addition, Sesame Street will continue to explore the world of pop culture through original parodies such as: "Law & Order: Special Letters Unit M;" "Scramalot;" "The Breakfast Club;" "Survivor: Musical Chairs," featuring a Jeff Probst look-alike Muppet; and "Outrageous Makeover: Home Edition," in which Grover takes on the role of Ty Pennington and finds, after adding a few doors and then subtracting some, he and his crew have no way of getting out of their newly renovated room.
Sesame Street will take on some of the best known films and musicals in a new parody segment designed to model and reinforce the importance of family meal time called "Dinner Theatre." This season's parodies include Man of La Muncha, Veg Side Story, and Guess What We're Having for Dinner.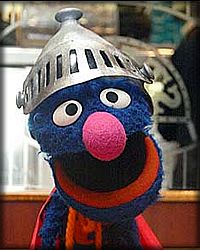 New installments of "Global Grover," Sesame Street's window into the lives of children around the world, feature live action footage of children in Iceland taking part in a bird rescue; children in Germany learning how to make a thatched roof; students in Bangladesh creating pictures in art class; and a family in the Philippines spending a day together in the park.
Season 37 of Sesame Street is funded in part by a grant through the Public Broadcasting Service and the Corporation for Public Broadcasting, and public television viewers. Sesame Street is underwritten in part by the McDonald's Corporation, Beaches Family Resorts, Pampers and EverydayKidz.com from Astra Zeneca.

MORE SESAME NEWS

• Sesame Street Season 45 premieres Monday September 15
• Elmo Muppeteer Kevin Clash resigns from Sesame Street
• Kevin Clash takes leave from Sesame Street
• Sesame Street to air hurricane special Friday November 9
• Sesame Street Old School Volume 3 coming to DVD November 6
• Sesame Street Season 43 begins September 24 on PBS
• Fan support essential for production to begin on "I Am Big Bird"
• "I Am Big Bird" Caroll Spinney documentary in development