"Return to Fraggle Rock" screening held in Dallas
Muppeteers Dave Goelz and Karen Prell were on-hand for the 22nd Annual KidFilm Festival at Dallas, Texas
By Phillip Chapman
January 23, 2006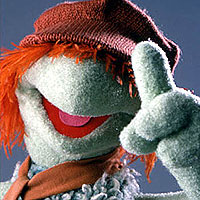 The Jim Henson Company and HIT Entertainment held a very special Fraggle Rock theatrical screening in Dallas for Henson's 50th Anniversary as part of the KidFilm Festival. A sold-out crowd of more than 200 adults and children were in attendance on Sunday January 22. Veteran Muppeteer Dave Goelz (performer of Boober, Gonzo and Bunsen) was the featured guest for this rare theatrical presentation of Fraggle Rock.
Dave introduced three of his favorite episodes, "The Trash Heap Doesn't Live Here Anymore" (UK Version), "Mokey and the Minstrels" and "Boober's Quiet Day". Before the screening Dave talked about his work on Fraggle Rock and other Muppet projects during the past thirty-three years.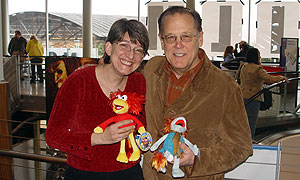 Karen Prell and Dave Goelz hold their alter-egos after a theatrical showing of Fraggle Rock in Dallas, Texas.
"The people at Henson were just so wonderful to work with. Though we were all so different. Everyone was so wonderful and we'll never forget those who have passed like Jim [Henson], Don Sahlin, Richard Hunt, and now Jerry Juhl."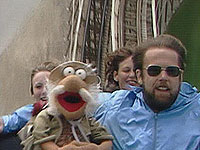 Dave went on to elaborate on the special relationship he had with Jerry Juhl. "Jerry was a lot like Ernie. He was always grinning. He loved all of life. He even almost loved the bad times. I was kind of Bert to Juhl's Ernie. He would always put me [as Traveling Matt] in these aggravating situations like... on a roller coaster when he knew I was afraid of roller coasters. He was mischievous, but he always had a steady hand in everything we were doing." Jerry Juhl was also honored with a written tribute on the front page of the KidFilm Festival program.
After the screening, Dave Goelz and Karen Prell (performer of Red Fraggle) signed autographs for fans young and old.
The KidFilm Festival is held each January in Dallas by the USA Film Festival. KidFilm is the largest and oldest children's film festival in the United States. Muppet Treasure Island premiered at KidFilm in 1996 with Brian Henson, Hans Zimmer and James Hart in attendance.

MORE FRAGGLE NEWS

• Fraggles return for Ben Folds Five video
• Fraggle Rock returns to US TV on The Hub beginning October 10
• Fraggle Rock "Scared Silly" DVD debuts September 14
• "Wembley's Egg Surprise" arrives on DVD February 9
• Fraggle Season 4 and more Fraggles coming to DVD
• "The Doozers" preschool series under development
• HIT announces Fraggle Rock Complete Series DVD Collection
• Red Fraggle live at Comic Con 2008