Fraggle Rock "Scared Silly" DVD debuts September 14
Getting frightened has never been more fun than with the Fraggles' new DVD coming to stores just in time for Halloween
Courtesy of Lionsgate
July 1, 2010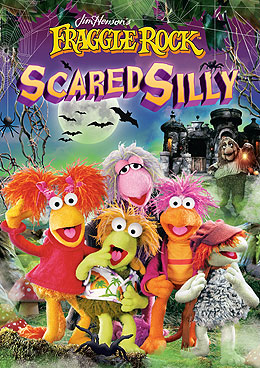 Save off the regular price! Pre-order "Fraggle Rock: Scared Silly" on DVD. By pre-ordering you're guaranteed the lowest possible price. If the cost is reduced before the release date, you'll get the additional savings automatically.
Carve the pumpkins, bob for apples, and put the mask on; a new Halloween tradition is born when Fraggle Rock: Scared Silly from Lionsgate Home Entertainment becomes available on DVD just in time for Halloween!
Three mysterious and magical Fraggle stories will entertain kids and parents alike! These frightfully delightful episodes come from the beloved series that has been awarded five International Emmys, including top honors for Outstanding Children's Program.
Coming to stores in neon wrap packaging, Fraggle Rock: Scared Silly will be available on September 14, 2010 for the suggested retail price of $14.98.
The Fraggle Rock brand is hotter than ever as the "Fraggle Rock Forever" merchandise collection continues its roll-out with product in categories including apparel, tote bags, belt buckles, jewelry and classic puppets and plush-plus adult Halloween costumes for 2010. In addition, a brand new line of Fraggle Rock comic books is in stores and a theatrical movie is currently in development resulting in much buzz from both fans and media alike.
DVD SPECIAL FEATURES (subject to change)
Animated Episode: "Wembley and the Bemble": After listening to a scary story from the Storyteller, Wembley becomes afraid of the legendary Bemble.


The Ballad of Sir Blunderbrain Sing-Along


The Animal Show with Stinky & Jake episode "Tarantula & Mole"

ABOUT FRAGGLE ROCK: SCARED SILLY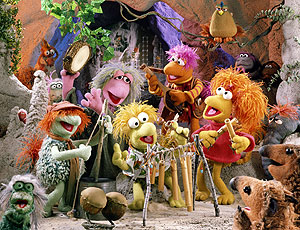 Join the Fraggle gang in three frightfully delightful episodes full of mystery and magic! From Wembley accidentally wandering into the cursed "Terrible Tunnel," Boober discovering what makes Fraggle tails flare when they get startled, and Ma and Pa Gorg leaving Junior alone in the castle on a dark and stormy night, Fraggle Rock: Scared Silly is bursting with Halloween fun! This new DVD includes three ghostly episodes: Terrible Tunnel, Scared Silly and A Dark & Stormy Night.
Terrible Tunnel: Lately, Boober's been trying to get Wembley believing that if you do certain things, no bad luck will befall you. So when he hears about the Terrible Tunnel, he seeks out the Storyteller Fraggle to tell him all about it. Later on, during a game of "Hidey-Ho", Wembley accidentally finds the Terrible Tunnel. When he gets back and tells everyone, nobody believes him. So he gets Gobo and Red to go back with him and see the truth. Was Wembley just imagining what he saw?
Scared Silly: Boober's been testing belouviouses, which are the part of a Fraggle's tail that flares up when scared. And when he tests Wembley's, Wembley wants to get even, so Philo and Gunge give him ideas on how to test his belouvious back. When hiding in the laundry and shouting "Boo!" doesn't work, he goes with an elaborate plan of setting up scary masks, spiders and snakes. Wembley goes back to Philo and Gunge to tell him of what he's set up, Marjorie tells him that when the boys tried scaring her, she nearly blew up. Wembley misunderstands this, and tries to go back to tear down his plan before Boober shows up, but he's too late, and thinks that Boober's blown up. Did Wembley go too far?
A Dark & Stormy Night: Gobo is desperate to explore new territory; so one evening he braves the Castle of the Gorg's alone! But then the night turns eerie. Wha-what's that noise? If no one is supposed to be home, the castle must be haunted!


MORE FRAGGLE NEWS

• Fraggles return for Ben Folds Five video
• Fraggle Rock returns to US TV on The Hub beginning October 10
• Fraggle Rock "Scared Silly" DVD debuts September 14
• "Wembley's Egg Surprise" arrives on DVD February 9
• Fraggle Season 4 and more Fraggles coming to DVD
• "The Doozers" preschool series under development
• HIT announces Fraggle Rock Complete Series DVD Collection
• Red Fraggle live at Comic Con 2008