Red Fraggle live at Comic Con 2008
Muppeteers Karen Prell and Dave Goelz will be on-hand for a special Fraggle Rock presentation
By Phillip Chapman, Muppet Central
Updated: July 16, 2008
Dance your cares away, see Red Fraggle live!
Muppeteer Karen Prell will be performing Red Fraggle at San Diego Comic Con 2008 to promote the show's 25th anniversary and the upcoming DVD box set of the final season of Fraggle Rock.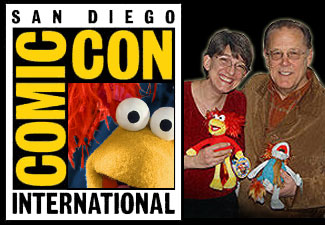 The event is scheduled for Sunday afternoon July 27 at 2:45 pm in room 6B. Red will lead the audience in a Fraggle Song Tongue-Twister Challenge, tackling The Rumble Bug Hum from "All Work and All Play" and The Beetle Song from "I Want to be You". She'll also be singing "The Friendship Song" and "There's A Lot I Want to Know" during a screening of Inspector Red from the fourth season. Muppeteer Dave Goelz is scheduled to introduce the presentation.
Attendees will reportedly get a sneak peak of some of the bonus features planned for the DVD release of the final season.
Although Comic Con is sold out and they aren't offering tickets at the door this year, we've heard from a reliable source that you can expect this presentation to be on YouTube soon afterwards
Due to time constraints and the size of the expected crowd, a Q&A or autograph session isn't planned. Nontheless, if you have tickets for Comic Con, this is a vary rare opportunity to see Red Fraggle, Karen and Dave live in-person.

Updated July 29: Here are some on-line video clips courtesy of YouTube from Karen Prell's appearance at Comic Con 2008.

MORE FRAGGLE NEWS

• Fraggles return for Ben Folds Five video
• Fraggle Rock returns to US TV on The Hub beginning October 10
• Fraggle Rock "Scared Silly" DVD debuts September 14
• "Wembley's Egg Surprise" arrives on DVD February 9
• Fraggle Season 4 and more Fraggles coming to DVD
• "The Doozers" preschool series under development
• HIT announces Fraggle Rock Complete Series DVD Collection
• Red Fraggle live at Comic Con 2008