Beloved Muppet writer Jerry Juhl dies at 67
Juhl's death was due to complications from pancreatic cancer, diagnosed five weeks earlier, said his wife, Susan Juhl.
Courtesy of News Wire Reports
September 30, 2005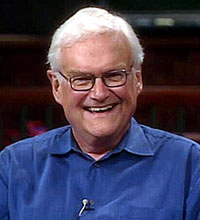 Jerry Juhl, July 27, 1938 - September 27, 2005
Jerry Juhl, the Emmy Award-winning former head writer for the Muppets who provided much of the heart and soul to Jim Henson's iconic troupe of fleece and foam puppets, has died. He was 67.
Juhl, who also co-wrote most of the Muppet feature films and wrote for "Sesame Street" during its early years, died of cancer Sept. 27 in a hospital in San Francisco, said Arthur Novell, executive director of the Jim Henson Legacy. Juhl, who was semiretired, lived in the Northern California town of Caspar.
Juhl co-wrote "The Muppet Movie," which marked the Muppets' move to the big screen in 1979. He later wrote the screenplay for "The Muppet Christmas Carol" and co-wrote "The Great Muppet Caper," "Muppet Treasure Island" and "Muppets From Space."
He also served as head writer and creative producer on the award-winning "Fraggle Rock," Henson's 1983-87 TV series about a race of small creatures that live underground.
"So much of the humor, irreverence, caring and heart that has been central to our work for 50 years began with Jerry Juhl," Henson's daughter Lisa, co-chief executive of the Jim Henson Co., said in a statement. "He was — in many ways — the real voice of the Muppets and of every project from the Jim Henson Co."
Frank Oz, the director and veteran Muppet performer whose characters include Miss Piggy, said Juhl "brought tremendous soul" to the Muppets.

"He was the person responsible really for the heart of the Muppets," Oz told The Times on Wednesday. "He just knew the characters better than anybody else. He was brilliant because he could be funny but not nasty. He always saw the affection between the characters.
"Nobody else could do that kind of writing…. He was the Muppet writer."
Born in St. Paul, Minn., in 1938, Juhl fell in love with puppetry at age 9. His passion, which included building his own puppets, creating puppet plays and performing them, continued after his family moved to Menlo Park, Calif., when he was 14.
As a theater arts major at San Jose State University, he was a puppeteer on a local children's TV show. He also served as director of the Vagabond Puppet Theater, a traveling three-person puppet theater sponsored by the Oakland parks department. There, he was joined by the teenage Oz, a budding puppeteer.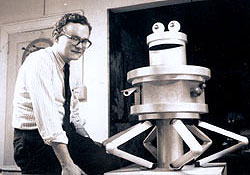 "I looked up to him because I was just a kid and this guy was actually doing the real work," said Oz, adding that Juhl did not so much have a passion for puppetry "as a sense of fun" for it. "That's what we had with the Muppets, too."
In 1961, after he and Oz met Muppet creator Henson and his wife, Jane, at a puppeteer convention in Monterey, Juhl joined the Hensons as a puppeteer and writer on their local TV show in Washington, D.C., "Sam and Friends."
As the Muppets gained increasing national television exposure, he worked closely with Henson in developing the sketches that were performed on "The Jimmy Dean Show" and other television variety shows. Eventually, Juhl made the transition to writing exclusively.
"I did it for self-protection," he joked. "I never rated much [as a puppeteer], so I figured I'd better save my job by doing something else."
With the 1969 launch of "Sesame Street," Juhl spent six seasons as a writer on the classic children's show, during which he received two Emmy Awards.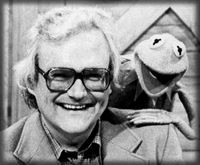 From 1977 to 1981, he served as head writer of "The Muppet Show," the syndicated variety show featuring Kermit the Frog, Miss Piggy and dozens of other characters.
During his years on "The Muppet Show," Juhl received awards from the Writers Guild of America for individual episodes featuring guest stars Marisa Berenson (1978) and Liza Minnelli (1979). And in 1981, he received an Emmy for the "Dance Marathon" episode featuring Carol Burnett.
Dave Goelz, a Muppet performer whose characters include the Great Gonzo, said Juhl "was a big part of the warmth of the Muppets."
"There's a philosophy I think Jim [Henson] started out with — that people are basically good, life is to be enjoyed, take care of other people, there's enough for everybody — and Jerry was absolutely in sync with that," Goelz told The Times.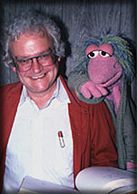 In an interview with the Seattle Times in 1996, six years after Henson's death, Juhl said the appeal of the Muppets "has something to do with the fact that it crosses over generational lines. It reminds adults of childhood and innocence. There's a sweetness we get away with without being sentimental."
And adults were kept entertained with the sharp, witty writing.
"Jim would pound on the desk and say, 'We are not doing children's puppetry here!' " Juhl recalled. "Because in the late 1950s, when he got in, puppets were for kids. He wanted to make puppetry for adults."
Looking back on his career, Juhl said: "Puppets are wonderfully magical things, but one of the most fiendishly difficult art forms we've created for ourselves. Good puppetry is amazing, but it's so difficult."
And, he added, "I don't know if it's different writing for Muppets than humans because I spent my whole career writing for Muppet characters. But I always say that with Muppets, you can't write feet."
Juhl is survived by his wife of 40 years, Susan, and his brother, Phil.
A celebration of Juhl's life will be held at noon Nov. 12 at Caspar Community Center, 15051 Caspar Road, in Caspar, where he and his wife were active in helping preserve the natural beauty of the area.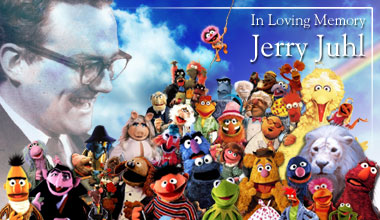 MORE HENSON NEWS

• Jerry Nelson tribute at The Moving Image Museum October 27
• Jim Henson's Pajanimals debuts on NBC Kids Saturday July 7
• The New York Pops play The Muppets at Carnegie Hall April 14
• Henson announces "Sid the Science Kid: The Movie" in 3-D
• The Jim Henson Company Puppets to perform at the 2011 Grammys
• "Pioneers of Television" special to honor Jim Henson
• Classic "Henson's Place" special arrives on DVD August 3
• Frank Oz unveils tribute to the "Henson Pipes" at NBC Studios