"Wembley's Egg Surprise" arrives on DVD February 9
Courtesy of Lionsgate
November 16, 2009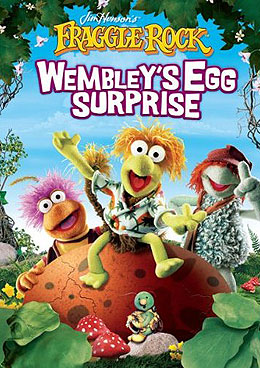 Save off the regular price! Pre-order "Fraggle Rock: Wembley's Egg Surprise" on DVD. By pre-ordering you're guaranteed the lowest possible price. If the cost is reduced before the release date, you'll get the additional savings automatically.
Bring in the spring with the Fraggles! Fraggle Rock: Wembley's Egg Surprise features three episodes from The Jim Henson Company's iconic series Fraggle Rock together on their own DVD arriving this Spring from Lionsgate Home Entertainment.
Viewers will be greeted by their favorite fun-loving Fraggles – Gobo, Mokey, Red, Wembley and Boober, as well as the diligent Doozers and giant Gorgs, in the fantastical, musical world of Fraggle Rock.
Get ready to discover the true meaning of caring, sharing and renewal that makes springtime such an important and beautiful season. Certain to please Fraggle fans of all ages, Fraggle Rock: Wembley's Egg Surprise is packaged in a glossed, embossed O-card and will be available for the suggested retail price of $14.98.
Jim Henson's beloved children's series Fraggle Rock celebrated its 25th anniversary in 2008 and continues to prove it's still a fan-favorite with over 1.4 million DVD sales to date. The Fraggle brand continues to grow with the addition of a brand new clothing line. For the 2009 holiday season, there is the launch of "Fraggle Rock Forever," a merchandise collection for all ages that includes apparel, tote bags, belt buckles, jewelry and classic plush toys.
Fraggle Rock received multiple Cable Ace Awards and an International Emmy for Outstanding Children's Program and continues to be adored by millions of fans worldwide.
DVD SPECIAL FEATURES
"The Great Radish Round-Up" animated episode
Sing-Along
A Look at Jim Henson's Animal Show with Stinky & Jake
ABOUT WEMBLEY'S EGG SURPRISE
Spring is in the air down at Fraggle Rock! Grab your gardening gloves and jump into the garden with Marjory the Trash Heap, who decides to teach the Fraggles, Doozers and Gorgs a lesson by magically making all the radishes in the Gorgs' garden disappear! Discover what happens when Doc from "Outer Space" uses the power of music to help his plants grow. And the egg hunt begins when Wembley finds the egg of a Baby Tree Creature in Fraggle Pond. Join the lovable Fraggles and their pals in these spring-filled episodes blooming with friendship and fun! Includes 3 episodes: "Wembley's Egg," "The Great Radish Famine" and "The Finger of Light."

MORE FRAGGLE NEWS

• Fraggles return for Ben Folds Five video
• Fraggle Rock returns to US TV on The Hub beginning October 10
• Fraggle Rock "Scared Silly" DVD debuts September 14
• "Wembley's Egg Surprise" arrives on DVD February 9
• Fraggle Season 4 and more Fraggles coming to DVD
• "The Doozers" preschool series under development
• HIT announces Fraggle Rock Complete Series DVD Collection
• Red Fraggle live at Comic Con 2008