"The Doozers" preschool series under development
New 52 episode series is in pre-production with a premiere slated for 2010
Courtesy of KidScreen
March 24, 2009
L.A.-based The Jim Henson Company has teamed up with Toronto's Decode Entertainment to bring beloved Fraggle Rock characters The Doozers to life in a 3-D animated preschool series that the pair plans to unveil at MIPTV.
Anyone familiar with the calypso-tinged strains of the theme to Jim Henson's much-loved early '80s puppet series Fraggle Rock should recall the tiny hardhat-clad characters that toiled tirelessly in the background, building miniature structures ultimately gobbled up by the much larger Fraggles. In this series, those wee workers known as the Doozers have been cast into the spotlight and will take on their construction work above ground. Moreover, underpinning the show that focuses on a trio of new apprentice Doozers - named Baxter, Puzzlebea and Daze, who learn through teamwork and cooperation - is a curriculum built around green technology and eco consciousness.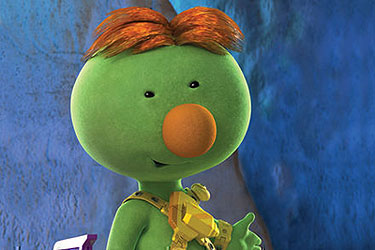 Baxter Doozer, from the upcoming Henson pre-school series.
"The curriculum is related to our other science shows," says TJHC co-CEO Lisa Henson, "but it's oriented toward ecological concepts and ways of thinking about re-use, waste, economizing and limiting our ecological footprint." To help craft the curriculum, Decode EVP of production and development Beth Stevenson says her team, which is heading up production efforts in Toronto, has brought in an advisor who specializes in green building practices. "He's a civil engineer from the University of Toronto whose input brings a whole other level to the scripts," she says. "He turned us on to the notion of vertical building and has introduced us to futuristic, enviro-friendly tools that we have versioned for the Doozers."
As for the business nuts and bolts, TJHC and Decode have set the budget at US$300,00 per half hour for the 52 x 11-minute series and have moved into pre-production and are testing animation. Decode Enterprises is handling worldwide distribution outside the US, while Henson looks after global L&M activities. The pair is currently gauging broadcast interest and looking for presales to kick the project into full production by fall 2009 for a 2010 delivery.

MORE FRAGGLE NEWS

• Fraggles return for Ben Folds Five video
• Fraggle Rock returns to US TV on The Hub beginning October 10
• Fraggle Rock "Scared Silly" DVD debuts September 14
• "Wembley's Egg Surprise" arrives on DVD February 9
• Fraggle Season 4 and more Fraggles coming to DVD
• "The Doozers" preschool series under development
• HIT announces Fraggle Rock Complete Series DVD Collection
• Red Fraggle live at Comic Con 2008