Sesame Street special to help families deal with a parent's death
Prime time television special premiering on April 14 at 8 pm ET/7 pm CT on PBS
Courtesy of Sesame Workshop
April 8, 2010
The death of a parent is one of the most challenging things a child can face, and shockingly an estimated 2.5% of children under age 18 have experienced the death of a parent (approximately 2.5 million children)* and on March 10, 2010 TAPS (Tragedy Assistance Program for Survivors) estimated that the 5,398 U.S. military deaths in Iraq and Afghanistan had left 3,779 children without a parent, while 2,669 spouses had been widowed. In response, Sesame Workshop, the nonprofit organization behind Sesame Street, is launching When Families Grieve, an outreach initiative that provides free resources in support of families with young children, in the military and the general public, coping with the death of a parent. A preview of the materials was presented today at the offices of New York Life Insurance with Katie Couric; Gary E. Knell, President and CEO of Sesame Workshop; Casey Holstein with his daughters Charli and Lia, who were featured in the special; and Sesame Street's Muppets Elmo, Rosita and Jesse (Elmo's cousin). The initiative is presented in conjunction with the Month of the Young Child & the Month of the Military Child.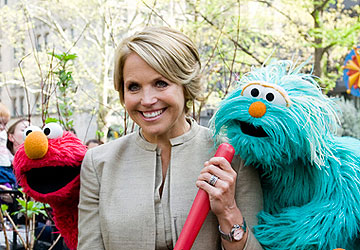 When Families Grieve will launch with the premiere of a one hour primetime television special on PBS featuring Katie Couric and the Sesame Street Muppets airing nationwide on April 14th at 8:00 PM ET/ PT (check local listings). The special, produced by Sesame Workshop, in association with Worldwide Pants Incorporated and Lookalike Productions, will present families' personal stories about coping with the death of a parent, as well as strategies that have helped these families move forward.

Immediately following the special, Sesame Workshop will begin the roll out of close to one million free multimedia kits to families and grief service providers nationwide. Through partnerships with organizations within the military and the general public that already provide services and resources to grieving families, Sesame Workshop will ensure that kits reach those who need them most. Organizational partnerships include Military Services casualty offices, Tragedy Assistance Program for Survivors (TAPS), childhood grief centers, national nonprofit aid organizations, professional associations, religious communities, foster parents, and others. All materials will also be available online at sesamestreet.org/grief beginning April 15.





"Death and loss are a part of life, but they are very difficult for adults to discuss, much less children," said Katie Couric. "I'm honored that Sesame Street, with its long history of tackling difficult issues with sensitivity, caring and warmth asked me to be a part of this important project. I hope that it will provide families with the tools to help them cope, begin the healing process and ultimately adjust to their 'new normal' in the healthiest way possible."




"Sesame Workshop has always been at the forefront of creating resources for families with young children to help address some of life's most difficult issues." said Gary E. Knell, President and CEO of Sesame Workshop. "When Families Grieve is Sesame Workshop's contribution to all those who face the daunting challenge of helping a child cope and heal from the painful reality of a death of a loved one. We are honored to work with Katie Couric and all our supporters and especially the families who share their very personal stories so others can learn and benefit from their journeys."




The multimedia and bi-lingual (English and Spanish)

When Families Grieve

resource kits, created by Sesame Workshop with the guidance from an

Advisory Board,

were developed to try to help families with young children:
Reduce the levels of anxiety, sadness, and confusion that children may experience following the death of a parent;
Provide families with age-appropriate tools to support and comfort children, including ways to talk about death with a young child; and
Reassure children that they are loved and safe, and that together with their families and friends, they can learn ways of being there for one another and move forward.
When Families Grieve will consist of two customized versions of the kit— one designed to support the specific needs of military families and one designed for the general public containing:
A DVD featuring the Sesame Street Muppets and documentary footage of families who have experienced the death of a parent due to a variety of situations including illness, suicide, accidents, and other sudden or natural causes.
Print Materials to include:
             - A guide for parents and caregivers providing tips, strategies, and activities to help comfort and reassure children through difficult times;
-A children's storybook designed to comfort children as they cope with the death of a parent; and
- A facilitator's guide with strategies for using the project's components, as well as tips and activities to give to families with children coping with grief.


              - Streaming video of When Families Grieve primetime television special and DVD video
content, and all downloadable print resources.
- A PSA for children going through the grieving process, featuring the Sesame Street Muppets.

When Families Grieve

is a continuation of Sesame Workshop's award-winning

Talk, Listen, Connect

outreach initiative launched in 2006 that provides resources and emotional support to military families with young children, ages 2 to 8, coping with challenging transitions in their lives, such as deployments and when a parent comes home with a combat-related injury. Sesame's outreach initiatives harness the power of the

Sesame Street

Muppets to aid the communication between adults and children through strategies and language that are child-appropriate and useful for the whole family.

When Families Grieve

is available to order for free at

www.sesamestreet.org/grief

and through Military OneSource either by phone 1-800-342-9647 or website

www.MilitaryOneSource.com

. Military OneSource is provided by the Department of Defense for all active duty, Guard & Reserve members (regardless of activation status) and their families.

Major support for When Families Grieve has been provided by Defense Centers of Excellence for Psychological Health and Traumatic Brain Injury, BAE Systems, Iraq Afghanistan Deployment Impact Fund of the California Community Foundation, and Walmart Foundation. Additional support has been provided by Lockheed Martin Corporation, New York Life Insurance Company, Military OneSource, New York State Office of Mental Health, McCormick Foundation, USO, Military Child Education Coalition, Joseph Drown Foundation, Bank of New York Mellon, Oshkosh Defense, and Department of Veterans Affairs – Vet Center Program.


MORE SESAME NEWS

• Sesame Street Season 45 premieres Monday September 15
• Elmo Muppeteer Kevin Clash resigns from Sesame Street
• Kevin Clash takes leave from Sesame Street
• Sesame Street to air hurricane special Friday November 9
• Sesame Street Old School Volume 3 coming to DVD November 6
• Sesame Street Season 43 begins September 24 on PBS
• Fan support essential for production to begin on "I Am Big Bird"
• "I Am Big Bird" Caroll Spinney documentary in development