Meet Leela, Sesame Street's newest cast member
Sesame Street's 39th Season debuts in August
Courtesy of India West
March 22, 2008
The newest neighbor on Sesame Street just happens to be Indian American, because the role was originally dreamed up with no particular ethnicity in mind.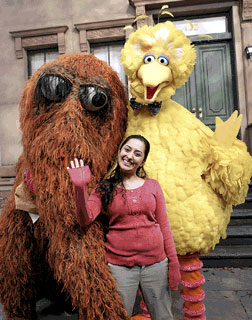 "It was incidental," actress Nitya Vidyasagar told India-West by phone last week from New York City, where she is currently taping the 39th season of the award-winning PBS children's show. "The casting notices said nothing of ethnicity."

But the New York-based stage actress made such a strong impression on the show's producers that they found themselves willing to create her role from scratch.

Vidyasagar plays Leela, a young Indian American woman who runs the local laundromat. Unlike many of the other actors on the show, who use their own first names as their character's names, she felt more comfortable with the name Leela. "My name is hard for some people to say," she explained.

"Sesame Street" now has successful local in-language editions in India ("Galli Galli Sim Sim"), Bangladesh ("Sisimpur") and nearly 120 other countries. But this will be the first time the show will incorporate a major Indian American character. Elements from Leela's cultural background and Indian holidays will make their way onto the show, and she is collaborating with its writers to educate them about the Indian American experience.

"I'm so excited," said Vidyasagar. "This is a big deal for me, and for the Indian American community … and it shows that India has a growing place in the world profile."


The new Leela is quite an international woman, and speaks Hindi and Telugu. Born in Muscat, Oman, she moved to India with her family when she was a year old. She and her family lived in Kolkata, Hyderabad and Bangalore before moving to the United States when she was 12, and she speaks English with a delicate, yet hard-to-place, Indian accent. "They said I could speak with my accent, too," she laughed.

One of the best things about the "Sesame Street" gig is that it will allow Vidyasagar to continue working as a stage actress, she said. "Absolutely, I will stay active in the theater," she added. "Theater is my true love. I can't imagine my life without it. That was the reason I became an actor to begin with."

Vidyasagar has no children herself, but she said, "I adore kids."

The 39th season of "Sesame Street" will start airing sometime in August, and the cast is currently shooting. "I've shot three or so episodes," said Vidyasagar, "some smaller inserts, and one full episode."

Some guest stars have joked in the past that it's easy to be upstaged by such megawatt kiddie superstars as Big Bird, Snuffy and of course the mighty and all-powerful Elmo. But Vidyasagar just laughed at the suggestion.

"Upstaged? Honestly, I'm oblivious [to] it," she told India-West. "There's not even a question. I didn't even think of the word 'upstaged.' It's all the elements of 'Sesame Street' that matter."

"Their puppeteers and characters are fabulous," she continued.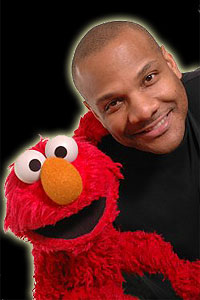 One of the most famous humans behind the success of "Sesame Street," Kevin Clash, the voice and creator of Elmo, is especially great to work with, she said. On her callback audition, she got to improvise with Clash. "He's multitalented, a warm, sweet guy," she said.

Vidyasagar earned a bachelor's degree in fine arts from New York University's Tisch School of the Arts. She was in the news most recently for her well-reviewed performance as a Sri Lankan research scientist in the off-Broadway comedy "Serendib," presented at the Ensemble Studio Theater. Her other theater credits include "Love's Labour's Lost" (The Shakespeare Theatre Company), "Ninja: The Musical" (Desipina Co.), "The Baby Carriage Opera" (The Harold Clurman Center for New Work in Movement and Dance Theater), "Electra" and "Top Girls" (Stella Adler Studio) and the films "Forging Love" and "Three."

The natural and spontaneous mood of the typical "Sesame Street" episode may seem improvised, but each episode is the product of many hours of research and consideration by child education experts. "Rehearsal is very limited," said Vidyasagar. "That's why you might have thought it was improvised. It's got a very lively energy."

The magic of "Sesame Street" is in the way it communicates concepts such as letters, words, numbers and concepts to small children without ever coming across as talking down to them. "What's incredibly important to them is that nothing is ever patronizing," she explained. "Yet it's communicable to a very young audience."

Vidyasagar relishes the chance to play Leela, yet to be herself on the show. "It's a very honest approach," she told India-West. "They never asked me to be something that I'm not. I'm cross-cultural. I've spent my life here and in India, and the show is taking advantage of my cultural background."

MORE SESAME NEWS

• Sesame Street Season 45 premieres Monday September 15
• Elmo Muppeteer Kevin Clash resigns from Sesame Street
• Kevin Clash takes leave from Sesame Street
• Sesame Street to air hurricane special Friday November 9
• Sesame Street Old School Volume 3 coming to DVD November 6
• Sesame Street Season 43 begins September 24 on PBS
• Fan support essential for production to begin on "I Am Big Bird"
• "I Am Big Bird" Caroll Spinney documentary in development