Sesame Workshop launches official streaming video site

Sunny days are here indeed: Official video archive includes hundreds of clips from the show's first season in 1969 to today

By Phillip Chapman, Muppet Central
December 6, 2007

Since the advent of VCR's fans have been sharing their unofficial Sesame Street videos and clips. When video streaming site YouTube debuted in 2005, devoted fans added thousands of Sesame clips to the popular flash-based web site.

The folks at Sesame Workshop have taken notice and have now launched their own official video site with a vast archive of streaming clips in pristine quality. The great news is that a lot more is yet to come in 2008.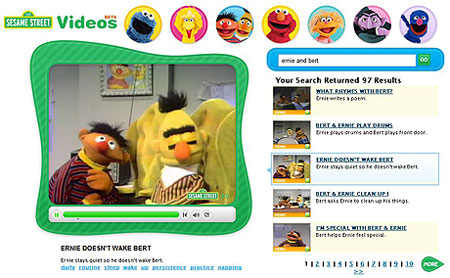 Sesame Workshop's video site already includes hundreds of clips from the shows first season to today including character clips with Cookie Monster, Big Bird, Ernie and Bert, Elmo, Zoe, The Count and Grover. But the fun doesn't end with the main characters, search for Kermit, Guy Smiley, Sherlock Hemlock and other classic favorites and you will be pleasantly surprised.
And the great news is that Sesame Workshop will continue to dig even deeper into their archives and will be adding even more classic clips in the future. We can only hope that eventually most of the Muppet and animation segments from the entire history of the show will be archived on-line for fan access.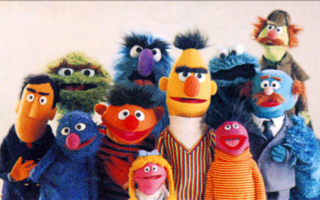 At the top of our "wishlist" are some of the rarely seen sketches and songs like "There's a Hole in the Bucket Dear Liza" and the rarer Bip Bippadotta and Kermit appearances. Not to mention a complete library of Roosevelt Franklin and Don Music sketches. And... well we could go on for awhile.
In addition to the character sections and the search engine on the site, we'd also like to see a complete clip library (possibly accessible by letter of the alphabet) so that if a fan wanted to see everything that was on-line it would be possible to go through each clip one by one. If Sesame Workshop also added the ability to sort the entire archive by either the date the clip was added or the season the clip was produced this would allow fans to quickly view the newest videos on-line or to watch the clips in chronological or reverse order from the seasons they debuted.
Sesame Workshop wants to hear your opinions on their new site too. Send them your feedback and then join in our discussion at the Muppet Central Forum.

MORE SESAME NEWS

• Sesame Street Season 45 premieres Monday September 15
• Elmo Muppeteer Kevin Clash resigns from Sesame Street
• Kevin Clash takes leave from Sesame Street
• Sesame Street to air hurricane special Friday November 9
• Sesame Street Old School Volume 3 coming to DVD November 6
• Sesame Street Season 43 begins September 24 on PBS
• Fan support essential for production to begin on "I Am Big Bird"
• "I Am Big Bird" Caroll Spinney documentary in development