Literacy is the word on the Street in Sesame's 38th Season
The 38th Season of Award-Winning Sesame Street premieres on PBS Kids August 13th with new curriculum focusing on literacy.
Courtesy of Sesame Workshop
July 29, 2007
For 38 years, Sesame Street has sought to meet the critical needs of children while preparing them for preschool. With the help of Elmo, Big Bird and their friends, the ground-breaking show's 38th experimental season premieres August 13th on PBS Kids (check local listings) and features a new curriculum focusing on early literacy and language skills.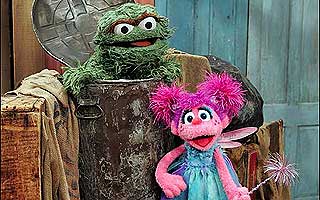 According to the National Center for Education Statistics, literacy still remains a critical educational need. Sesame Street has always been committed to putting young children on a positive trajectory for learning. Therefore, season 38 will emphasize the fundamentals of early literacy such as rhyming, vocabulary and letter sounds known to be predictors of later reading skills. In addition, the much adored Abby Cadabby, who was introduced last year, will be in all 26 episodes this season and reinforces the literacy focus with her love of words and use of rhyming.
"Developing a rich vocabulary and a love of words at a young age helps children become better prepared for school and more successful readers," said Dr. Rosemarie Truglio, Vice President Education and Research for Sesame Workshop. "This season of Sesame Street, our mission is to provide children with the basic tools to help them develop their early literacy and language skills. We know that learning is enhanced when an adult watches Sesame Street with a child because the lessons on the show can then be extended into the child's daily routine which fosters a love of learning."
Carol-Lynn Parente, Executive Producer of Sesame Street adds, "We were particularly struck by the statistics illustrating the vast discrepancy in the size of a child's vocabulary between middle and lower income families. " She continued, "Research has shown that preschoolers who watch Sesame Street are more likely to show signs of emerging literacy skills and are overall better prepared for school. It is our hope to make learning new words fun and encourage parents and caregivers to take an active role in expanding the vocabulary of their child."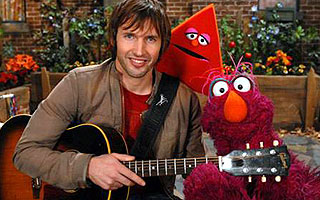 As part of this year's literacy focus, each new episode begins with a "What's the Word on the Street?" interview with people and animals of all ages who introduce and define the day's "Word on the Street." To help reinforce language development, these 26 new words, such as "tricycle," "predicament" and "squid," are repeated later in the show as part of the "street" story and in a series of hilarious celebrity segments in which stars such as Jon Stewart and Ellen Degeneres explain the meaning of the day's word.
Along with these segments, this season will feature all new "street" scenes as well as new animation, and original live action films all designed to expand a child's vocabulary and give them the tools to strengthen their literacy skills. Storylines include: "The Amazing Alphabet Race" where Elmo knows his ABC's so well he's been chosen as a contestant to find all the letters of the alphabet; and "The Letter 'P' Game" in which Alan teaches Zoe and Elmo to find things that start with the letter 'P'.
Sesame Street Season 38 welcomes a new character to its cast this year. Chris, the nephew of Gordon and Susan, moves to Sesame Street to find a job, and after several comic attempts, finally lands a job at Hooper's Store working for Alan.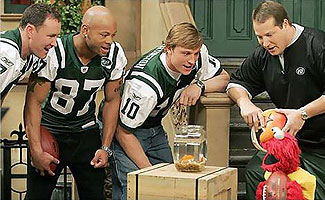 As always, new episodes will feature well known celebrity guests including; Grammy nominated artists Chris Brown and James Blunt; 30 Rock's Tina Fey; celebrity chef Rachael Ray; New York Jets players Chad Pennington, Laveranues Coles, Ben Graham, and coach Eric Mangini; CNN anchor Anderson Cooper; and Country Music Award winning duo Sugarland.
In its classic style of humor and wit, Sesame Street embraces pop culture with parodies such as "Meal or No Meal," a parody of the hit television game show Deal or No Deal featuring a Howie Mandel look-a-like puppet; "American 'I'," a parody of the popular FOX series American Idol; "A's Anatomy," a parody of ABC's drama Grey's Anatomy; "GNN: Letter in the News," with Anderson Cooper of CNN featuring grouch anchors Walter Cranky and Dan Rather-Not; and many more!
Season 38 will also feature five new "Elmo's World" segments where Elmo will be thinking about Violins, Noses, Mouths, Helping and the Beach.
Season 38 of Sesame Street is funded in part by a grant through the Public Broadcasting Service and the Corporation for Public Broadcasting, and public television viewers. Sesame Street is underwritten in part by the McDonald's Corporation, Beaches Family Resorts, Earth's Best, EverydayKidz.com from Astra Zeneca, and New Balance.

Episode Descriptions
Show 4135
Curriculum Goal: Literacy
Alan and Elmo are reading a book in Hooper's store when all of a sudden a pirate ship and three pirates appear. The pirates call themselves the Bookaneers because they love to read and they love books! They love books so much, they want to take Elmo's book. When Elmo tells them he loves his book too, the pirates invite him to become a Bookaneer, but he'll have to pass the Bookaneer test. First, Elmo has to dress like a pirate and then he has to say the alphabet with a giant squid! Next he has to find three words that start with the pirates' favorite letter, the letter "F." While dancing to the pirate jig Elmo finds "food," and "fork." Then as he accidentally falls to the ground, he thinks of the third word, "fall." The final part of the Bookaneer test is to find the pirates' treasure. Elmo follows the directions on the pirates' map and finds the letter "L" on Sesame Street, which marks the spot! The map leads them to a sign that reads, "Library." Elmo recognizes that "L" is the first letter in the word "Library," and learns that the pirates' treasure, shelves and shelves of books, awaits him inside! The pirates use their library cards to borrow some of their favorite books, like "Goldilocks and the Three Pirates," and Elmo is delighted to be an official Bookaneer.
Show 4136
Curriculum Goal: Cognitive Reasoning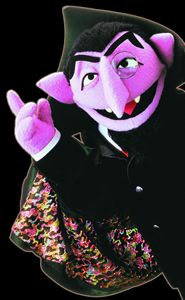 Gordon and Susan's nephew, Chris Robinson, just moved to Sesame Street. He is looking for a job in the Help Wanted section of the newspaper because he needs money to buy books for school. Chris thinks the first ad might be for a job as a gym teacher because it reads, "Must love to exercise." When he reports to the Count who placed the ad, he discovers that instead of teaching children how to exercise, the Count wants Chris to do exercises so that the Count can count them! The second ad Chris follows is for a sales job, selling cookies for Cookie Monster. That job doesn't work out either because although Chris is a great salesman, Cookie Monster can not handle parting with his delicious cookies. Next, Chris follows an ad to be a dance partner. Despite the fact that his dance partner is Horatio Elephant, his audition goes well and he gets the job! Chris has to turn it down, however, when he learns he would be earning peanuts, not money. Chris is just about to give up when he sees a "Help Wanted" sign hanging in Hooper's Store window. He meets Alan who tells him he needs help stocking shelves, working the register, and sweeping up. Chris excitedly takes the job and can't wait to start!
Show 4137
Curriculum Goal: Literacy
Abby has a magical book to read with Telly and Baby Bear. It's called The Wild Adventures of Action Dog and it moves and makes sounds right along with the story! Just as they are all getting into the action, Abby has to leave, but Telly and Baby Bear can borrow the book as long as they are careful with it. This is becoming hard to do as the book begins to move wildly out of control. It suddenly flies out of their hands and lands with a crash. Thankfully the book is okay but they realize that the word "dog" has popped right out of the book and run off. Now they have to figure out how to find the word and get it back into the book. They try to chase the dog, dress up like dogs, dress up like the word "dog," draw a lost dog sign and even give it the word "water" because he seemed thirsty. Nothing worked. When Abby returns, she says that they should have just turned to page 11 where there is a picture of a stick along with the word. Abby tells the dog to fetch. When he sees the stick, he immediately leaps towards the page. The word "dog" is back in the book! Now they can finally find out what will happen next in The Wild Adventures of Action Dog.
Show 4138
Curriculum Goal: Literacy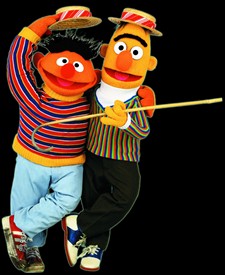 Elmo is in love with his favorite book, Lucy the Lazy Lizard. He loves it so much that he asks Maria to read it to him one more time the 11th time that morning. She agrees and goes on to read the story of Lucy the Lazy Lizard who lounged lazily on her lovely little log when a long, loud train came lumbering down the tracks heading straight for her. This is Elmo's favorite part. Lucy is luckily the strongest lizard in Lackawanna and she lifts the tracks over her head at the last minute so that the train passes right over. That was close. Now who can Elmo find to read him the story again? He comes upon Telly who is playing with his train set. There's no time, though, because the Triangle Express has to get triangles to Tuscaloosa. But wait... the triangles have already gone to Tuscaloosa! This gives Elmo an idea- maybe the triangles could go to Lackawanna instead. Telly loves this idea because who doesn't need triangles in Lackawanna. Elmo goes on to tell his favorite story about Lucy as Telly excitedly acts it out with his train set. It was the greatest train adventure ever! Telly can't wait to read this book now. Luckily, Elmo knows it by heart.
Show 4139
Curriculum Goal: Literacy
When Elmo and Zoe have trouble coming up with a game they both want to play, Alan teaches them the letter "P" game. In order to play, they need to find things that start with the letter "P." After they successfully find a penguin, a potato, a pineapple and peanut butter on pumpernickel bread, Abby poofs in to join them. With a wave of her wand and a special rhyme, Abby turns a salt shaker into a pumpkin. Then, she poofs herself to Fairyland and brings back Peter Piper from the nursery rhyme and Prince Paul from the Cinderella fairytale. Peter and the Prince are perfect for the letter "P" game, but Peter needs his patch of pickled peppers to pick, and Prince Paul needs to find the foot that fits the glass slipper! They need to get back to Fairyland, but Abby hasn't learned how to send them back! She remembers that her mommy says a rhyme and waves her wand, so she decides to give it a try. With the help of her friends and the perfect rhyme, Peter and the Prince are successfully sent home.
Show 4140
Curriculum Goal: The Arts
Zoe and Abby are having a dancing playdate. Abby tries Zoe's tutu on and Zoe gives Abby's wand a try. As Zoe waves Abby's wand, she says, "If I were a fairy godmother and had a wand like this . . . I'd say, 'I wish that everyone today . . . Would wear a tutu and dance ballet!!" Without Zoe and Abby realizing it, Zoe's wish comes true! First a penguin wearing a tutu appears and then the mailman. Eventually everyone on Sesame Street is wearing a tutu and dancing ballet! Chaos ensues because everyone has work to do, but they can't get it done while they're dancing! Zoe realizes that she has to turn everything back to normal and Abby remembers just how to do it. They need to think of a word that rhymes with "stop!" Chris dances by with a mop in a tutu, and it gives Zoe an idea. She waves the wand and says, "Chris is dancing with a mop . . . But now it's time for the dancing to stop!" Her rhyme successfully stops the spell, all the tutus disappear and everyone can get back to work!
Show 4143
Curriculum Goal: Literacy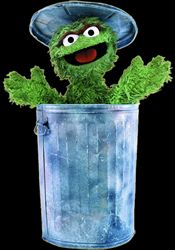 Oscar and Grundgetta are reading The Tale of Sleeping Grouchy and Slimey, Telly and Elmo join them. The story begins, "Once upon a time, there was a very, very, very grouchy princess . . ." and it tells the tale of a princess that was so grouchy, she said things like, "Phooey!" "Ewwww!" and "Sounds horrible!" One day the grouchy princess was on a grouchy walk. She said, "Phooey!" so many times that it disturbed a wizard who was walking nearby and he cast a spell on her, putting her to sleep for a hundred years! Princess Grouchy's parents were very upset. They loved their grouchy daughter dearly and wanted to find a way to break the sleeping spell. They offered a reward to any prince who could wake the princess up. Prince Elmo came and tried to tickle Princess Grouchy awake with a feather, but it didn't work. Prince Telly played his loud tuba with his back-up band, The Cat's Meow, but Princess Grouchy still did not wake up. Finally, Prince Slimey arrived. Everyone wondered how a tiny worm could break such a strong spell, but Prince Slimey knew exactly what to do. He gave Princess Grouchy a sweet, loveable kiss on the cheek. She awoke with a characteristic "Ewwwwwww!" and lived grouchily ever after.
Show 4145
Curriculum Goal: Literacy, Emotional Development
Rosita and Zoe are so excited to play Rosita's favorite game of hide and seek. Just as they are about to start, Abby appears and she knows a really great game to play too- Jumping Rhymes! Rosita was excited to play hide-and-seek, but perhaps they could play one rhyming game first. Now, it's finally time to play hide-and-seek. While Zoe and Abby are hiding, though, they begin dancing ballet. When Rosita comes to find them, she's surprised and disappointed to see that they aren't playing hide-and-seek anymore and storms off. She is feeling so sad, frustrated and angry. Rosita thinks that Zoe and Abby just wanted to play with each other and not with her. Maria and Gabi suggest that she talk to Zoe and Abby about how she feels. When Rosita tells them, Zoe is confused, because she thought they were having so much fun together and they both still want to play with her. Maybe they can find a way to all play together that makes everyone happy. They decide to each take turns picking what to play and everyone has a great time!
Show 4148
Curriculum Goal: Emotional Development
Elmo is excited to play checkers with Gina, but they only get to play one turn because she has to go feed Marco. This leaves Elmo feeling jealous and upset. Why does Marco get so much attention while Elmo gets none? You must have to be a baby. When Gina returns from feeding Marco, she finds Elmo sitting in Marco's stroller, pretending to be a baby himself! Gina plays along, but wishes Elmo could be himself again so they can play their game. She explains that she has enough love for both Marco and Elmo and she'll always make special time to be together. While Marco still needs to be taken care of, Elmo can teach Marco lots of new things and when he's old enough, they can play together and be friends.
Show 4152
Curriculum Goal: Literacy
Gabi is reading Elmo a book called Dinosaurs, Dinosaurs, Dinosaurs because Elmo loves dinosaurs! When Gabi has to leave to go to class, Elmo imagines himself with a pet dinosaur and sings a song about all the fun things they would do together. Elmo decides to ask Gina where he might find a pet dinosaur. Gina tells Elmo that dinosaurs are extinct and explains that dinosaurs lived a very long time ago, but there aren't anymore left anywhere. Snuffy finds Elmo upset and asks him what is wrong. When Elmo explains how he really wanted a pet dinosaur, Snuffy has an idea. He comes back dressed in a dinosaur costume pretending to be a Shaggy Snufflesaurus and looking to be someone's pet. Elmo gets very excited. They sing a song about all the fun things they will do together and leave to go on a walk. This dinosaur needs lots of exercise, as well as cabbage and spaghetti.
Show 4153
Curriculum Goal: Literacy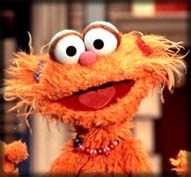 Zoe and Rosita find Abby's magic wand and Rosita wonders what it would be like to be a fairy god-monster and do magic. She even convinces Zoe that they could help Maria with all her work by using Abby's wand. To do magic, all they have to say is some words that rhyme. When the sparkles clear, Maria is gone and a chicken is there in her place. Something went terribly wrong and now they have to figure out how to change Maria back. First they try saying another rhyme, and then a rhyme in Spanish while hopping at the same time, but things only seem to be getting worse. When Abby comes to find her wand, Rosita tells her what she had done and that they need Abby's help. Abby has been getting better at her magic rhymes so she tries to change Maria back, but now Maria's a clucking pumpkin! To everyone's surprise, Maria shows up out of nowhere. It turns out that she had only gone to the hardware store. The pumpkin sounds awfully like Mrs. Chicken, though, who was coming to pick up her toaster from the Fix It Shop. Good thing Abby's mommy could help fix everything and Mrs. Chicken was turned back to normal. Abby takes her wand back and just in time!
Show 4154
Curriculum Goal: Literacy
Elmo knows his ABC's so well that he has been chosen to play "The Amazing Alphabet Race," a game show hosted by Amazing Al. In order to play, Elmo has to find all the letters of the alphabet before a clucking chicken tap dances his way to a gong! Elmo discovers that there are letters all around him! He finds an "A" in "SESAME STREET," a "B" in "BUS STOP" and a "C" in "SCRAM." He heads to Hooper's to look for a "D," "E," and "F," but it's not open. This isn't a problem since Elmo finds some letters he needs in the "CLOSED" sign on the door. Telly joins in and they find three "Fs" in "FREE COFFEE," a "G" on Telly's pogo stick, and an "H" in "HOOPER'S". Next they find "J," "K," and "L" in Abby's Jack and Jill book. They continue working against the cluck, finding letters in signs around the street. It is not until they need "W," "X," "Y," and "Z" that Elmo and Telly notice the ABCDEFGHIJKLMNOPQRSTUVWXYZ delivery man's package which has all the letters they need. They point to the remaining letters just in time and win the game!
Show 4157
Curriculum Goal: Cognitive Reasoning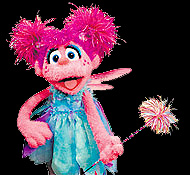 Abby shows Elmo her frog named Prince. Elmo doesn't understand how a frog could be a Prince, until Abby explains he was a prince that got turned into a frog. Elmo thinks Abby's trick is so cool that he asks Abby to kiss his cheek to see if he will turn into a frog. Although Elmo doesn't turn into a real frog, he pretends to be one. Abby doesn't understand how Elmo can be red, have fur, and still be a frog so Elmo teaches her what it means to make believe. Abby is enchanted by this idea and wants to be a chicken. Elmo helps her peck, "bawk" and pretend she has wings and feathers! A chicken joins them and they pretend to be cows, until a real cow suggests they all pretend to be cars. Then when Gordon comes by, they all pretend to be him! Elmo and Abby learn that they can pretend to be anything. All they need is their imagination!
Show 4158
Curriculum Goal: Literacy
Rosita receives a card from her grandmother in the mail. Abby is very impressed because she has never received a letter before. Elmo decides to write Abby her first letter. Elmo gets ready with some paper and crayons, but then he remembers he doesn't know how to write! Chris helps by listening to what Elmo wants to say and writing it down for him. After Chris reads Elmo's letter back to him, Elmo decides to end it with, "Love, Elmo" and realizes there is one word he can write-- his name! Chris addresses an envelope, puts a stamp on it and puts Elmo's letter inside. They can now put the letter in the mailbox and the mail carrier will get it and bring it to Abby in a few days. Just then, Abby poofs back to Sesame Street. Elmo excitedly tells her that he wrote her a letter. Both of them want Abby to get her letter right then, so instead of putting it in the mail, Chris hands Abby the envelope. Abby is so excited about receiving her very first letter that she forgets she doesn't know how to read yet! Chris helps her read Elmo's letter and she couldn't be happier. Abby now can't wait to write her first letter and she thinks she'll write one to Elmo thanking him!

MORE SESAME NEWS

• Sesame Street Season 45 premieres Monday September 15
• Elmo Muppeteer Kevin Clash resigns from Sesame Street
• Kevin Clash takes leave from Sesame Street
• Sesame Street to air hurricane special Friday November 9
• Sesame Street Old School Volume 3 coming to DVD November 6
• Sesame Street Season 43 begins September 24 on PBS
• Fan support essential for production to begin on "I Am Big Bird"
• "I Am Big Bird" Caroll Spinney documentary in development