Zappa says Fraggle film will rock

The theatrical film will will feature old favorites like the main Fraggles, Traveling Matt, The Trash Heap and celebrity cameos and acclaimed musicians

Courtesy of MTV
December 7, 2006

Ahmet Zappa remembers the time before Paris Hilton and Kevin Federline, when celebrities earned their fame by creating something artistic — and then used their influence to make the world a better place. He remembers John Lennon singing about peace; his father, Frank Zappa, promoting independent thought; and Muppet-master Jim Henson shaping the impressionable young minds of a generation. And now he's got a new job, because Ahmet Zappa also remembers the Fraggles.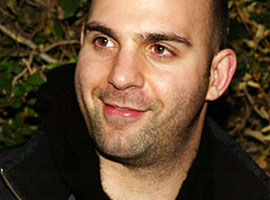 "People always come up to me and talk about my father," the 32-year-old actor/writer recently said. "My father was very political, outspoken, an amazing musician and a great dad. Jim Henson, to me, is such an icon. What [Henson] did for kids — entertainment, education, storytelling and inspiring creativity — he was just such an important person. It feels nice to be involved in another family business."
Six weeks ago, Zappa won the high-profile assignment of developing the full-length rebirth of "Fraggle Rock," the vibrant 1980s TV program Henson pitched to networks as the children's show that would end wars. Looking back now, the "Sesame Street" imaginer packed his program with messages about racial tolerance, creature codependence and even the importance of recycling. But, as Henson knew then and Zappa knows now, all that stuff often takes a back seat to the reason why people really care about the Fraggles: they're fun.
"I grew up having the Fraggles on television, singing songs that I thought were really catchy and fun," Zappa remembered, professing his love for the colorful 22-inch characters and the Gorgs, Doozers and talking trash heap that surrounded them for five seasons on HBO. "There are a lot of messages in 'Fraggle Rock' that fans have kept close to their hearts, so we have to be respectful of the television show and very respectful of Jim Henson's Fraggle message. As far as the movie's concerned, that's what we are focusing on now: how to maintain Fraggledom."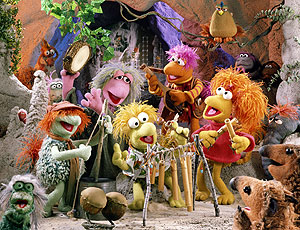 Currently, Zappa is hard at work squeezing 96 episodes into a movie that will properly reflect that same "Fraggledom" for old fans, as well as their children. Told in a contemporary context using far more human interaction, new characters and plenty of music, the movie will be produced by Henson's daughter, Lisa, and directed by his son, Brian. Barely able to contain his enthusiasm for the project, big-kid Zappa gave us a first look at what we can expect from the "Fraggle" flick.
"If you take the landscape of kids' music now, I don't personally enjoy it," said Zappa, whose debut children's book, "The Monstrous Memoirs of a Mighty McFearless," displayed an unrestrained imagination that impressed the Henson clan, along with a taste that seemed to connect with today's kids. "'Fraggle Rock' is good music, good instrumentation, catchy little jingles and stories that are all very sweet."
Part of that sweetness is in the nonjudgmental dependency between the different races and colors of Fraggles, and the creatures that surround them. "It's a complete ecosystem," Zappa said of Henson's idea to show children how living creatures need each other. Zappa's script will pick up with level-headed Gobo, artistic Mokey, athletic Red, nervous Wembley and chronically depressed Boober in the same underground tunnels where we left them 20 years ago, and follow the crew as they journey for the first time into "Outer Space" — or as we like to call it, the real world.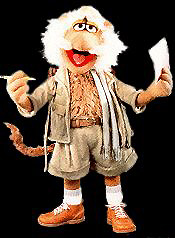 "Traveling Matt is in the movie," Zappa confirmed, referring to Gobo's adventurous uncle whose naive reports from Outer Space are indicative of the fish-out-of-water humor Zappa will embrace. "The funny part about Traveling Matt and Outer Space is he'd see a fire hydrant and assume it was a person. He thought cars were animals, that they were living organisms, and he thought elevators were people changers, because the doors would close and then open, and there'd be new people in there all the time."

For the currently untitled movie, that mentality will be applied to some of the strange things we currently take for granted. "Back when that show was made, there weren't cell phones, so imagine a Fraggle finding a cell phone," Zappa said, citing one early idea. "It's been a lot of fun putting myself in that head space. It's not every day that you wake up and imagine yourself Fraggle height and take it seriously — being that tall, what would the world look like to you?"

Zappa said the film will also reflect larger changes in the world. "A lot of things have become disposable, and there are certainly a lot of environmental changes," he observed. Invoking the name of the wise, old talking compost-heap character, he added, "A lot of bad stuff has happened since the original 'Fraggle Rock,' and Trash Heap is all-knowing. She was always my favorite character on the show, so we're going to do her some justice."

When talk turned to the monstrous neighbors that tormented Gobo's gang, however, Zappa got suspiciously tight-lipped. "I can't say too much about the Gorgs right now," he smiled cryptically. "That stuff is top secret."

Keeping the CGI to a minimum, Zappa and the Hensons plan to return to the magic of the original Muppet movies that made millions forget they were watching puppets. "There's going to be human interaction with Fraggles," he said, adding that the film will feature plenty of celebrity cameos. "If you have an actor acting opposite a puppet, they can react off the mannerisms, the maneuvers, the facial expressions; it's a character. That puppet is an actor, as well — versus CGI, which happens after the fact."

Such human-puppet interactions will also help the "Fraggle" filmmakers entice big-name bands to perform new songs with the fun-loving characters. "'Fraggle Rock' is such a music-based movie, and the show had new songs every episode — we can safely say we'll have a lot of recognizable bands," said Zappa, who has established friendships with some of the biggest names in music. "I've been inundated with calls from famous bands, songwriters, different actors, who are just huge fans of 'Fraggle Rock' that they're just like, 'I'll do anything.' There's a certain religious fervor with Fraggles."

The most coveted assignment, however, will go to the group that reinterprets one of the most infectiously catchy theme songs in TV history. "[We won't be] changing it lyrically, but that was such a recognizable song, a new version will probably be made," Zappa said.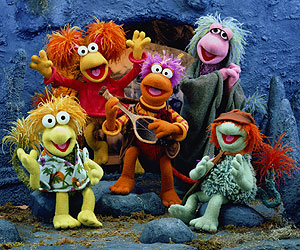 As for the film's plot, Zappa said his script will tap into many of the same themes he tried to work into his book. "I'm writing about relationships that seem very similar to the experiences I've had in my own life," he said. "Which aren't necessarily normal — the things I experienced growing up, my sense of humor. I would think some people may assume I'm a little odd, but I think the characters in 'Fraggle Rock' will have some larger-than-life human characters. There will also be some new puppets. Puppeteered characters that are sarcastic, silly, irreverent and don't talk down to kids."
If those sound like the kind of words that would have once come from the mouth of Jim Henson, then Ahmet Zappa is remembering everything just right. "We are moving as fast as humanly possible — and Fraggily as possible," he added, saying that some major "Fraggle" details should develop after the holidays, as the filmmakers continue to eyeball a late-'08 or early-'09 release date. "The Fraggles need to be here sooner, rather than later."

MORE FRAGGLE NEWS

• Fraggles return for Ben Folds Five video
• Fraggle Rock returns to US TV on The Hub beginning October 10
• Fraggle Rock "Scared Silly" DVD debuts September 14
• "Wembley's Egg Surprise" arrives on DVD February 9
• Fraggle Season 4 and more Fraggles coming to DVD
• "The Doozers" preschool series under development
• HIT announces Fraggle Rock Complete Series DVD Collection
• Red Fraggle live at Comic Con 2008