Henson officially announces Fraggle Rock movie
Ahmet Zappa will write the screenplay; Brian Henson and Jason Lust are executive producers; Lisa Henson will produce
Courtesy of The Jim Henson Company
October 19, 2006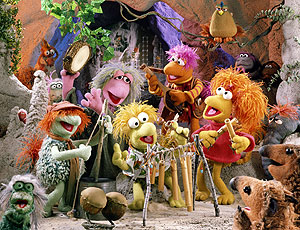 The Jim Henson Company now confirms what millions of internet fans have speculated: the Company is in development on a full-length feature about the Fraggles, stars of the 1980's television show "Fraggle Rock." The announcement was made today by Lisa Henson who serves as co-CEO of The Jim Henson Company with her brother Brian Henson.

The untitled film will for the first time take Gobo, Wembley, Mokey, Boober and Red on an adventure outside of Fraggle Rock where they will interact with the strange beings in "outer space" (also known as humans). The treatment is being written by author Ahmet Zappa (The Monstrous Memoirs of a Mighty McFearless) who will also executive produce the project with Brian Henson and Jason Lust. Lisa Henson will produce.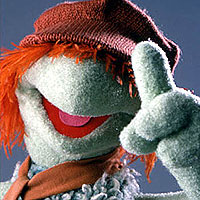 Lisa Henson said, "'Fraggle Rock' has remained a favorite project at our Company and has certainly continued to be loved by its many devoted fans, so we are thrilled to begin work on this project. With its message of celebrating diversity and its ambitious goal of promoting world peace, now is the perfect time to embark on a new Fraggle adventure."

"I'm very excited to be working with The Jim Henson Company on this project," said Ahmet Zappa. "So much of my childhood was spent watching 'Fraggle Rock'…I never missed an episode! I'm also really looking forward to using music to tell the story; it played such a central role in the original series and truly helped create the 'Fraggle Rock' that we know and love today."

"Fraggle Rock" premiered on HBO in 1983 and over five seasons garnered multiple awards and a global fan following. The show was created by Jim Henson as an international co-production and was adapted for each territory to meet the needs of its audience. By showing cooperation and conflict resolution among the different inhabitants of the Rock (the Fraggles, the Doozers and the Gorgs), the show taught the concepts of mutual respect and peace. Recently, devoted fans petitioned online for a DVD release of the series. The season one box set exceeded expectations and its incredibly strong consumer response led to the successful season two release.

MORE FRAGGLE NEWS

• Fraggles return for Ben Folds Five video
• Fraggle Rock returns to US TV on The Hub beginning October 10
• Fraggle Rock "Scared Silly" DVD debuts September 14
• "Wembley's Egg Surprise" arrives on DVD February 9
• Fraggle Season 4 and more Fraggles coming to DVD
• "The Doozers" preschool series under development
• HIT announces Fraggle Rock Complete Series DVD Collection
• Red Fraggle live at Comic Con 2008