Sesame Street Old School DVD's coming October 24

The box set will include five classic episodes from 1969-1974, the original pilot and more than 45 bonus sketches and songs

Courtesy of Sesame Workshop
September 6, 2006

Do you remember how to get to Sesame Street? Relive those memorable moments from your childhood with Sesame Street: Old School. The best of seasons one to five are all here, for the first time ever on DVD. Included are the best episodes from these early years, the original pilot as it aired, and tons of extras.

Do you remember the Ladybug Picnic? How about Wanda the Witch? Did you learn to count with Bill Cosby or James Earl Jones? Sing "Nasty Dan" with Johnny Cash? Sesame Street: Old School has something for everyone, whether you just love those adorable monsters (and one Big Bird), or you want to share the show with your children.

Make an Abracadabra Peanut Butter and Jelly Sandwich, grab your rubber duckie, and head on down to where the air is sweet!

Sesame Street: Old School Volume 1 releases on DVD October 24.
First time ever on DVD - the best of the first 5 years of the ground-breaking show, Sesame Street
Includes over 7 hours of classic content
5 complete hour-long episodes
Over 45 bonus segments:

The original pilot for the show - first time available anywhere!
Celebrity appearances from James Earl Jones, Jesse Jackson, Johnny Cash, Jackie Robinson
Classic segments every parent will remember: "I Love Trash," "Rubber Duckie," "C is for Cookie"
Original animations include Ladybug Picnic, Alligator King, King of Eight, Pinball Number Count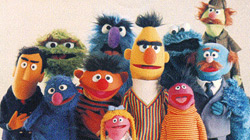 On the same day, October 24th, Sony BMG will also release The World According To Sesame Street. This documentary debuts that same day on PBS's Independent Lens, and "is a behind-the-scenes look at the unexpected dynamics of producing the most-watch children's television show in some of the world's political hotspots. The film follows productions in Bangladesh, Kosovo, and South Africa and examines how producers from Sesame Workshop take Sesame Street as we know it, and localize it with indigenous songs, puppets and educational content."
The Best of the Electric Company Volume 2 will be released on DVD November 14, 2006.

MORE SESAME NEWS

• Sesame Street Season 45 premieres Monday September 15
• Elmo Muppeteer Kevin Clash resigns from Sesame Street
• Kevin Clash takes leave from Sesame Street
• Sesame Street to air hurricane special Friday November 9
• Sesame Street Old School Volume 3 coming to DVD November 6
• Sesame Street Season 43 begins September 24 on PBS
• Fan support essential for production to begin on "I Am Big Bird"
• "I Am Big Bird" Caroll Spinney documentary in development