Caroll Spinney to recieve Lifetime Acheivement Award
Spinney will be presented with the award at the 33rd Annual Daytime Emmy Awards on Friday April 28, 2006
Courtesy of Sesame Workshop
January 18, 2006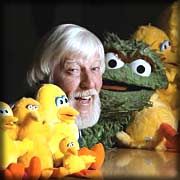 The National Academy of Television Arts & Sciences announced today that Caroll Spinney, the puppeteer who plays the roles of Big Bird and Oscar the Grouch on Sesame Street, will be the recipient of this year's Lifetime Achievement Award at the 33rd Annual Daytime Emmy Awards. Spinney was chosen for his work entertaining and educating children for nearly four decades, since the series debut in 1969.
Spinney, a puppeteer since the age of eight, turned an eight-foot, two-inch tall bird and a crabby trash can dwelling grouch into world-renowned cultural icons. His characters have been seen on more than 4,000 episodes, as well as Sesame Street television specials that have taken Spinney to China, Japan, Australia, France, Germany, Canada, and the United Kingdom. Spinney starred in the feature film Follow That Bird and has performed on a number of other shows, including The West Wing and Hollywood Squares. His work has garnered him four Emmy Awards. Spinney's book, The Wisdome of Big Bird chronicles his experiences portraying the famous characters.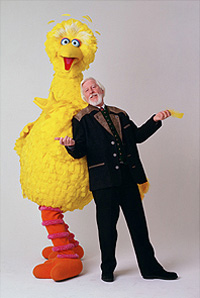 "Caroll Spinney has distinguished himself in entertaining and inspiring generations of children worldwide in his dual roles as the sweet and compassionate Big Bird and the distinctively different Oscar the Grouch," said Peter Price, President, National Television Academy. "The Academy is proud to honor the man who has dedicated his career to creating and sustaining for four decades two of the most-loved and respected children's television characters."
"I am elated and amazed to receive this honor from those who are committed to the best of what television and media have to offer, for doing what I've always wanted to do," said Spinney.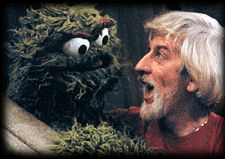 Spinney will accept the award during the 33rd Annual Daytime Emmy Awards ceremony on Friday, April 28, (8:00-11:00 PM, ET) broadcast live on ABC from the Kodak Theatre in Los Angeles. This will mark the first time the Daytime Emmy Awards will be broadcast from Hollywood in the 33-year history of the Awards ceremonies.

MORE SESAME NEWS

• Sesame Street Season 45 premieres Monday September 15
• Elmo Muppeteer Kevin Clash resigns from Sesame Street
• Kevin Clash takes leave from Sesame Street
• Sesame Street to air hurricane special Friday November 9
• Sesame Street Old School Volume 3 coming to DVD November 6
• Sesame Street Season 43 begins September 24 on PBS
• Fan support essential for production to begin on "I Am Big Bird"
• "I Am Big Bird" Caroll Spinney documentary in development