Kermit's world tour launches into space
NASA's Johnson Space Center to Host Out-of-This-World Celebration to Honor 50th Anniversary of World's Most Beloved Frog
Courtesy of Entertainment Magazine
October 19, 2005
Kermit the Frog, the world's most beloved frog will be honored for the 50th anniversary of his meteoric rise from the swamp to international icon.
For that honor, Kermit the Frog is taking a world tour to visit his fans around the globe. After kicking off his tour in Kermit, Texas on October 14, Kermit headed to NASA's Johnson Space Center.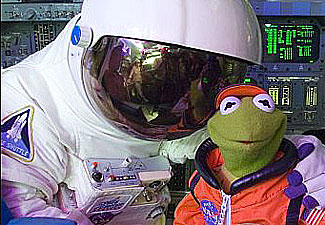 Kermit co-pilots a space shuttle at NASA Space Center Houston. He also participated in a special VIP tour of historical Mission Control.

NASA embraced Kermit's arrival by inviting local Houston children to an anniversary celebration for the world's most beloved frog, including a question and answer session with Kermit and a screening of the galactic adventure, Muppets From Space. Attendees had the opportunity to have their photo taken with Kermit.

While at Johnson Space Center, Kermit the Frog experienced a variety of out-of-this-world activities typically reserved for astronauts, including "walking" on a lunar landscape and sitting in the pilot's seat of the Space Shuttle.

MORE MUPPET NEWS

• Muppets star in Toyota Super Bowl ad campaign
• Music Video: "All I Need is Love" with CeeLo Green and The Muppets
• Muppets on The Voice Tuesday November 27
• The Muppets Take Disney Store Manhattan November 27
• The Muppet Christmas Carol arrives on Blu-ray November 6
• Kermit and Miss Piggy on "Best in TV" ABC special September 18
• "Kermit's Party" viral videos from Bounty Paper Towels
• The Electric Mayhem on Jimmy Kimmel March 21
• Miss Piggy and Sharon Osbourne go head-to-head on The Talk