The Muppets Take Disney Store Manhattan November 27
Meet and greet with Muppets Kermit and Pepe and Muppeteers Steve Whitmire and Bill Barretta
Courtesy of D23
November 13, 2012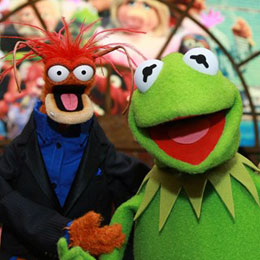 It's time to play the music. It's time to light the lights… It's time to meet the Muppets! Our friends at Disney Store are putting together an inspirational, celebrational, and Muppetational gathering just for D23 Members. You'll get to meet Kermit the Frog and Pepe the King Prawn in person at the Times Square Disney Store in New York City on November 27.
A very limited number of members will head to the store for an exclusive "conversation with" Kermit and Pepe before having the chance to meet and have their photo taken with the amphibious gentleman himself (decked out in green for the season, naturally) and the fiery King Prawn at the Disney Store in Times Square.
D23 Members will also be able to explore the two-story Disney Store—the perfect opportunity to pick up some holiday gifts using your special one-day-only D23 Memberships discount of 15% off all purchases. Plus, look forward to some Muppet trivia for prizes from the Disney Store crew!
NOTE: Available only to D23 Members in good standing. Members may reserve a ticket for themselves and up to one (1) guest. There are a limited number of tickets available. D23 Members will be required to provide their membership number when reserving tickets. Tickets may be picked up only with a valid photo ID AND D23 MEMBERSHIP CARD. D23 Members who do not bring their membership card may not be admitted to the event. Ticketed Members who do not attend the event forfeit their place as well as all experiences, benefits, and gifts associated with the event. Members must show their valid D23 Membership Card at time of check out to receive this in-store discount; offer valid only day of the event. D23 Members should bring their own cameras to capture their "Muppet moment" photo. If you wish to request sign language interpreting services for this event, please submit your request to GuestRelations@D23.com at least two weeks prior to the event date. All D23 Special Events are subject to change without notice. There are no cancellations or refunds, and tickets are not transferable.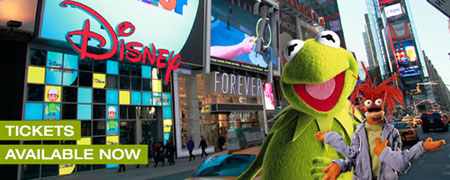 Event Information
DATES
Tuesday, November 27, 2012

LOCATION
Disney Store, Times Square (1540 Broadway, between 45th and 46th Streets), New York City

TIME
10:30 a.m. to noon; Check in begins at 10 a.m.

TICKETS
Purchase Tickets

COST
Free (There will be a $5 ticket processing fee)

MORE MUPPET NEWS

• Muppets star in Toyota Super Bowl ad campaign
• Music Video: "All I Need is Love" with CeeLo Green and The Muppets
• Muppets on The Voice Tuesday November 27
• The Muppets Take Disney Store Manhattan November 27
• The Muppet Christmas Carol arrives on Blu-ray November 6
• Kermit and Miss Piggy on "Best in TV" ABC special September 18
• "Kermit's Party" viral videos from Bounty Paper Towels
• The Electric Mayhem on Jimmy Kimmel March 21
• Miss Piggy and Sharon Osbourne go head-to-head on The Talk