Kermit celebrates 50 years with a 50-city world tour
Courtesy of The Muppets Holding Company
September 27, 2005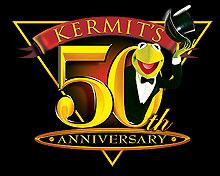 One Frog. One Planet. Fifty Years. Put them together and you have the hoppiest celebration on Earth. To honor the 50th anniversary of his meteoric rise from the swamp to international icon, The Muppets Holding Company today announced that Kermit the Frog is taking his celebration on the road with a whirlwind tour of 50 destinations around the globe. The world's most beloved frog will kick off his worldwide adventure on October 14 in the aptly named town of Kermit, Texas.
"Kermit the Frog has not only transcended genres, he has entertained generations of fans for more than five decades," said Chris Curtin, general manager and vice president, The Muppets Holding Company, LLC. "For someone who has touched the hearts of millions, it only seems fit that we honor Kermit with the grandest of celebrations."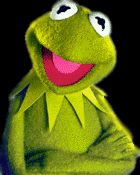 Through the end of 2006, Kermit will meet fans and participate in major events, visit famous attractions, and enjoy local celebrations in 50 destinations, touching down in numerous countries across four continents. The globe-hopping star will see renowned monuments such as the Statue of Liberty, the Eiffel Tower and the Great Wall of China, among others. Our ever-youthful frog will touch down at NASA's Johnson Space Center, brave a Frog Leg Festival in Fellsmere, Fla., as well as run with the bulls in Pamplona, Spain. Other activities will include a visit to Hong Kong Disneyland, a performance with the Rockettes and Kermit's first-ever USO appearance, where he'll bring a smile to service men and women abroad.

"Kermit is truly an international star, with a fan base that reaches the far corners of the globe," added Dave Burchianti, director of marketing, The Muppets Holding Company. "We're taking Kermit's celebration to places both far and near -- and everywhere in between."

Those who can't meet Kermit frog-to-face along his journey can follow him on Muppets.com. Fans will be able to download pictures and videos, as well as review Kermit's memories and adventures in an online journal -- his "Frog Blog." Truly a frog of the people, Kermit will allow his beloved fans around the world to determine his final destination via an online vote.

MORE MUPPET NEWS

• Muppets star in Toyota Super Bowl ad campaign
• Music Video: "All I Need is Love" with CeeLo Green and The Muppets
• Muppets on The Voice Tuesday November 27
• The Muppets Take Disney Store Manhattan November 27
• The Muppet Christmas Carol arrives on Blu-ray November 6
• Kermit and Miss Piggy on "Best in TV" ABC special September 18
• "Kermit's Party" viral videos from Bounty Paper Towels
• The Electric Mayhem on Jimmy Kimmel March 21
• Miss Piggy and Sharon Osbourne go head-to-head on The Talk